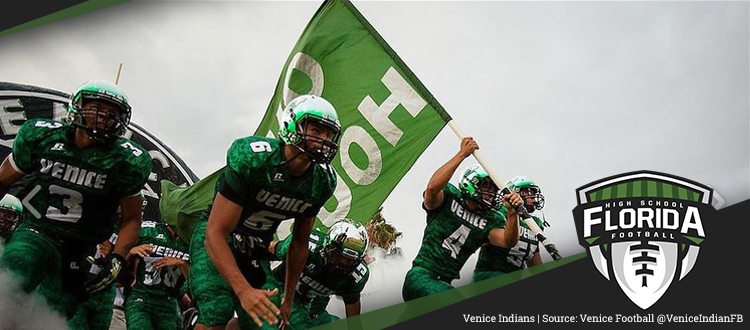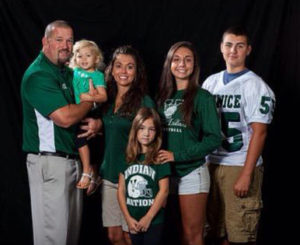 VENICE INDIANS
Head Coach: John Peacock
District: 7A-11
2015 Record: 10-2
Offensive Formation: Multiple
Defensive Formation: 4-3
RETURNING ATHLETES
Name, Height, Weight, Year, Info & 2015 Stats in parenthesis
• RB Matt Laroche, 5-10, 175, Sr. (128 carries, 1,090 yds, 13 TDs, 1 receiving TD; HM FHSF Class 7A All-State Elite Team)
• QB Bryce Carpenter, 6-2, 201, Jr. (1,523 yds passing, 19 TDs, 9 INTs; 130 carries, 708 yds, 12 TDs; HM FHSF Class 7A All-State Elite Team)
• WR Javion Heiligh, 6-4, 195, Jr. (63 catches, 987 yds, 14 TDs; 3rd team FHSF Class 7A All-State Elite Team)
• TE Aaron Hacket, 6-4, 245, Sr. (28 catches, 6 TDs, holds 40+ offers)
• RB Court Doss, 5-10, 210, Jr. (823 yds rushing)
• OG Kyle Johnson, 6-2, 225, Sr. (Leader of the offensive line)
• MLB Caleb Smith, 6-1, 225, Jr. (98 tackles in 9 games)
• MLB Steele Wilson, 6-1, 210, Sr. (112 tackles, 7 TFL, 2 INTs; HM FHSF Class 7A All-State Elite Team)
• OLB Trevor Keller, 6-10, 195, Sr. (89 tackles, 4 INTs)
• OLB Drew Strietch, 6-0, 195, Jr. (81 tackles, 4 TFL)
• DE Riley Pracher, 6-4, Jr. (65 tackles, 5 sacks)
• DE Finn Laskowski, 6-6, 235, Sr. (45 tackles, 7 sacks)
• CB Jared Bailey, 5-10, Jr. (43 tackles, 4 INTs)
• K Zack Sessa, 6-2, 185, So. (54 of 57 PATs, 8 of 13 FGs – long of 50, Avg 52.2 yds on kickoffs; Also had 19 catches for 206 yds as a receiver; 2nd team FHSF Class 7A All-State Elite Team)
• P Austin Moulton, 5-9, 238, Jr. (33.6 yd punt avg)
NEWCOMERS ON THE FIELD
Name, Height, Weight, Year, Additional Info in parenthesis
• CB Jeremy Trebbles, 5-10, 175, Jr. (Transfer from Sarasota. Has developed into one of the best players for the Indians)
• DT Tyrone Barber, 6-4, 290, Jr. (Transfer from North Port. Expected to be a dominate player for the Indians)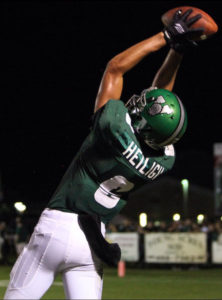 2016 SCHEDULE
* – denotes district game
• Aug. 26 vs. Camden County, Ga., 7:30
• Sept. 2 at Riverview (Sarasota), 7:30
• Sept. 9 vs. Manatee, 7:30
• Sept. 16 at North Port, 7:30*
• Sept. 23 vs. Coral Reef, 7:30
• Sept. 30 vs. Sarasota, 7:30*
• Oct. 7 BYE WEEK
• Oct. 14 vs. Braden River, 7:30*
• Oct. 21 at Lakewood Ranch, 7:30*
• Oct. 28 at Palmetto, 7:30*
• Nov. 4 vs. Booker, 7:30
STORYLINES TO FOLLOW
Can Venice take back the district?: This is a question that is weighing heavily on the minds of the team and for the fans. For a long time Venice has traditionally dominated and won its district in most years, but Braden River flexed a big muscle last season on the Indians – twice! With a lot of key players returning that have had experience on the field, there is no doubt that the Indians will challenge Braden River to take back the top spot. However, they must keep an eye on what Palmetto is doing as well.
Experience will be huge: As we already mentioned, their will be a ton of players returning – 18 of those starters – to the field for the Indians this season that have plenty of experience. What is even nicer for Venice is the fact that half of the players returning with experience are underclassmen! So the roster is certainly stacked up to make a deep playoff run – if the Indians get that far – but it could hard for most teams on the schedule to compete against a roster that is talent heavy as this.
Challenges Ahead: Venice is not stranger to putting some challenging games on the schedule and they will come pretty quickly. The kickoff classic will see the Indians hosting Tampa Plant which could show a better – and much more improved – glimpse of the Indians than what was shown in a 15-14 spring game loss to Lakeland. Week 1 will feature Camden County which should provide an ultimate test for the Indians with rival Manatee coming to town Week 3. All of that should set the tone for how the Indians will play for the entire season.
KEY NON-DISTRICT GAME TO WATCH
• Aug 26. vs. Camden County – If Camden County weren't on the schedule, Manatee would be in this slot. However, this game will be a big one to watch as the rarity of Camden County coming into Florida for three straight weeks will be in the second week when the Wildcats come to make a visit. Camden County will already be 1-0 or 0-1 coming into this game depending how the game against Oakleaf goes the week before, which ironically doesn't count for Oakleaf. Venice will have to keep an eye on that game to prepare so they can find a way to victory at home.
KEY DISTRICT GAME TO WATCH
• Oct. 14 vs. Braden River – As we mentioned before, Braden River bested Venice twice last season in Bradenton last season, but now the Pirates will have to make the trip down to face the Indians in what could decide the district champion. Both teams have returned some skill players for this which will only setup the shop to make it another competitive and exciting games for the fans to see. Time will tell if the Indians can get the Pirates tethered down, a goal Coach Peacock stressed to us.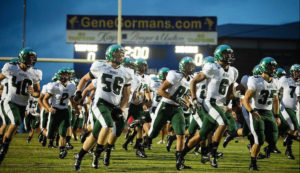 THE OUTLOOK
The case has been set for the Venice Indians this year – get revenge on Braden River.
Looking at what the Indians bring back in terms of talent are huge and possible way bigger than what last year's team consisted of.
Bryce Carpenter, who had a break out season last year as a sophomore quarterback will certainly be able to improve upon those numbers this season. Carpenter is dangerous as they come when looking at a dual-threat quarterback and can either beat you up through the air or on the ground. Carpenter will certainly be helped out with WR Javion Heiligh and TE Aaron Hackett helping to catch balls.
Venice's rushing attack will also be huge this season with Matt Laroche returning after having posted over 1,000 yards last season and will also have Court Doss to help keep things fresh in the rotation. This could certainly prove to be a challenge for teams to game plan around given that the quarterback and two running backs can get the ball moving up and down the field.
Defensively, expect the Indians' to do a ton of damage especially with the talent returning along the line and with the linebacker positions. The defense also got bolstered with two transfers coming during the offseason with Tyron Barber coming over from North Port) and Jeremy Trebbles who came down from Sarasota. It wouldn't be surprising if most defenses are suppressed to the point of scoring very few points, if any at all during the season.
Special teams will also be a huge factor for the Indians lead by Zack Sessa who, was one of the top kickers in the state last season, never mind the fact he is only going to be a sophomore this season.
Overall, the goals are simple for Venice: Improve the record, beat Braden River and make a deep playoff run. If there is one thing that Coach Peacock things will help make that happen it is his team's work ethic and toughness to go along with the experience. All of that should make it for a fun season for Indians fans – and fans of high school football all over the state.