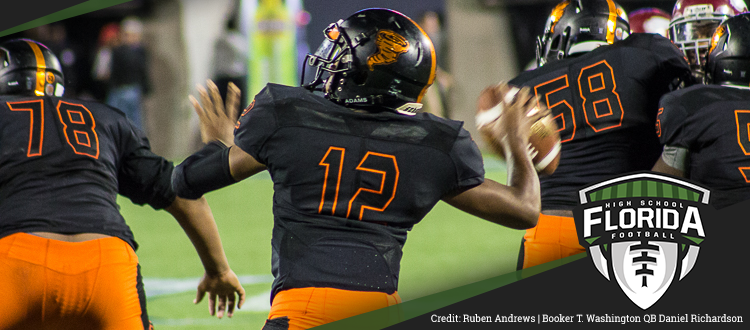 FloridaHSFootball.com is a partner of USA TODAY High School Sports
8. BOOKER T. WASHINGTON
Location: Miami
2015 record: 9-5
2015 Final Super 25 ranking: Unranked
The Tornadoes won their fourth consecutive state title last season and should be even better this season. Former coach Tim "Ice" Harris returns to the school after a two-year stint as Miami's running backs coach.
"We have some good young players who grow up knowing how to play football the Booker T. way," Harris said. "They know they will get to play some of the top teams in the country."
Though the Tornadoes play at 4A (the largest classification in the state is 8A), they traditionally have played tough opponents.
This season, Booker T. Washington will open with American Heritage (Plantation) and will play state champions Miami Central and St. Thomas Aquinas (Fort Lauderdale).
Both Booker T. and Miami Central are attempting to become the first team to win a fifth consecutive FHSAA state title. Suwannee (1987-1990) in 3A and North Florida (1998-2001) in A are the only other teams to win four in a row.
RELATED: For more high school sports news and scores, visit USA TODAY High School Sports
QB Daniel Richardson completed 201 of 325 passes for 2,765 yards and 33 TDs last season as a freshman. OT Kadeem Telfort (6-7, 305), a Florida commit, and OG Willa Pierre (6-3, 285), a Temple commit, and OG Teaki Fuller (6-2, 318), a Charlotte commit, give him plenty of protection.
Richardson's top receiver is likely to be Syracuse commit Sharod Johnson, who transferred from Jackson (Miami).
Junior DLs Jaquan Beaver (132 tackles and 25 sacks) and Robert Hicks (101 tackles, 16 sacks) will slow most opposing offenses.
Senior LB Richard Dames (128 tackles, three INTs) has committed to Florida International and senior LB Guy Thomas has committed to Nebraska. Senior DB Dedrick Mackey is drawing major offers.
SCHEDULE:
8/19 @ American Heritage (Plantation, FL)*
8/27 vs St. Thomas Aquinas (Fort Lauderdale, FL)
9/2 vs Monsignor Pace (Miami, FL)
9/10 vs Jackson (Miami, FL)
9/16 @ Southridge (Miami, FL)
9/24 vs Central (Miami, FL)
9/30 @ Keys Gate (Homestead, FL)
10/7 @ Northwestern (Miami, FL)
10/13 @ Hialeah-Miami Lakes (Hialeah, FL)
10/20 vs Columbus (Miami, FL)
10/27 vs Edison (Miami, FL)
*  Scrimmage
RELATED: To view the entire list Super 25 teams, click here.
Follow USA TODAY High School Sports on Twitter at @USATODAYhss