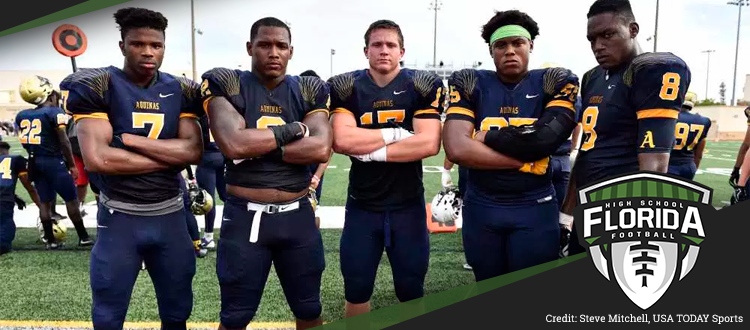 FloridaHSFootball.com is a partner of USA TODAY High School Sports
1. ST. THOMAS AQUINAS
Location: Fort Lauderdale, Fla.
2015 record: 13-1
2015 Final Super 25 ranking: 9
The Raiders are the two-time defending 7A state champions and return 16 players who started at least four games, plus a bevy of talented transfers. They are, in a word, loaded, but will be tested early with games with 4A champion Booker T. Washington (Miami) and at two-time defending Super 25 champion Bishop Gorman (Las Vegas).
Key returnees on offense include: quarterback Jake Allen (130-of-205 passing with 1,691 yards 18 TDS), a Florida commit; Rivals' No. 1 2017 WR, Trevon Grimes (27 catches for 496 yards and seven TDs in nine games); WR Mike Harley, a West Virginia commit; OL Zack Sweeney; OG Cody Bowes; and junior OL Jason Swann.
"I definitely feel we should be ranked No. 1," Grimes said. "We have talent all across the board. We are the team to beat in the country. We have phenomenal coaches, phenomenal players and a phenomenal school. No other school in the country can match Aquinas pride.".
RELATED: For more high school sports news and scores, visit USA TODAY High School Sports
Aquinas got a key transfer in RB Kyshaun Bryan, who ran for 646 yards and seven TDs last season at American Heritage (Plantation) and is a South Carolina commit.
It is on defense, however, where the Raiders are particularly strong, with junior DE Nik Bonitto, a Florida commit, and five seniors who have Division I commitments: LB Drew White (Notre Dame); DT Kivon Bennett (Tennessee); Coconut Creek DE transfer Lashawn Paulino-Bell (Michigan State); LB Tyler Dunning (Mississippi State); and LB Albert Tucker (Pitt).
The Raiders also have two junior DBs who are sons of former NFL players in Asante Samuel Jr., and Al Blades Jr.
The team has a new defensive coordinator in Ameer Riley, who was the team's cornerbacks coach last year.
"We're stacked on D-line," White said. "We want to create turnovers, make big plays and get the ball to our offense.
"I think our defense is the best in South Florida. Going up against the great offense we have in practice makes us that much better."
RELATED: To view the entire list Super 25 teams, click here.
Follow USA TODAY High School Sports on Twitter at @USATODAYhss