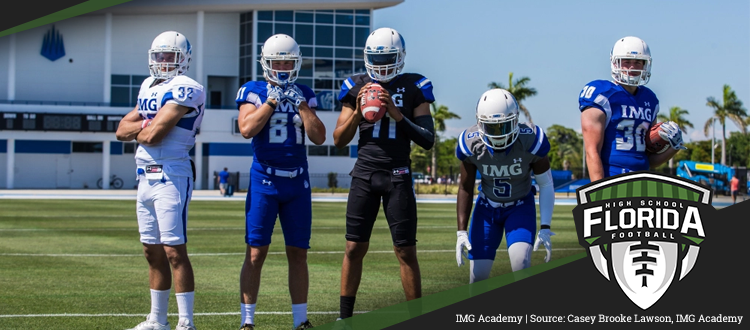 FloridaHSFootball.com is a partner of USA TODAY High School Sports
4. IMG ACADEMY
Location: Bradenton, Fla.
2015 record: 9-0
2015 Super 25 Final ranking: 4
Now in their fourth season, the Ascenders continue to be an anomaly. They play a national schedule, with all but four of their games on the road, and most of the team's players have already established themselves as elite recruits at other high schools first.
Beginning with senior LB Dylan Moses, who transferred from University (Baton Rouge, La.), IMG has eight seniors among Scout.com's Top 100. The rest: WR Jhamon Ausbon, an LSU commit; DB Isaiah Pryor, an Ohio State commit; DE Robert Beal, a Georgia commit; QB Kellen Mond, a Texas A&M commit and OL Cesar Ruiz. Of that group, only Ruiz played last season for the Ascenders.
IMG also gained a number of quality underclassmen transfers. The top juniors coming in are former Gilman (Baltimore, Md.) star Taron Vincent, considered the No. 1 DT in the 2018 class by 247Sports.com, and WR Brian Hightower from Calabasas, Calif., considered the No. 7 junior WR by Scout.com.
RELATED: For more high school sports news and scores, visit USA TODAY High School Sports
The Ascenders also recently added two huge sophomore offensive linemen in Antwan Reed (6-7, 285) from Muskegon, Mich., and Evan Neal (6-7, 360) from Okeechobee, Fla.
The addition of more underclassmen is by design. The first few years, many of the team's players were senior one-and-dones, but that made it hard to build cohesion. This year, even most of the so-called "new" seniors, such as Moses, have been with IMG since January.
"Having a whole spring practice and then coming back July 18, we have a pretty good idea of who the players are," IMG coach Kevin Wright said. "We are much further ahead from a chemistry standpoint. We have enough kids who are returning that when you get new kids, they fall into the culture. We're not just bringing guys in as seniors."
The Ascenders will spend more time on the road than most college teams, but counting their preseason kickoff classic game with Carol City (which is a full-length game but doesn't count on their record), they will play at least 13 games, their biggest schedule ever.
"Our goal was to play a 13-game schedule and make that as competitive as possible," Wright said. "We're going to have to come together really quick. I think that's what special about this place is players get to know each other well because they're together 24-7."
SCHEDULE:
8/20 vs. Carol City (Miami, Fla.)*
8/27 @ Grayson (Loganville, Ga.)
9/3 vs. Centennial (Corona, Calif.)
9/10 vs. Booker T. Washington (Tulsa, Okla.)
9/17 vs. St. John's College (Washington, D.C.)
9/23 vs. Boyd Anderson (Lauderdale Lakes, Fla.)
10/7 vs. Southern Lab (Baton Rouge, La.)
10/13 @ Oxbridge Academy (West Palm Beach, Fla.)
10/21 @ Trinity Christian Academy (Jacksonville, Fla.)
10/28 @ Long Beach Poly (Long Beach, Calif.)
11/5 @ Chaminade-Madonna (Hollywood, Fla.)
11/12 vs. St. Frances Academy (Baltimore)
11/18 vs. Bishop Sullivan (Virginia Beach, Va.)
*Preseason Game
RELATED: To view the entire list Super 25 teams, click here.
Follow USA TODAY High School Sports on Twitter at @USATODAYhss