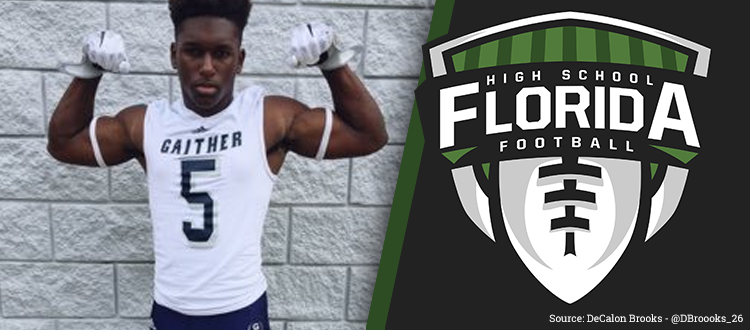 FloridaHSFootball.com is a partner of USA TODAY High School Sports
Thank God for blessing me with this huge opportunity. I have decided to commit to Florida State University! #tribe17 pic.twitter.com/la9ufRDKSy

— DeCalon Brooks (@DeCalonBrooks) August 19, 2016
When Florida State lands a football commitment from a three-star prospect it can sometimes turn heads, not because of who the prospect is, but on why they aren't more highly regarded. On Thursday, DeCalon Brooks brought the opposite reaction precisely because of who he is: He's the son of a FSU legend.
DeCalon Brooks is an outside linebacker for Gaither High in Tampa. He's also the son of NFL Hall of Famer and FSU stalwart Derrick Brooks, who took a hands-on approach to his son's recruiting, according to DeCalon's interview with 247 Sports after his commitment.
"I actually told him last night that it was FSU," Brooks said his dad had one question for him. "He asked me if FSU was a school I would go to if I didn't play football. I told him 'yes, sir it is'. He's always told me he wants me to put my education first and football second because football is going to end someday. …

"It feels good. My dad was a legacy there and I know everyone is going to call me Derrick Brooks son, that's okay. The coaches call me DeCalon and they know I'm my own person. But going to my Dad's alma mater is a blessing,"
RELATED: For more high school sports news and scores, visit USA TODAY High School Sports
The younger Brooks chose FSU ahead of scholarship offers from the likes of Louisville, Rutgers, Illinois and South Florida, among others. He's excited to focus his attention on his senior season of high school football, but always with an eye on what he may become in the future in Tallahassee.
"They talked to me about playing strong safety and outside linebacker. That hybrid, third down backer that they can keep in the game instead of taking a linebacker out. They like me there and strong safety," Brooks told 247 Sports. "I like how they swarm to the ball, they don't give up on plays, I like how their linebackers play and I see where I can add to that. I feel like FSU is somewhere I can grow as a player in their defense."
Follow USA TODAY High School Sports on Twitter at @USATODAYhss