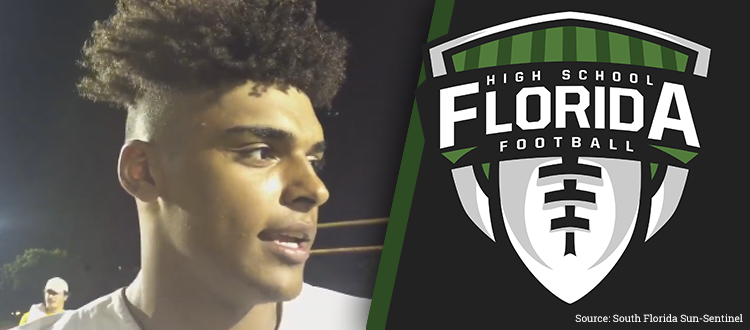 FloridaHSFootball.com is a partner of USA TODAY High School Sports
We aren't big advocates of trash talking on the field, but we know it happens.
But sometimes, young players need to be careful whom they decide to engage with. Say, one of the best wide receivers in the nation.
Trevon Grimes from St. Thomas Aquinas (Fort Lauderdale), the No. 1 team in the Super 25 football rankings, explains in the video below what was said between he and the defensive back from Dillard during Thursday night's preseason kickoff classic.
Then watch what happened in the second video.
RELATED: For more high school sports news and scores, visit USA TODAY High School Sports
When you try to talk trash to @TrevonGrimes7. pic.twitter.com/segoYh6A70

— Sentinel HS Sports (@SSHighSchools) August 19, 2016
Jake Allen to Trevon Grimes. Aquinas is rolling. https://t.co/AaCKpo16jb pic.twitter.com/khUGwizuma

— Andrew Ivins (@Andrew_Ivins) August 19, 2016
Follow USA TODAY High School Sports on Twitter at @USATODAYhss