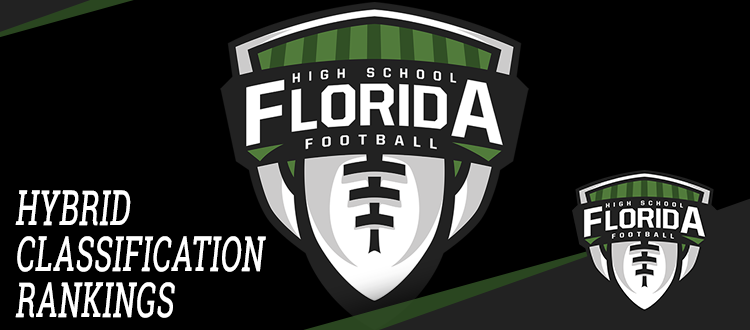 GAINESVILLE, Fla. – Here are the latest FloridaHSFootball.com Team Hybrid Rankings heading into Week 6
FloridaHSFootball.com's Team Hybrid Rankings take into votes from our media panel, each team's strength of schedule, as well as an average of computers polls including those, but not limited to USA TODAY, MaxPreps and Joe Pinkos. The end result is a BCS-Style ranking for each classification.
The rankings will are released each Wednesday during the regular season.
FloridaHSFootball.com's Florida High School Football Hybrid Rankings
Week 6
September 28, 2016
CLASS 8A
1. Apopka (14), 5-0, .853, 1
2. Kissimmee Osceola, 5-0, .791, 5
3. Flanagan, 3-1, .769, 3
4. Sanford Seminole, 4-0, .741, 6
5. Coral Gables, 4-0, .602, 7
6. Dr. Phillips, 3-2, .596, 4
7. Miami Southridge, 2-2, .565, 2
8. Columbus, 3-2, .483, 8
9. Sandalwood, 4-0, .452, 11
10. Vero Beach, 5-0, .417, NR
11. Miramar, 4-1, .412, 10
T12. Fort Pierce Central, 4-0, .398, NR
T12. Deerfield Beach, 2-2, .398, 12
Also Receiving Votes: Mandarin .366, Orange City University .338, Boca Raton .298, Southwest Miami .281, Park Vista .279, Miami Palmetto .244
CLASS 7A
1. St. Thomas Aquinas (12), 3-1, .937, 1
2. Venice (2), 4-0, .783, 2
3. Dwyer, 4-0, .695, 3
4. Tampa Bay Tech, 4-0, .693, 5
5. Plant, 4-0, .662, 10
6. Lakeland, 4-1, .591, 6
7. Braden River, 4-0, .590, 9
8. Viera, 3-2, .571, 4
9. Plant City, 3-1, ..466, 11
10. Lincoln, 2-2, .439, 8
11. Bartram Trail, 3-2, .367, 7
12. East Lake, 4-0, .353, NR
Also Receiving Votes: Winter Haven .347, Robert E. Lee .344, Buchholz .340, Palmetto .323, Palm Beach Lakes .323, Fletcher .315, South Fort Myers .314, McArthur .312, Hagerty .296
CLASS 6A
1. Miami Central (14), 5-0, .927, 1
2. Mainland, 5-0, .844, 4
3. Miami Northwestern, 4-1, .795, 3
4. Ocala Vanguard, 4-0, .714, 5
5. Niceville, 5-0, .695, 6
6. Armwood, 3-1, .692, 2
7. Miami Carol City, 2-2, .619, 8
8. Naples, 4-0, .607, 7
9. Charlotte, 4-0, .504, 10
10. Navarre, 4-0, .425, T9
11. Boyd Anderson, 3-1, .405, T9
12. Sebastian River, 4-0, .361, NR
(tie) Miami Norland, 3-3 .361, NR
Also Receiving Votes: Palm Bay Heritage .358, Pine Forest .342, Matanzas .317, Lake Gibson .315, Tate .313, Dillard .290, Port Charlotte .268, St. Augustine .267
CLASS 5A
1. Plantation American Heritage (14), 5-0, .903, 1
2. Jesuit, 4-0, .760, 2
3. Cardinal Gibbons, 4-0, .684, 5
4. Wakulla, 3-1, .674, 3
5. Bishop Moore, 3-1, .659, 4
6. Rickards, 3-1, .641, 6
7. Baker County, 4-0, .613, 8
8. Palm Bay, 4-0, .551, 7
9. Ponte Vedra, 4-0, .500, 11
10. Hallandale, 2-2, .427, 9
11. Ribault, 2-2, .384, NR
12. Godby, 2-2, .383, NR
Also Receiving Votes: Lely .340, Nature Coast .340, West Florida .330, Clay .324, North Marion .313, Dunbar .301, Merritt Island .297, Wesley Chapel .255, Yulee .254, Bay .242
CLASS 4A
1. Cocoa (13), 3-1, .977, 1
2. Miami Booker T. Washington, 3-2, .812, 2
3. Bolles (1), 4-0, .809, 3
4. Raines, 4-0, .736, 4
6. Jones, 5-0, .589, 6
6. Dunnellon, 4-0, .558, 5
Also Receiving Votes: South Sumter .333, Miami Edison .315, Avon Park .287
CLASS 3A
1. Oxbridge Academy (13), 5-0, .874, 2
2. Jacksonville Trinity Christian (1), 2-2, .871, 1
3. Chaminade-Madonna, 2-1, .736, 4
4. Melbourne Central Catholic, 5-0, .678, 6
5. Lakeland Christian, 5-0, .668, 5
6. Clearwater Central Catholic, 4-1, .530, 3
Also Receiving Votes: Tampa Catholic .488, Taylor County .372, Episcopal .364, Orlando The First Academy .235
CLASS 2A
1. Cambridge Christian (13), 5-0, .913, 1
2. North Florida Christian (1), 4-0, .836, 2
3. Champagnat Catholic, 4-0, .733, 5
4. University Christian, 2-2, .705, 3
5. Victory Christian, 4-0, .689, 4
6. Northside Christian, 3-1, .594, 6
Also Receiving Votes: Community School of Naples .330, Seffner Christian .307
CLASS 1A
1. Madison County (11), 4-0, .922, 1
2. Pahokee (2), 5-0, .864, 3
3. Trenton (1), 3-1, .828, 2
4. Newberry, 5-0, .766, 5
5. Port St. Joe, 3-1, .750, 4
6. South Walton, 4-0, .586, 6
Also Receiving Votes: Fort White .314, Baker .305