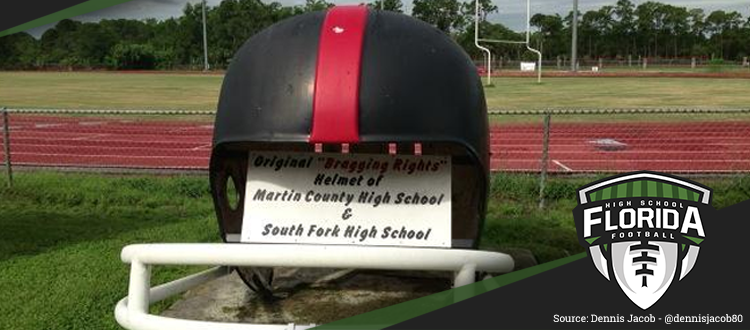 It is Week 6 of high school football in Florida and that means it is a district week for most teams in the state. That also means it is time to start separating the boys from the men in what will now be the final year of district play as we know it as.
Here are FloridaHSFootball.com's Top 10 Games of the Week for Week 6.
1. St. Thomas Aquinas (3-1) at Bishop Gorman, NV (5-0)
Why: This is a matchup that everyone has talked about since it was placed on the schedule earlier in the year. St. Thomas Aquinas, which has dominated every opponent since dropping a 27-23 decision to Booker T. Washington in Week 1, will certainly find a different challenge than other of their previous four games have. The biggest challenge that will face the Raiders is not so much the fact teams can hang around in the first half with the host Gaels, but rather not hanging around with them in the second half. This will either make or break any slim chances the Raiders have of possibly being in the national championship hunt with this game.
Predictions
Josh's Prediction: Bishop Gorman 35, St. Thomas Aquinas 21
USA TODAY HSS Prediction: Bishop Gorman 38, St. Thomas Aquinas 6
Joe Pinkos Forecast: Bishop Gorman 24 over St. Thomas Aquinas
2. Miami Carol City (2-2) vs. Miami Central (5-0)
Why: The visiting Chiefs have won two straight games since dropping games against 8A Coral Gables and 3A Oxbridge Academy earlier in the season, but now they face a nemesis in the host Rockets, a team the Chiefs managed to squeak by last year to capture the District 6A-16 championship. The Rockets are averaging 49.4 points a game while Miami Carol City is averaging just 19 points a game. However, both teams are giving up less than 12 points a game, so this could be some indication that this game could once again be a low-scoring affair like it was last season.
Predictions
Josh's Prediction: Miami Central 35, Carol City 20
USA TODAY HSS Prediction: Miami Central 30, Carol City 12
Joe Pinkos Forecast: Miami Central 22 over Carol City
3. Pahokee (5-0) at Boca Raton (5-0)
Why: It is not every day you will see a Class 1A team challenge against a Class 8A team, but that is exactly what will happen here with the visiting Blue Devils and the host Bobcats this week. The Blue Devils which have already knocked off an 8A team in Seminole Ridge earlier this season also won a very respectable contest against Wayne Hills (NJ) earlier in the season. As for this matchup, last year was a close one, which Pahokee came out on top, and it should not be underestimated what both of the teams can do as they are on the right path towards the playoffs.
Predictions
Josh's Prediction: Pahokee 17, Boca Raton 14
USA TODAY HSS Prediction: Pahokee 24, Boca Raton 21
Joe Pinkos Forecast: Pahokee 1 over Boca Raton
4. Miramar (4-1) at Flanagan (3-1)
Why: This matchup last season was highly intense and is expected to be again this week as this will likely be for the District 8A-12 championship for either team. Flanagan which is in the process of defending their Class 8A state championship from last season can make a statement here that will go long ways, but Miramar has seemingly bounced back after suffering an early defeat to St. Thomas Aquinas that wasn't even close. However, look for this came to possibly be a very close one as Flanagan has only been giving up just under five points a game while Miramar has only been giving up just over 12 points a game.
Predictions
Josh's Prediction: Flanagan 21, Miramar 17
USA TODAY HSS Prediction: Flanagan 21, Miramar 7
Joe Pinkos Forecast: Flanagan 3 over Miramar
5. South Fork (3-1) at Martin County (4-1)
Why: Not only is this a huge rivalry game for both the visiting Bulldogs and the host Tigers, it is also a big game that will likely determine each team's playoff fate as it is a key District 7A-6 matchup also known as the Martin Bowl. Since 2011 the visiting team has won the game so, South Fork likely feels it might have an advantage coming into this game. However, since its barn burner loss to Okeechobee in Week 1, Martin County has been on a roll defensively only giving up an average of eight points a game in the four games they have won. No matter, what this rivalry game is a big one and it will likely mean playoffs or bust for these two teams.
Predictions
Josh's Prediction: Martin County 27, South Fork 14
USA TODAY HSS Prediction: Martin County 35, South Fork 28
Joe Pinkos Forecast: Martin County 9 over South Fork
6. Timber Creek (4-1) at Winter Park (3-2)
Why: A key District 8A-2 matchup that will pit a Timber Creek team that was just one-point from being undefeated against a Winter Park program that has turned some heads this season. Timber Creek comes into this game averaging 30.2 points per game while Winter Park averages just slightly more at 34.2 points per game. However, Timber Creek has been giving up just slightly over 10 points per game as compared to Winter Park's nearly 18 points per game. The game could go ultimately two ways – either a shootout between the two programs or a low scoring affair. Either way, this will likely be the de facto district championship game unless Boone High School has a word to say about it.
Predictions
Josh's Prediction: Timber Creek 30, Winter Park 21
USA TODAY HSS Prediction: Timber Creek 27, Winter Park 20
Joe Pinkos Forecast: Timber Creek 6 over Winter Park
7. Berkeley Prep (2-1) at Tampa Catholic (1-2)
Why: This is a big matchup for the visiting Buccaneers and the host Crusaders as this could decide a playoff berth for one of these two teams in District 3A-4. Last year the Crusaders won this game big, but with the struggles they have had from the start of the season, it remains to be seen if they can be a force. However, last week's win at Clearwater Central Catholic might have changed that tone for Tampa Catholic some. Berkeley Prep which has started off slowly this season on scoring points will likely have to find a way to score more than 17 if they want to win this game and have a chance at reaching the playoffs.
Predictions
Josh's Prediction: Tampa Catholic 21, Berkeley Prep 20
USA TODAY HSS Prediction: Tampa Catholic 28, Berkeley Prep 20 
Joe Pinkos Forecast: Tampa Catholic 1 over Berkeley
8. Fort White (2-2) at Baldwin (4-1)
Why: We never imagined talking about this game in particular because, to be honest, we had Baldwin written off as a potential playoff contender at the start of the season. However, as we write this, it must be recognized that Baldwin was just two points away from being 5-0 at this point in the season. That is a big difference. However as the home Indians host the visiting Indians from Fort White, this game now means everything for both teams as it has become a key District 1A-6 matchup. A win here for Baldwin puts their chances of reaching the postseason for the first time since 2011 a near reality, but a win for Fort White could make the district race much more interesting. Either way, we know that the Indians are going to win this game.
Predictions
Josh's Prediction: Baldwin 35, Fort White 28
USA TODAY HSS Prediction: Fort White 31, Baldwin 7
Joe Pinkos Forecast: Fort White 8 over Baldwin
9. Episcopal (5-0) at Yulee (3-1)
Why: This was a last second matchup created thanks to another program leaving Episcopal's district which would have left the Eagle's without a game in the process Yulee was able to scrap its scheduled game against Arlington Country Day thus creating this matchup between two of the better Jacksonville-area programs. The Eagles come into this game much more balanced on offense which will be key to helping their defense attack what will be mostly a run-oriented offense by Yulee. Either way get ready for a showdown to happen in Yulee.
Predictions
Josh's Prediction: Episcopal 35, Yulee 27
USA TODAY HSS Prediction: Yulee 28, Episcopal 21
Joe Pinkos Forecast: Episcopal 7 over Yulee
10. Navarre (4-0) at Pace (3-2)
Why: This is a key district game for both teams that are always in the playoff hunt each season. Navarre which is looking to continue its quest for a second straight undefeated regular season will have to get things going quickly and staying focused which has been an issue in several games this season. Pace on the other the hand will not only need to find a way to get things going quickly for themselves, but also to find a way not to give up 60 points for a second straight week like they did to Crestview last week. No matter, what this game has playoff implications on the line for District 6A-2 and it is worth keep an eye on.
Predictions
Josh's Prediction: Navarre 38, Pace 17
USA TODAY HSS Prediction: Navarre 35, Pace 14
Joe Pinkos Forecast: Navarre 9 over Pace