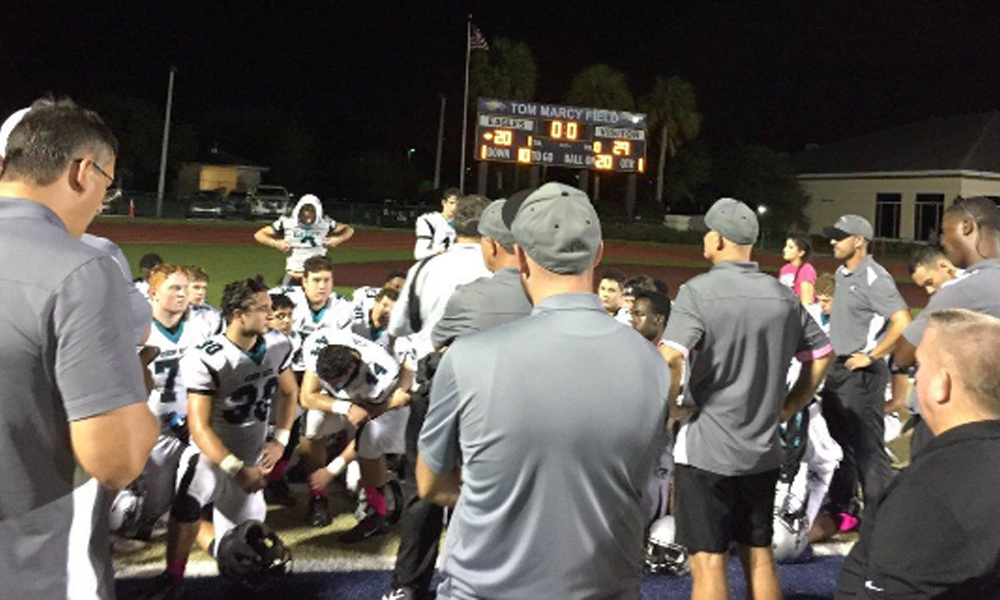 COCONUT CREEK, Fla.— Death, taxes, and Byron Walker and Archbishop McCarthy picking up big conference wins. The latter is starting to join the guarantee status.
Archbishop McCarthy running back Jacob Baptiste went untouched through the middle of the Eagles' defense for a 47-yard touchdown with three minutes to play that clinched a 29-20 Mavericks win.
"It's never hard to get these guys ready to play North Broward," Archbishop McCarthy head coach Byron Walker said after the game. "We anticipated a tough game and we got one but we able to come out on top. It's a big win for us."
Eagles' quarterback Logan Shooster went down with a hand injury in the first quarter, and the North Broward (6-1) offense was not the same without him. The Eagles finished with 20 points, but with two scores off big plays, and had been looking pretty good in the first quarter with Shooster in the game. He had connected with Kevin Austin and Kenny Henningsen on three different long passes before departing.
Archbishop McCarthy (5-1) running back Jacob Baptiste rushed for close to 200 yards and three touchdowns. He entered with 796 rushing yards in just five games and leads the Gold Coast Conference in rushing. Baptiste, a sophomore, is in his first year at Archbishop McCarthy after transferring from Dr. Krop.
"It's a great opportunity here," Baptiste said after the game. "I thank god first of all, and my offensive line. Without my offensive line, I wouldn't be able to do it. When I see the holes they open up, I just run."
Like Baptiste noted, a big part of that success is the Archbishop McCarthy offensive line, which has been a staple of greatness for the last few years.
"Our offensive line is above average size, fortunately," Walker said. "Our plan coming is was that North Broward Prep is a little small up front so we wanted to just run it between the tackles. We run the ball, that's our philosophy."
The Mavericks have won nine straight Gold Coast Conference games dating back to November 7th of 2014.
Archbishop McCarthy's defense – which entered omitting just over 12 points per game in conference play – shut down a North Broward Prep offense that was averaging just over 49 points per game Aside from Shooster's injury that limited the passing game, senior running back Dymitri McKenzie was in-and-out of the game with a knee injury, and although had two rushing touchdowns, was held to under 50 yards rushing by what was a dominant effort by a strong Mavericks' defense.
"We count on this defense," Walker said. "Coach Wilder – our defensive coordinator – gets kids to do things a lot of high school coaches can't get their kids to do so we confuse offenses a lot. We've got a lot of multiplicity on defense."
After North Broward Prep scored on a two-yard McKenzie touchdown to make it 21-12 with just over eight minutes to play, the Eagles were unsuccessful on a big two-point conversion that would've made it just a one score game. On the next North Broward possession, Eagles' backup quarterback Christian Paillet was picked off after North Broward had driven the ball into Mavericks' territory with under three minutes to play, which all but sealed the deal.
"The little things hurt us tonight," North Broward Prep head coach Rex Nottage said. "Special teams was a big factor, and we didn't make plays. We didn't capitalize. It was a physical game, one vs. one, and they came out on top."
The Eagles took an early 6-0 lead before Archbishop McCarthy quickly answered on the following drive which made it 8-6 after a two-point conversion by the Mavericks. North Broward had their first three kicks off the game – two field goals and extra point – missed or blocked, which would've given the Eagles a chance towards the end of the game, being that it would've been a one possession game.
Archbishop McCarthy led 15-6 at the half on two Baptiste touchdown runs and extended its lead to 21-6 in the third quarter after tight end Zach Messer was wide open in the end zone on a pass from sophomore Jesse Rivera.
Along with Shooster, McKenzie was also hobbled, and senior running back and linebacker Dorian Cole was out for a portion of the game late into the second half.
"The injuries really affected us," Nottage said. "When your starting quarterback is out, your starting running back – Dymitri – was hobbled the whole game, so it kind of limited us so we were really trying to find ways to make plays and get points on the board. It was a dogfight, but I think at the end of the day the injuries did affect us."
Mavericks' sophomore quarterback Jesse Rivera played well in the absence of starter Quinn Dempsey, who is out for the season. Rivera didn't throw much but made all the key throws when he needed to.
Christian Paillet hit Kevin Austin on a 70-yard touchdown with three minutes left when Austin leaped over and missed a defender in what could be a nominee for a catch of the year. Other than that touchdown, Paillet was not great in relief of Shooster, throwing two interceptions and completing just four passes.
With the win, Archbishop McCarthy takes control of first place in the conference and looks likely to be set up to have home field throughout the Gold Coast Football Conference playoffs for the second straight season.
If both teams do their part, it's likely we could see a rematch of these two powerhouses in the championship.
"I think if we prepare a little harder and we learn from what we did here and get better at what we do, I think the outcome could be better for us the next time we play them," Nottage said. "Because we do want to play them in the playoffs."