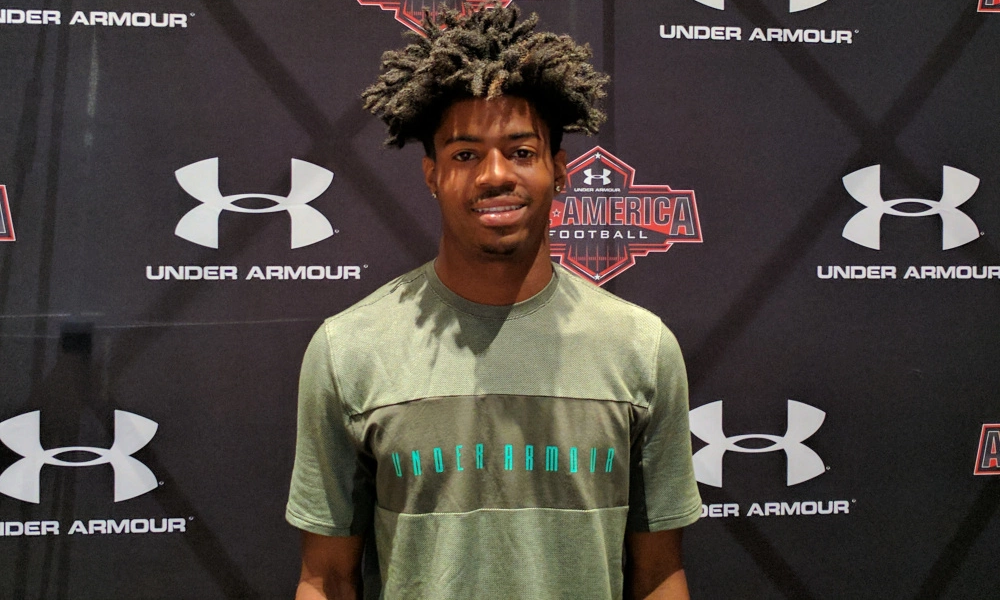 FloridaHSFootball.com is a partner of USA TODAY High School Sports
ORLANDO, Fla. — Enrolling early in college is no longer a trend for top college football players, but a tsunami.
Tim Tebow went early to Florida in 2006 and then played on the Gators' national championship team that season, starting a wave of early enrollee quarterbacks. At the Under Armour All-America Game, however, players at every position are making the jump.
Stanford Samuels III, a defensive back from Flanagan (Pembroke Pines) will play in the Under Armour game on Jan. 1. Two days later, he'll be lifting weights and taking classes at Florida State. He already knows who his roommate will be — fellow early enrollee Cyrus Fagan, a safety from Mainland (Daytona Beach).
"Right after this, I'll be heading to Tallahassee," Samuels said. "My deciding to go early was based on things I need to work on. I need time to put on weight and learn the playbook and put myself in position to start my freshman year. Just getting familiar with everything. When you come in at the regular time, you have to get accustomed to a lot of things because the season is about to start.
"When you come in the winter, the first couple of weeks, it's pretty much workouts and class, so it gives you a chance to get used to everything and get in the flow instead of having everything pushed at you at once."
Samuels' father, Stanford Samuels, Jr., was a cornerback for Florida State and in the Canadian Football League. When he went to Florida State out of Miami Carol City, he didn't go early and wound up injuring a knee in preseason practice, missing what would have been his true freshman season.
RELATED: For more high school sports news and scores, visit USA TODAY High School Sports
"My parents always pushed me to graduate early because they always had this vision," Samuels III said. "I didn't see it at first. It started my 10th-grade year, they started telling me to take extra classes so I could graduate early. Once I did that, it made too much sense not to."
Many of the players who transfer to IMG Academy (Bradenton), which was the No. 2 team in the Super 25 football rankings this season, already see themselves as being on the fast path to college. IMG spokesman Johnny Esfeller said the Ascenders have at least 23 players who are enrolling early in college.
That includes Marcus Williamson, a defensive back who transferred from Westerville South (Westerville, Ohio) to IMG last January. He's already back home, and after playing in the Under Armour Game, he'll head to Columbus to take classes at Ohio State.
"After I left IMG, I went home and hit the weights hard," Williamson said. "I was at IMG for two semesters. You want to get into that college weight program and play spring ball and learn to compete at that level. It's a tradeoff. If you go early, you're missing on your senior prom and that last bit of high school."
Trey Smith, a first-team American Family Insurance ALL-USA offensive lineman from University School of Jackson (Jackson, Tenn.), says he's a little beat up heading into the Under Armour Game. That won't stop him from enrolling early at Tennessee on Jan. 7.
"There are so many advantages from an educational standpoint," he said. "In three years, I'll graduate and then my master's will be paid for. Going early was more of a business decision. I know what goals I want to accomplish and if I go early, I'll get it done."
Brock Wright, a tight end from Cy-Fair (Cypress, Texas) is one of five early enrollees at Notre Dame, which matches the school's highest total, set last season. He said he's not concerned about going Jan. 15 to South Bend, even if the temperature there will likely be 65 to 70 degrees colder than Orlando.
"College is a good time to get some new experience," he said. "I might as well get used to cold weather for a few years since I'll probably come back to Texas after I graduate. The last time I saw snow was when I took my official visit up there and it was 20 degrees and snowing."
Like Smith, Wright said getting his feet wet academically is a factor for him in deciding to enroll early.
"Their academic standards were a big factor in my recruiting," Wright said. "Just being able to go there and start taking some classes early was a big thing for me. My dad (Len, who played center at Texas Tech) thought it would be a great idea. My mother didn't, because she will miss me."
Follow USA TODAY High School Sports on Twitter at @USATODAYhss