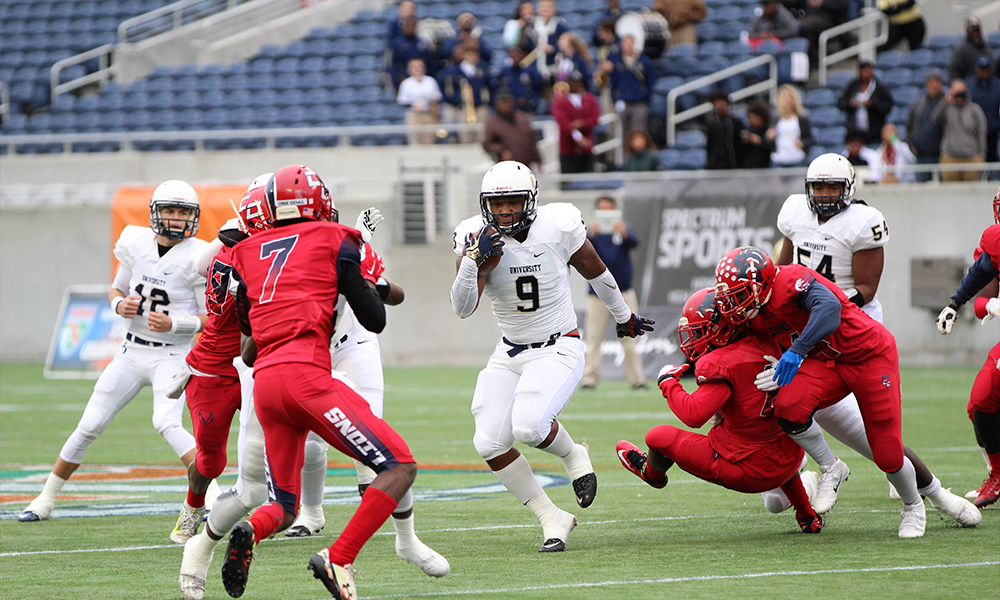 After weeks of research and compiling information, we are getting closer to releasing the FloridaHSFootball.com All-State teams for the 2016-17 season. However, first things first, we have our nominees ready for all eight classes as to who will be named to the following awards:
Most Valuable Player
Offensive MVP
Defensive MVP
Coach of the Year
The MVP will be selected from one of the 10 finalists for Offensive and Defensive MVP from each classification.
As an added bonus, you can vote until 8:00 PM EST / 7:00 PM CST Thursday, February 2 for the Fan's Choice on each of these awards which will be revealed when the teams are released to the public, most likely sometime next week.
Make sure to tell your friends and family about the voting as well which can easily be shared to Facebook and Twitter through the social sharing buttons on top or bottom of the article.
CLASS 2A OFFENSIVE PLAYER OF THE YEAR NOMINEES
QB Griffin Alstott, Sr., Northside Christian (St. Petersburg)
164 of 296, 2,410 yards, 31 TDs, 8 INTs
RB Marvin Scott, Fr., Warner Christian (South Daytona)
1,740 yards rushing, 14 TDs
QB Dalton Jenner, Sr., Victory Christian (Lakeland)
146 of 247, 2,207 yards, 21 TDs, 7 INTs; 10 rushing TDs
RB Jayce Howell, Sr., First Baptist (Naples)
1,642 yards rushing, 25 TDs

ATH/QB Amorie Archibald, Sr., Trinity Christian (Deltona)
1,625 yards passing; 1,761 yards rushing, 39 total TDs
CLASS 2A DEFENSIVE PLAYER OF THE YEAR NOMINEES
UTL/DB J'Kobi Reddick, Sr., Cambridge Christian (Tampa)
39 tackles, 3 TFL, 2 INTs, 6 PBUs, 1 FR; 859 All-Purpose yards (100 rush, 255 rec, 97 PR, 115 IR); 9 total TDs (3 rush, 3 rec., 2 IR, 1 PR)
LB Donovan Georges, Jr., Champagnat (Hialeah)
138 tackles, 14 sacks, 4 FF, 1 FR
DB Leon Huey, Sr., University Christian (Jacksonville)
50 tackles, 15 TFL, 5 INTs, 5 FR, 2 sacks, 6 defensive TDs

LB Joe Sparacio, First Baptist (Naples)
101 tackles, 21.5 TFL, 9 sacks; 839 offensive yards, 14 total TDs
LB Khalan Tolson, Jr., Admiral Farragut
103 tackles, 37 TFL, 14 sacks, 5 PBUs, 2 FF despite 3 games being canceled due to weather and hurricanes.
CLASS 2A COACH OF THE YEAR NOMINEES
Mike Alstott, Northside Christian (St. Petersburg)
Finishing the season with a 10-3 record, Alstott lead the Mustangs to the District 2A-6 championship while also guiding the team to the first-ever appearance in the state semifinals.
Dennis Marroquin, Champagnat (Hialeah)
In only his second season at the helm of the Lions program, Marroquin has brought the good back into this team helping them reach their first state championship game since 2013, finishing with a 11-2 overall record.
David Penland III, University Christian (Jacksonville)
Guided the Fighting Christians to the first back-to-back state championships since 1991-1992 while playing through a difficult schedule that saw at least one game get canceled due to a hurricane.
Billy Sparacio, First Baptist (Naples)
Helped guide the Lions to another regional final finish this season finishing the season with an 8-4 overall record behind some of the leading talent in Southwest Florida.
Tommy Lewis, Victory Christian (Lakeland)
Took the Storm back to the their fourth consecutive state semifinal and improving the win total from last year in the process with a 10-2 overall record.