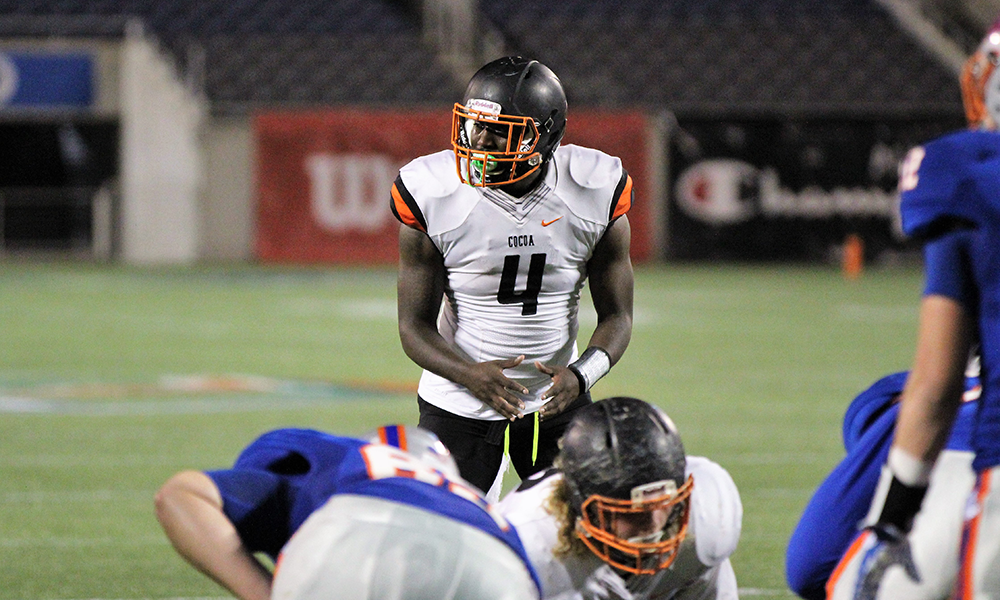 After weeks of research and compiling information, we are getting closer to releasing the FloridaHSFootball.com All-State teams for the 2016-17 season. However, first things first, we have our nominees ready for all eight classes as to who will be named to the following awards:
Most Valuable Player
Offensive MVP
Defensive MVP
Coach of the Year
The MVP will be selected from one of the 10 finalists for Offensive and Defensive MVP from each classification.
As an added bonus, you can vote until 8:00 PM EST / 7:00 PM CST Thursday, February 2 for the Fan's Choice on each of these awards which will be revealed when the teams are released to the public, most likely sometime next week.
Make sure to tell your friends and family about the voting as well which can easily be shared to Facebook and Twitter through the social sharing buttons on top or bottom of the article.
CLASS 4A OFFENSIVE PLAYER OF THE YEAR NOMINEES
QB Bruce Judson, Sr., Cocoa
59 of 90, 1,095 yards, 15 TDs, 4 INTs; 122 carries, 783 yards rushing, 9 TDs
QB Quadry Jones, Sr., Jones (Orlando)
2,477 yards passing, 31 TDs, 8 INTs; 1 rushing TD
RB Tony Street, So., East Gadsden (Havana)
235 carries, 2,040 yards, 24 TDs
WR Luis Martinez, Sr., Tenoroc (Lakeland)
60 rec., 1,060 yards, 10 TDs
WR Vincent Thomas, Sr., Jones (Orlando)
1,112 receiving yards, 17 TDs
CLASS 4A DEFENSIVE PLAYER OF THE YEAR NOMINEES
DL C.J. Bartley, Sr., Cocoa
63 tackles, 5 sacks
LB Carson Wells, Sr., South Sumter (Bushnell)
109 tackles, 20 TFL, 7 sacks, 1 FF, 2 FR, 5 PBUs, 1 blocked kick; 4-year starter
DB Rishard Dames, Sr., Booker T. Washington (Miami)
37 tackles, 6 INTs
LB Rodrick Martin, Sr., Glades Central (Belle Glade)
125 tackles, 18 TFL, 3 FF, 2 INTs

DL Jaquan Beaver, Jr., Booker T. Washington (Miami)
84 tackles, 14 sacks, 1 INT return for TD
CLASS 4A COACH OF THE YEAR NOMINEES
John Wilkinson, Cocoa
Guided the Tigers through a tough schedule and finally beat Booker T. Washington for the first time in six years of playing them in the state semifinals. Finished the season with first state championship since 2010 and 11-1 record.
Corky Rogers, Bolles (Jacksonville)
The most winningest coach in state history continued to add on to his win total this past season leading the Bulldogs back to the Class 4A state championship after missing out last season. Finished with a 12-1 record.
Ty Lawrence, South Sumter (Bushnell)
In his first year as head coach and filling the big shoes of former head coach Inman Sherman, Lawrence made the most of it taking the Raiders to the state semifinals for the first time since 2007, capturing the District 4A-4 championship and nearly upsetting state runner-up Bolles. Finished with a 10-2 record.
Elijah Williams, Jones (Orlando)
Back to the coaching grind after a year off, Williams instantly put the Jones program back on the map, finishing as the District 4A-5 runner-up to Cocoa and reaching the second round of the playoffs. Finished the season with a 10-2 record.
Wade Jackson, Avon Park
Lead Avon Park to back-to-back district championships for the first time in years, while leading the team to a 9-2 overall finish.