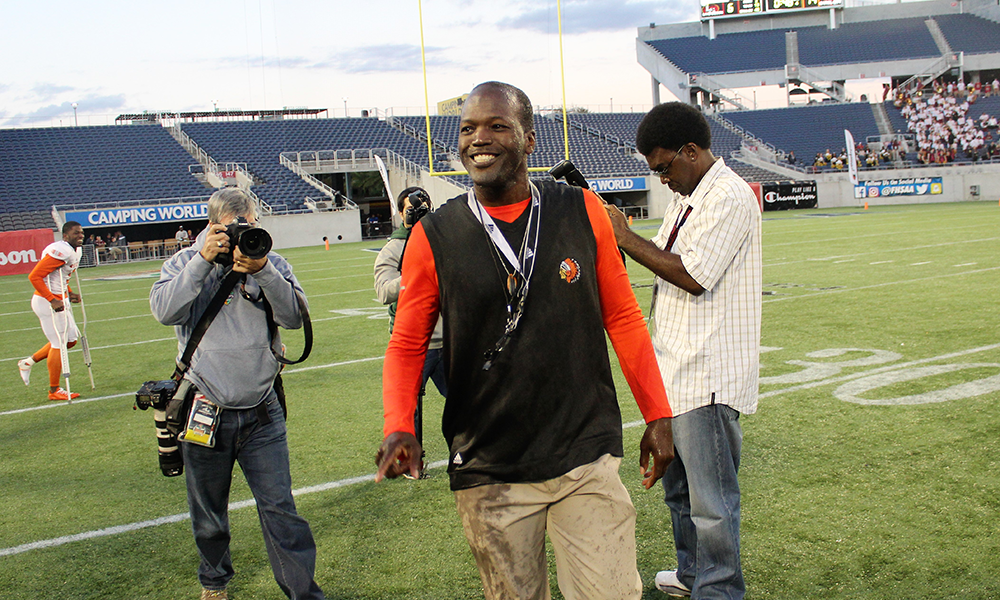 After weeks of research and compiling information, we are getting closer to releasing the FloridaHSFootball.com All-State teams for the 2016-17 season. However, first things first, we have our nominees ready for all eight classes as to who will be named to the following awards:
Most Valuable Player
Offensive MVP
Defensive MVP
Coach of the Year
The MVP will be selected from one of the 10 finalists for Offensive and Defensive MVP from each classification.
As an added bonus, you can vote until 8:00 PM EST / 7:00 PM CST Thursday, February 2 for the Fan's Choice on each of these awards which will be revealed when the teams are released to the public, most likely sometime next week.
Make sure to tell your friends and family about the voting as well which can easily be shared to Facebook and Twitter through the social sharing buttons on top or bottom of the article.
CLASS 6A OFFENSIVE PLAYER OF THE YEAR NOMINEES
RB Michael Carter, Sr., Navarre
2,523 yds rushing, 45 total TDs (41 rushing, 2 receiving, 2 kick return); 391 kick return yards
QB Denzel Houston, Sr., Mainland (Daytona Beach)
3,325 offensive yards, 45 total TDs
WR Andrew Adkins, Sr., Crestview
60 rec, 1,173 yds, 15 TDs
WR Emerson Kabus, Sr., St. Augustine
57 rec, 1,020 yds, 11 TDs
QB Rusty Moorer, Sr., Crestview
3,089 yds passing, 41 TDs, 10 INTs; 4 rushing TDs
CLASS 6A DEFENSIVE PLAYER OF THE YEAR NOMINEES
DL Jordan Wright, Sr., Dillard (Fort Lauderdale)
40 tackles, 25 sacks; 6 TDs as TE on offense
DL Adrian Hope, Sr., Vanguard (Ocala)
62 tackles, 18 TFL, 22 sacks
DL Josh Carter, So., Navarre
104 tackles, 31 TFL, 10.5 sacks, 4 FF, 1 INT, 2 blocked kicks
DB Wayne Parks, Sr., Sebastian River
81 tackles, 7 INTs, 4 defensive TDs
LB A.J. Deshazor, Sr., Lake Gibson
114 tackles, 5 sacks, 5 TFL, 1 INT
CLASS 6A COACH OF THE YEAR NOMINEES
Jay Walls, Navarre
Led team to first state semifinal appearance since 2012, finishing the season with a 12-2 record.
Aubrey Hill, Miami Carol City
Lead Chiefs to first state championship since 2003 while finishing the season with an 11-3 record.
Binky Waldrop, Charlotte
In making first run to the state semifinals since 2002, Waldrop led his squad to an undefeated regular season and finishing the season with a 12-1 record.
Doug DeMyer, Lake Gibson
In his first season as head coach, DeMyer led the Braves to the unthinkable, finishing the regular season with an undefeated record and reaching the Class 6A state championship game finishing the season with a 13-1 record.
Bobby Clayton, Gulf Breeze
It was a big turnaround for a Gulf Breeze program that won only two games in 2015, to a team that won 9 games, winning the first district championship and hosting their first playoff game since 1989.