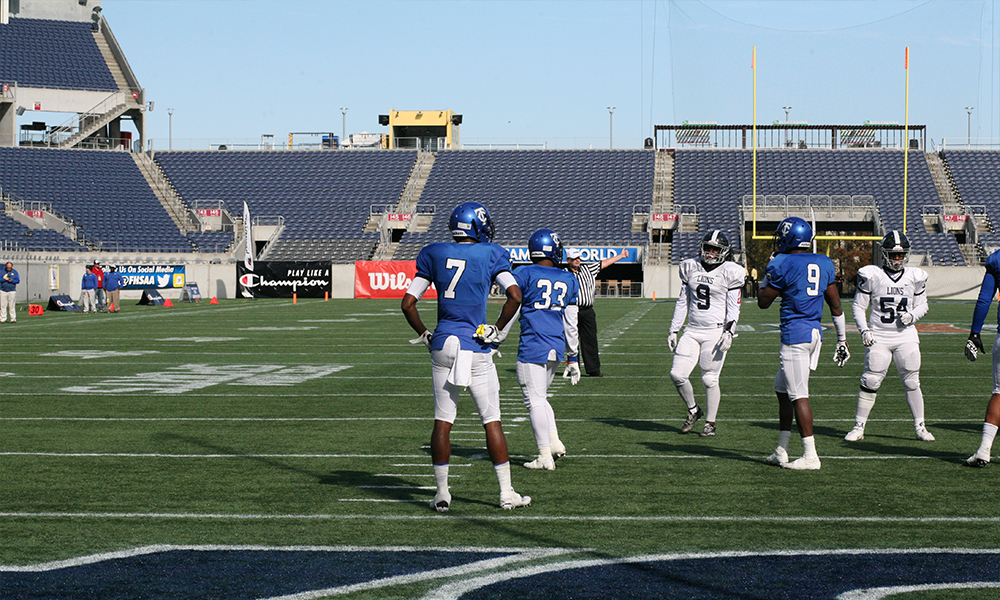 After weeks of research and compiling information, we are getting closer to releasing the FloridaHSFootball.com All-State teams for the 2016-17 season. However, first things first, we have our nominees ready for all eight classes as to who will be named to the following awards:
Most Valuable Player
Offensive MVP
Defensive MVP
Coach of the Year
The MVP will be selected from one of the 10 finalists for Offensive and Defensive MVP from each classification.
As an added bonus, you can vote until 8:00 PM EST / 7:00 PM CST Thursday, February 2 for the Fan's Choice on each of these awards which will be revealed when the teams are released to the public, most likely sometime next week.
Make sure to tell your friends and family about the voting as well which can easily be shared to Facebook and Twitter through the social sharing buttons on top or bottom of the article.
CLASS 3A OFFENSIVE PLAYER OF THE YEAR NOMINEES
RB Shaun Shivers, Sr., Chaminade-Madonna (Hollywood)
193 carries, 1,589 yards, 20 TDs
RB Gordon Stetson, Sr., Berkeley Prep (Tampa)
292 carries, 1,840 yards, 19 TDs; 20 rec, 293 yards, 6 TDs; Also has 420 kick return yards.
WR Chris Reaves, Jr., Taylor County (Perry)
Led Class 3A in receiving, hauling in 51 catches for 940 yards, 12 TDs; Also had 29 tackles, 3 INTs on defense

RB Bryce Williams, Jr., Cardinal Mooney (Sarasota)
1,356 yards rushing, 20 TDs; 11 catches for 145 yards, 2 TDs

QB Joseph Brunell, Sr., Episcopal (Jacksonville)
119 of 198, 1,907 yards, 22 TDs; 10 rushing TDs
CLASS 3A DEFENSIVE PLAYER OF THE YEAR NOMINEES
ATH/DB Shaun Wade, Sr., Trinity Christian (Jacksonville)
63 tackles, 7 INTs, 3 defensive TDs, 7 total INTs; 26 rec, 520 yds, 6 TDs
DL Davoan Hawkins, Jr., Chaminade-Madonna (Hollywood)
50 tackles, 29 sacks; Also played left tackle giving up only 2 sacks.
DL Tyler Williams, Sr., Oxbridge Academy
28 tackles, 18 TFL, 3.5 sacks
LB Sully Altman, So., Holy Trinity (Melbourne)
100 tackles, 20.5 TFL, 10 sacks, 12 QB hurries, 1 blocked kick in only 9 games dues to hurricane
LB Eriq Gilyard, Jr., Trinity Christian (Jacksonville)
91 tackles, 14.5 TFL, 4.5 sacks, 1 INT, 1 PBU, 1 FF
CLASS 3A COACH OF THE YEAR NOMINEES
Stacy Sizemore, Melbourne Central Catholic
Lead team to 11-1 season, including an undefeated regular season record and includes the District 3A-6 championship. Also led the Hustlers to the first-ever state semifinal appearance in school history.

Verlon Dorminey, Trinity Christian (Jacksonville)
Has lead the Conquerors to four-straight state championships and has the chance to become the first coach in state history next year to lead the state team to five-straight state championships.
Dominick Ciao, Berkeley Prep (Tampa)
Leading one of the most surprising teams in Class 3A this season, Ciao finished the season with a 9-3 record and leading the Buccaneers to the first-ever appearance in a state semifinal game.
Dameon Jones, Chaminade-Madonna (Hollywood)
Took over right at the start of fall practices, Jones was able to keep the Lions together as a team and guided them through a difficult schedule that led them to playing in the school's first state championship since 2005. Finished the season with a 10-4 record.
Brendan Kent, Oxbridge Academy (West Palm Beach)
After turmoil forced out the former head coach, Kent took over, providing some continuity for the ThunderWolves, while guiding them to claiming the first official district championship with a 10-2 overall record.