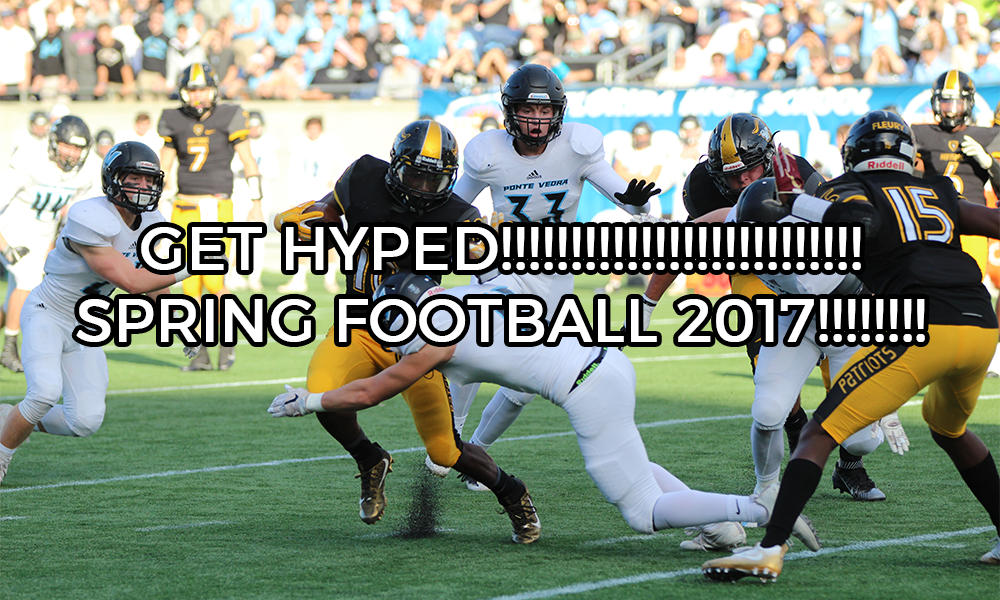 Help support the No. 1 Independent high school sports website in the State of Florida by becoming a FRIEND of FloridaHSFootball.com for as little as $3.00 per month by clicking here.
GAINESVILLE, Fla. — It is about that time for the helmets and pads to come out of the closet and the cleats to be placed on the feet so toe can meet leather… well almost.
Yes, it almost time for spring football to get underway in the Sunshine State which gives coaches a look at the talent they will have to work with this fall while giving the fans a glimpse into the future.
With that said let's take a look at some of the hype that teams have been pushing out there on social media
Leon (Tallahassee) is ready to roll with spring football given the GIF that was used:
When Leon Spring Football is about to start. . . April 24. Visit our website for details https://t.co/xEqN0brM2M GO BIG RED pic.twitter.com/1OLNmtYV6G

— Leon Lions Football (@LeonLionsFB) April 23, 2017
Coconut Creek head coach Gerald Cox is heading into his second year at the helm looking to build upon last year:
Spring ball is here. #phase2 begins tomorrow in route to OUR GOALS. Be on time and we are in Black shorts. #AllinForFAMILY @CreekFootball1

— Coach Cox (@Coachgcox) April 23, 2017
If there is a different way to get things started with Spring Football before hitting the field, Satellite held a community service day yesterday:
Satellite FB Community Service Day – helped over 30 families in need, taught players what it means to SERVE. Priceless! #Uncommon pic.twitter.com/LHrlaFvqkV

— Satellite Football (@ScorpFootball) April 23, 2017
A reminder from Largo that there are No Excuses in the 20 days each team is allotted for spring practice:
https://twitter.com/LargoFootball/status/856217364941111296
2016 Class 6A state semifinalist Charlotte (Punta Gorda) is ready to head back out on the field:
Who's ready for #SpringFootball to start tomorrow? Can't wait to strap on the cleats and #GATA. Let's get to work!! #TarponPride

— CHS Tarpon Football (@CHSTarponFB) April 23, 2017
Some new helmets are in order for Space Coast (Cocoa) with spring football starting:
BIG SHOUT OUT, Adam Tripp & Flawless Finish, for the 2017 Viper Look! It's going to go great with our new uniforms. #fearthefang #viperpride pic.twitter.com/OSo8kxPmOX

— VipersFootball (@scvipersfb) April 23, 2017
Lake Mary Prep, a Sunshine State Athletic Conference (SSAC) member, is reminding everyone to get off the tracks:
1 day until spring practice. Rising Freshman start to listen, learn and lead the Griffin way. We are Leaving the station. #journey17 pic.twitter.com/w8XFi9a6QK

— LMP FOOTBALL PROGRAM (@LMPFootball1) April 23, 2017
Another SSAC member, Christ's Church Academy released a hype video for spring football:
CCA Football 2017 Spring Hype Video #247eagles @ByCoreyDavis @SSACFootball @brentbeaird @DuvalSports @FlaHSFootball https://t.co/Ua6VpFG83I

— Coach Jim Stomps (@coachstomps) April 23, 2017
A couple of teams are getting their Ric Flair on:
We are about 25 hours or so away from SPRING FOOTBALL! THE BIG GREEN INDIAN WAY! Woooooo! pic.twitter.com/MKJDlP7LCp

— Choctaw Football (@BigGreenIndian) April 23, 2017
That feeling knowing Spring Football starts tomorrow. #Work2Win Go Jags pic.twitter.com/s1kbwyLUxZ

— PSL Jaguars Football (@PSLJagsFootball) April 23, 2017
Hillsborough (Tampa) is ready to separate the weak from the strong:
https://twitter.com/HHS_Terriers/status/856268132163493889
Heck, even the media might be ready to go for Spring Football like Tampa Bay Times' Bob Putnam is:
Football season officially begins Monday with spring practice. Who's ready?

— Bob Putnam (@BobbyHomeTeam) April 23, 2017
Astronaut (Titusville) released their schedule with the helmets from the Florida Helmet Project to get people pumped up:
Since 2017 starts w day 1 tomorrow. Our schedule, compliments of @realJearl #WarEagles #Astroville pic.twitter.com/v1ILbwhuHF

— Astroville (@AstronautFB) April 23, 2017
Columbia (Lake City) is reminding us they are ready:
@FlaHSFootball you already know columbia looking forward to spring football, time to turn up and get back to state, North Florida watch out

— ColumbiaHighSports (@sports_CHSLC) April 23, 2017
And here is another GIF with Lake Gibson (Lakeland):
Spring football starts tomorrow?! Time to get after it! #GOOD pic.twitter.com/6aSIaYcUGS

— LG Braves Football (@LGBravesFB) April 23, 2017
Everyone should hydrate for tomorrow…not just those at Godby (Tallahassee):
https://twitter.com/GodbyAthletics/status/856146152693141504
Last, but certainly not least, Greg Miller, who will be the first head coach at the new Windermere High in Orange County is reminding college coaches they are up and running:
Coaches Windermere High School is up and running for the spring. Although we have only current sophomores or younger, we have players.

— Greg Miller (@coachmill57) April 23, 2017
And remember for a complete list of Spring Football Games & Jamborees, click here.
Want your team's tweet to be added on? Tweet to us on Twitter at @FlaHSFootball or leave a comment below!
BEST OF LUCK TO ALL TEAMS DURING SPRING FOOTBALL!!!!