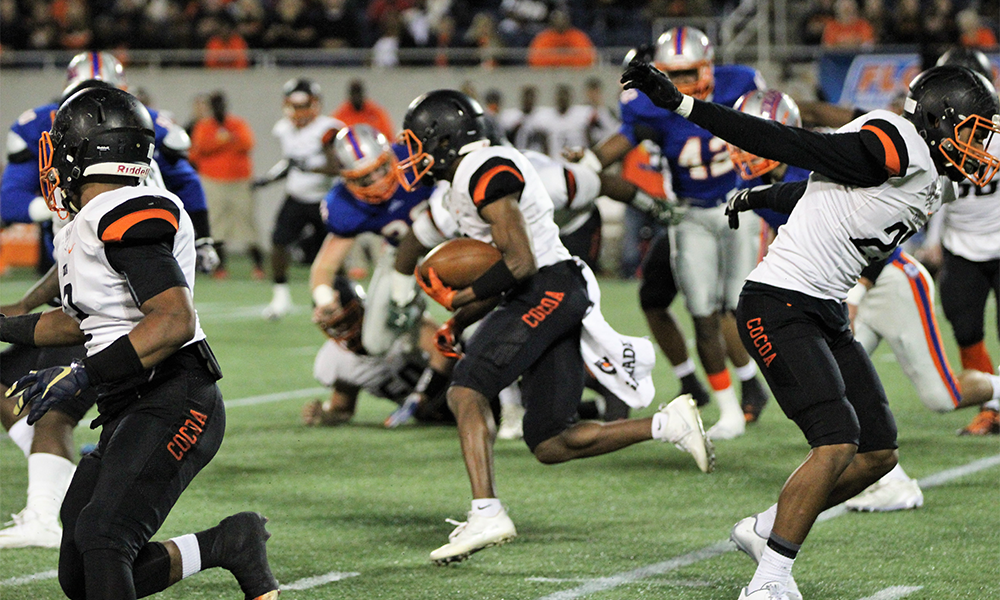 Spring Football gets underway today with the majority of teams commencing with practices — non-contact of course — to get things started.
Here are five storylines we are watching with spring football.
Coaches Moving Van having very active offseason
The Original Coaches Moving Van has been active this offseason with over 115 coaching changes already taking places since the end of last season. Many of them will be first-time head coaches taking over the reins of programs both strong and struggling.
The biggest change this offseason was no doubt the legendary Corky Rogers who stepped down after 45 years as head coach with stints at Robert E. Lee (Jacksonville) and most recently with Bolles (Jacksonville). With Wayne Belger stepping in, fans will get the first glimpse of the Bolles program in the post-Corky Rogers era on May 18 against Mandarin (Jacksonville).
RELATED: END OF AN ERA: Corky Rogers steps down after 45 years of coaching
Another storied program going through some changes is Manatee (Bradenton) which saw John Booth step down a couple of weeks ago on the same day his twin brother James took the head coaching job at Plant City. That comes on top of several coordinator changes that have taken place for the team as well. One big thing to note is that Booth will still lead the team through some portion of the spring practice before a new coach is likely hired the Bradenton Herald has reported.
Other big noted coaching changes far include Kevin Pettis leaving Sebastian River (Sebastian) for Chiles (Tallahassee) while Martin County's all-time winningest coach filled the position Pettis left behind. In that process, Martin County (Stuart) reached back into its past by hiring former Western Michigan and Illinois head coach Bill Cubit. Cubit previously coached at Martin County in the mid-1980s.
Victory Christian (Lakeland) did not renew the contract of head coach Tommy Lewis who landed at Westminster Academy (Fort Lauderdale) very quickly, while Trenton will have their third head coach in as many seasons as Bill Wiles stepped down after one season. Former defensive coordinator Lyle Wilkerson will take over as the head coach.
For a complete list of coaching changes, check out The Original Coaches Moving Van here.
Effects of the new playoff format starting to be felt
If there is one change already noticeable in the air, that is the new playoff format that will officially take effect in August. However, by looking at the spring football schedule you would think that things are already in place.
Some of that includes teams scheduling some tougher opponents like East Ridge (Clermont) taking on IMG Academy's National Team or scheduling more like-minded competition like Wolfson (Jacksonville) traveling to Ridgeview (Orange Park) on the biggest night of games on May 19.
With that expect a lot of teams to start game planning for their opponents through practices with many opportunities to each catch spring games with potential opponents or through the summer 7-on-7 circuit. The chance to win as many games as possible are going to be important for teams who are seeking to get a playoff spot this season.
Potential plans for repeats on the horizon
With the slate clean for everyone, that means it will be a chance for teams to game plan for potential facing some of the best teams in the state during the season and potentially the playoffs. But who has the best chances to repeat? That depends on who you ask, but there are quite a few with that potential.
So far out of all the state champions, excluding Pahokee (who was stripped of their state championship earlier in the year due to an ineligible player), Trinity Christian (Jacksonville) and Miami Carol City have plans for a spring game against some pretty stout competition against Robert E. Lee (Jacksonville) and Immokalee. St. Thomas Aquinas (Fort Lauderdale), Cocoa, and University Christian (Jacksonville) will not participate in an actual spring game this year. As for plans involving Miami Southridge and American Heritage (Plantation) are unknown at this point, but anything could change.
Do note that Trinity Christian will not be defending its state championship in Class 3A, but rather taking on the chances to repeat once again in Class 5A due to the new playoff format. This will give Class 3A new state champion for the first time in four years this season.
So has the best chances to repeat overall, according to FloridaHSFootball.com? Here is where FloridaHSFootball.com Publisher Joshua Wilson ranks the best chances.
1. St. Thomas Aquinas (Fort Lauderdale) — St. Thomas Aquinas has never won four straight state championships, but the Raiders could do that this season. With the usual influx of talent that flows through the Fort Lauderdale school, they should be considered a threat to repeat until some knocks them out. However, a few coaches have told us they fell the quarterback situation may be a rough patch with Jake Allen gone now.
2. Trinity Christian (Jacksonville) — The Conquerors easily reload with talent and with four straight state championships and a fifth straight championship possible, which has never been done in Florida, this year could be historic for the powerhouse from Jacksonville.
3. Cocoa — They finally broke the wall down after five years of it being in place by Booker T. Washington (Miami) and then finally defeating Bolles (Jacksonville). With a few offseason transfers already in the house, Cocoa will be a threat once again with a potential chance to repeat.
4. University Christian (Jacksonville) — Having seen the schedule already for this fall, the Fighting Christians need a solid spring to prepare for what could be a brutal schedule. However, if they manage to get through the gauntlet, there may not be another team in Class 2A that could stop them for a third straight state championship.
5. American Heritage (Plantation) — With a few key playmakers graduating, the Patriots will turn to its next group of rising seniors to step up and keep things going. However, with Trinity Christian (Jacksonville) sharing the same classification with the Patriots, chances of repeating got slightly tougher.
6. Miami Southridge — Love what Billy Rolle has done here and he will certainly keep things going with the program he is building. However, Class 8A is a very volatile classification and anything could happen in any given year as to who will emerge from South Florida to play for a state championship. This is why I am a little lower on the chances of the Spartans repeating.
7. Miami Carol City — Aubrey Hill is gone and Benedick Hyppolite has come in after spending last season over at Hallandale in Broward County. There are some questions surrounding how the changes will play out, but with the Chiefs being in the toughest district in Class 6A. Getting through the pack will be easier said than done and it will take playing almost error free football to repeat.
Early Spring Games
The slate of spring games gets started early…two weeks in as a matter of fact.
But does playing a spring game early help or hurt? That is a question that will eventually be answered here over the coming months as we approach the fall.
Atlantic Coast (Jacksonville) and Nease (Ponte Vedra) will get the distinction of having the first spring game on Wednesday, May 10th. Both teams are coming off seasons that will see them rebuilding this fall and will give each team a chance to see what they are doing good and what they need to fix between June and August.
Other early games on the slate include Lake Nona (Orlando) at Timber Creek (Orlando), Poinciana (Kissimmee) at Indian Rocks Christian (Largo) on Thursday, May 11th, while a handful games highlighted by Yulee and Sandalwood as well as a jamboree at Sebastian River to round out the early slate of games.
Transfers with new open enrollment rules could change team dynamics
With the remainder of the state's open enrollment rules set to take effect on July 1, there could be some interesting scenarios see athletes move to another school across county lines to play for another team. This could major impacts on a team's outlook for this fall, especially if they were going to rely on a player who decides a different school elsewhere better suits him, provided that school he wants to go to has the available space and accepts him through their enrollment process.
And there is nothing much anyone can do about it either as spring football in Florida is considered a part of the current school year that is ongoing, not for next school year, thus allowing players free to move on to another school after spring football.
This will be a major storyline to keep an eye as we roll through spring football games and as the school year starts to come to a close in the state.
Top spring games and jamborees
There are some incredible spring game matchups on the slate. We will go through more of the top games as we get going with spring football, but here are some spring games or jamborees that will be worth watching this spring:
• Clearwater at Clearwater Central Catholic — May 17
• Dr. Phillips (Orlando) at Winter Park — May 17
• Venice at Lakeland — May 18
• Trinity Christian (Jacksonville) at Robert E. Lee (Jacksonville) — May 18
• Palm Beach Lakes Jamboree with Boynton Beach, Deerfield Beach, Miami Central and Palm Beach Lakes (West Palm Beach) — May 19
• Buchholz (Gainesville) at Ponte Vedra — May 19
• Manatee (Bradenton) at Lake Gibson — May 19
• University (Orange City) at Apopka — May 25
For a complete list of spring football games, click here.