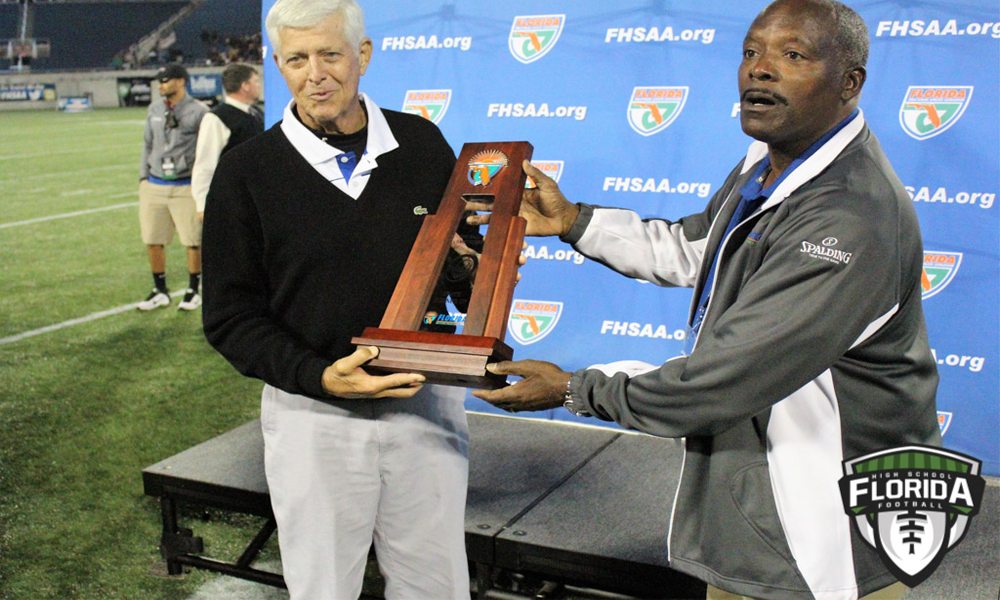 JACKSONVILLE, Fla. — The end of an has come to a close not only in Jacksonville but one that has far-reaching effects for the entire state.
On Monday morning, Bolles Head Coach Corky Rogers told Gene Frenette at the Florida Times-Union that he was stepping down after 45 years of coaching between two Jacksonville-area schools after recent health issues, including heart bypass surgery in 2013, finally took its toll on Rogers.
BREAKING: Corky Rogers, winningest HS football coach in state history, stepping down at Bolles due to health issues https://t.co/qURMCV2AVz

— Eugene Frenette (@GeneFrenette) March 6, 2017
"I just can't do it. I still have the desire to coach, but it's not fair to the players because the energy isn't there for me to do it the way it needs to be done," Rogers told Frenette.
Rogers, who is 73, steps down as the winningest head coach in Florida history with 465-84-1 record, with all the games coming between his first coaching stop at Robert E. Lee (1972-1988) on Jacksonville's Westside and at Bolles (1989-2016). While at Bolles he won a state record 10-state championships, most by any one head coach in Florida and giving the school 11-overall state championships in football.
As for his legacy? That is something that has people abuzz on social media.
The number of people who have had their lives positively impacted by Corky Rogers is mind numbing. Forget the wins, his impact is amazing.

— Cole Pepper (@ColePepper) March 6, 2017
The number has to be in the tens of thousands at least. His legacy will be unmatched and untouched by anyone in this state. #flhsfb https://t.co/FQZR5W1FFe

— FloridaHSFootball.com (@FlaHSFootball) March 6, 2017
You can count me among them, and that's just from calling games on radio for four years! Remarkable. https://t.co/0q0IUrxGiG

— Cole Pepper (@ColePepper) March 6, 2017
It is a wonderful feeling. Even if you didn't know him well, just watching his teams and coaching style, you could learn something from it! https://t.co/rIRtpO0FpQ

— FloridaHSFootball.com (@FlaHSFootball) March 6, 2017
Thank you to Coach Rogers who has helped me become a better person, teammate, and player. Thank you for your lasting impact on football. pic.twitter.com/GxYSI7MkHn

— Mac Jones (@MacJones_10) March 6, 2017
His 2016 team finished 12-1 overall as the Class 4A State Runner-up to Cocoa.
In addition to his accomplishments on the field, Rogers has been recognized by both the Florida High School Athletic Association (FHSAA) and the National Federation of State High School Associations (NFHS) as he was inducted into their respective Hall of Fame's in 2005 and 2015, respectively.
With the transition, Wayne Belger has been named the new head coach who has been a long-time assistant to Rogers.
The school will hold a press conference tomorrow at its main campus in Jacksonville tomorrow to address more about the transition.
This is a developing story, check back for more later.