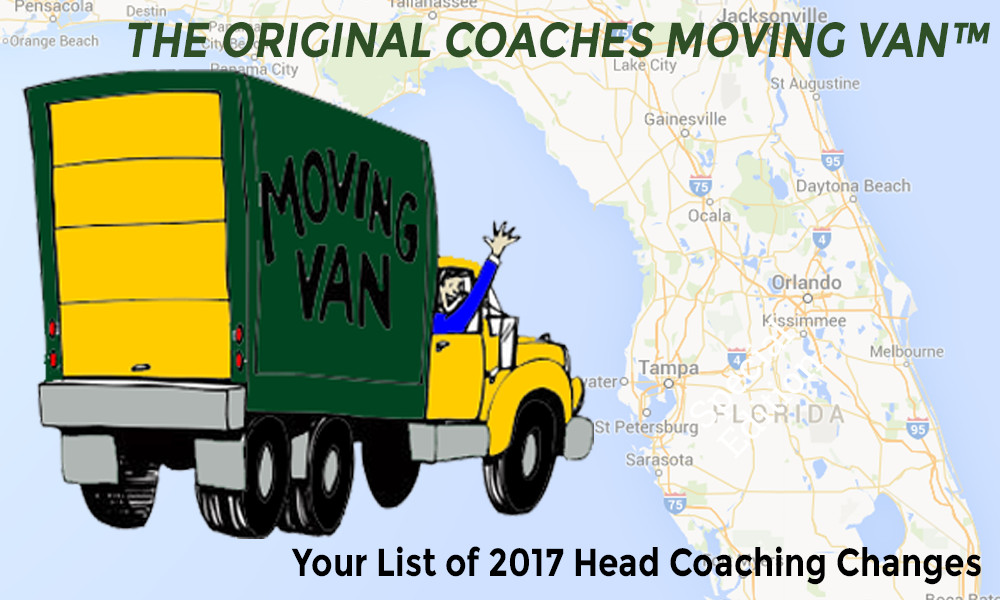 Help support the No. 1 Independent high school sports website in the State of Florida by becoming a FRIEND of FloridaHSFootball.com for as little as $3.00 per month by clicking here.
Here is a complete list of coaching changes as part of The Original Coaches Moving VanTM which includes changes going back to the start of the 2016 season.
If you have a coaching that you would like to report to us that is not on this list, please email it to football@floridahsfootball.com.
LAST UPDATED: May. 27, 2017 at 4:27 p.m. EDT
TOTAL CHANGES TO DATE: 127
Links indicate a story in regards to the change or hiring of a coach
School, Previous Coach, New Coach
Admiral Farragut: Ryan Hearn, Rick Kravitz
Alonso: Brian Emanuel, Reggie Crume
Astronaut: Randy Hallock, Justin Worden
Atlantic (Port Orange): Matt Dixon, Kendall Bradley
Atlantic Coast: Matt Elliott, Jimmy Hill
Bartow: Jake McCrae, TBA
Belleview: John Brantley, Mike Kelly, Jr. (interim)
Belen Jesuit: Richard Stuart, Eddie Delgado
Berean Christian: Brad Carney, Mario Jackson
Bishop Verot: Bill Shields, Josh Vogelbach
Blake: Adam Hill, Duane Thomas
Blanche Ely: Carl Wilburn, Calvin Davis
Bolles: Corky Rogers, Wayne Belger
Booker: **Recharde Goodwyn, Dumaka Atkins
Boynton Beach: Errick Lowe, Derrick Crudup Sr.
Bradford: Corey Green; Brian Tomlinson
Branford: Roy Harden, Tim Clark
Brandon: Dean Eychner, Isaac Anderson
Bradenton Christian: Allan Gerber, Dan Fort
Carol City: Aubrey Hill, Benedick Hyppolite
Carrollwood Day: *Lane McLaughlin, Mark Jones
Celebration: Joel Smeenge, Jay Sobke
Centennial: Ron Parker, Jamar Chaney
Chiles: Garrett Jahn, Kevin Pettis
Chiefland: Aaron Richardson, Adam Gore
Citrus: **Justin Taylor, Nate Varnadore
Colonial: Clint Johnson, Donny Hodges
Coral Gables: Roger Pollard, Tim Neal
Cornerstone Charter: Erik Monson, TBA
Creekside: **Jeff Schaum, Sean McIntyre
Crescent City: Al Smith, Clarence Williams
DeLand: Vernon Shelton, Steve Allen
Dixie County: Brent Wilkerson, Eric Richeson
Dixie Hollins: Shane Wheeler, TBA
Duval Charter: Shawn Lakey, Kevin Wiley
East Gadsden: Corey Fuller, Joey Striplin
East River: Collin Drafts, Tony Picallo
Edgewater: **Chris Leak, Cameron Duke
Edison: Napoleon Joseph, Vick Evans
Englewood: Marcus Miller, Barry Stewart
Escambia: Mike Davis, Mike Bennett
Everglades: Art Taylor, Rodney Rumph
FAMU DRS: Rontarius Robinson, Cedric Jones
Flagler Palm Coast: Tommy Moody, Travis Roland
Flanagan: Stanford Samuels Jr., Al Lang
Fort Pierce Central: Matt Helmerich, Brad Paulson
Franklin County: Randy Brock, Tony Yeomans
Freeport: Jim Anderson, Shaun Arntz
Gaither: **Jason Stokes, Kirk Karsen
Gibbs: Jon Thompson, Antonio Knox
Glades Central: Rick Casko, Jessie Hester
Godby: Todd Lanter, Corey Fuller
Graceville: Grant Thompson, Justin Miles
Gulf: Matt Kitchell, Jason Grain
Hallandale: Benedick Hyppolite, TBA
Halifax: Dahyrll Brown, Shamus Dougherty
Harmony: **Jerrad Butler, Don Simon
Hialeah Gardens: Joe Harrington, Greg Magner
Hollywood Hills: Al Lang, Brandon Graham
Hudson: Robbie Mahler, TBA
Ida Baker: Brian Conn, Todd Nichols
Jefferson County: Blair Armstrong, TBA
Jordan Christian Prep: Brian Davis, Terry Drake
Jupiter: Bill Powers, Tim Tharp
Keys Gate Charter: Chevas Clements, TBA
Lake Highland Prep: Cameron Duke, Ben Bullock
Lake Weir: Tim Hicks, Will Dettor
Leesburg: Doug Allison, Mark Oates
Lely: Maurice Besler, TBA
Lemon Bay: DJ Ogilvie, Don Southwell
Lennard: Keith Chattin, Matt Kitchie
Leon: Tim Cokely, Garrett Jahn
Leto: Matt Kitchie, Alex Urquhart
Liberty: Cory Johns, Doug Gabriel
Liberty County: Grant Grantham, TBA
Lincoln: Yusuf Shakir, Quinn Gray
Manatee: John Booth, TBA
Mandarin: Quinn Gray, TBA
Martin County: Chuck Kenyon, Bill Cubit
Miami: Ivan Rosales, Sedrick Irvin
Milton: Chafan Marsh; Harry Lees
Miramar: Pierre Senatus, A.J. Scott
Nature Coast Tech: Justin Worden, Cory Johns
North Florida Educational: Christopher Holmes, Joe McClendon
North Miami: Ed Williams, Pat Colon
Oak Ridge: Kenard Lang, Clint Johnson
Ocala Christian: Jason Zimmerman, Dale Jackson
Ocoee: Ben Bullock, Jason Boltus
Olympic Heights: Chris Kokell; Baz Alfred
Oviedo: Wes Allen, Matt Dixon
Palm Beach Gardens: Rob Freeman, Billy Clark
Palm Glades Prep: Don March, TBA
Palm Harbor University: Reggie Crume, John Scargle
Parker: Tommy Balom, Marcus Miller
Pensacola Catholic: Greg Seibert, Matt Adams
Pine Forest: Jerry Pollard, Jason McDonald
Pine Ridge: Matthew Yancey, Kenny Pickens
Piper: *David Coleman, TBA
Plant City: Robert Paxia, James Booth
Plantation: Jesse Norris, Steve Davis
Pompano Beach: Rick Nagy, Melvin Jones
Riverdale: Tom Roszell, James Delago
Riverview (Riverview): Mike Thorton, William Mosel
Rutherford: Rob Armstrong, Loren Tillman
St. John Lutheran: **Chris Martin, TBA
St. John Paul II (Tallahassee): Cedric Jones, Kez McCorvey
St. Petersburg Catholic: Shannon Brooks, Jay Davis
Santaluces: Jason Bradley, Brian Coe
Satellite: Mark Carstens; Ted Kimmey
Sebastian River: Kevin Pettis, Chuck Kenyon
South Broward: DeVon Georgia, Keith Franklin
South Fort Myers: *Anthony Dixon, Brian Conn
Southwest: Tim Neal, Don March
Spoto: Dale Caparaso, David Searfoss
Trenton: Bill Wiles, Lyle Wilkerson
Triumph Christian: Mark Burden, Eryk Anglin
University (Orlando): Jim Pusateri, Derrick Warren
Vernon: Willie Spears, Gerald Tranquille
Victory Christian: Tommy Lewis, Kendrick Stewart
Village Academy: Donald Hanna, Rod Huggins
Weeki Wachee: Mark Lee, Jacob Gray
Wewahitchka: Loren Tillman, Bobby Johns
Westland Hialeah: Mike Manasco, Matthew Van Dusen
Westminster Academy: Willie Tillman, Tommy Lewis
Westminster Christian: Earl Little, Ed Holly
West Florida: Harry Lees, Rhett Summerfield
Wildwood: Fred Anderson, TBA
*Change made after first fall practice and before first regular season game
**Change made between first regular season game and last game of season