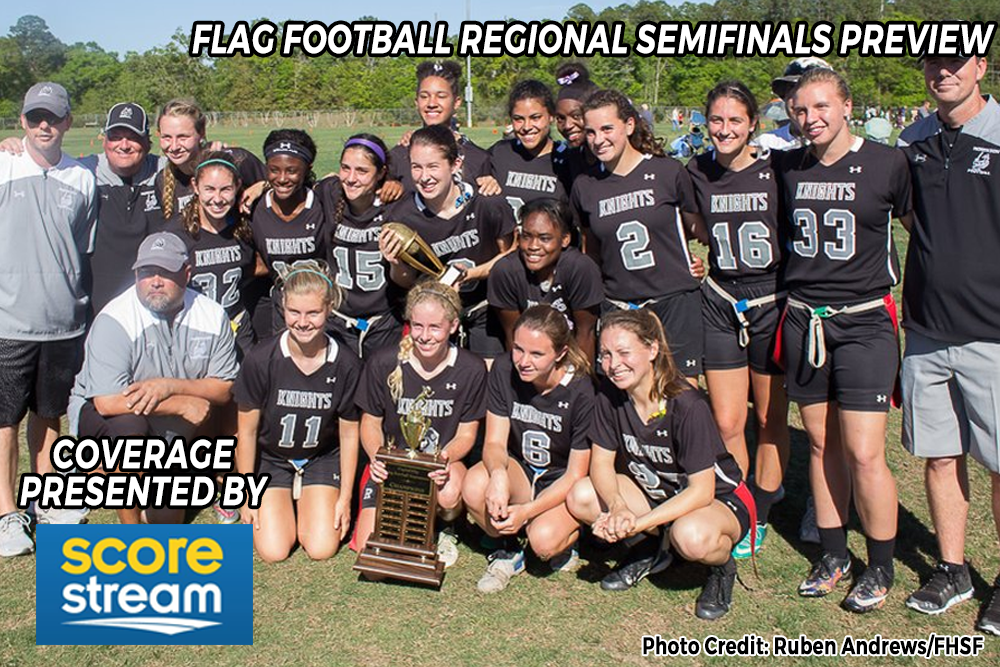 Help support the No. 1 Independent high school sports website in the State of Florida by becoming a FRIEND of FloridaHSFootball.com for as little as $3.00 per month by clicking here.
#Get2Gainesville is the name of the game this year for the 2017 FHSAA Flag Football Playoffs and that starts on Friday evening when the remaining 32 between Classes 1A and 2A take to the field to decide who will eventually be making a trip to Gainesville in just over one week.

Sponsor Note: Our coverage of the Flag Football playoffs on FloridaHSFootball.com is brought to you by ScoreStream! ScoreStream powers thousands of scores in over a dozen sports across the country. You can download the ScoreStream app on your iOS or Android device and score games for your favorite school all school year! To download the app, click here!
Here is a quick preview of all 16 regional semifinal games between Classes 2A and 1A.
All games scheduled for 7:00 pm Eastern on Friday unless noted.
CLASS 2A
No. 17 Fleming Island (6-2) at DeLand (8-4) at Spec Martin Memorial Stadium: This game is literally a toss up as both teams appear to be equally matched and both overcame lower seeding placement in districts.
Prediction: Fleming Island over DeLand
No. 2 Dr. Phillips (14-0) vs. No. 1 Martin County (13-0) at South Fork High (Stuart), 5 pm: Big matchup the No. 1 and No. 2 teams in Class 2A and this could be a really all-out defensive battle. Martin County has only allowed six points all season while Dr. Phillips has allowed a little bit more despite eight shutouts.
Prediction: Martin County over Dr. Phillips
St. Cloud (9-5) at No. 7 East Bay (12-2): Don't underestimate St. Cloud here as they are a tough squad and has been known to upset teams when you least expect it. However, East Bay has had one of their best seasons and have improved greatly since the Capital City Classic.
Prediction: East Bay over St. Cloud
No. 5 Plant (12-2) at East Lake (9-4): East Lake knocked off Palm Harbor University to advance through their district last week. However, Plant got battle tested to win their district last week. In the end, experience wins with Plant and most likely this game.
Prediction: Plant over East Lake
No. 3 Seminole Ridge (14-0) at No. 4 Park Vista (12-1): A big test here for Seminole Ridge as they have seen a potential first loss in three years flash in front of their eyes several times this season. Park Vista is a tough squad only losing to Palm Beach Lakes in the last second near the end of the season. This is a BIG toss up.
Prediction: Seminole Ridge over Park Vista
Coral Glades (8-3) at No. 8 Piper (12-1): Coral Glades is on fire right now tearing through their district last week to win the championship. However, Piper did again this year by beating the No. 1 seed in their district (Western) to get here. Things might be a little different this year for the Bengals.
Prediction: Piper over Coral Glades
No. 6 Cooper City (13-1) vs. No. 9 Dr. Krop (11-2), at Ives Estates Park, 4 pm: Two battled tested teams here going at it with each other. However, that is where the similarities end given the fact Cooper City has been here before in the playoffs, while this is Dr. Krop's first time in the big dance as a second-year program. But then again it may not matter.
Prediction: Cooper City over Dr. Krop
No. 16 Miami High (7-2) at No. 15 Miami Southridge (9-2), 6 pm: Miami High, which was the No. 3 seed in their district last week, surprised everyone to get here, while Miami Southridge has improved from year one to year two. The question is who wants this win more?
Prediction: Miami Southridge over Miami High
CLASS 1A
No. 2 Choctawhatchee (12-0) at No. 9 FAMU DRS (10-4): Choctawhatchee might have been given a gift here with FAMU upsetting the district tournament in Tallahassee last week. But then again they may not. However, Choctawhatchee's path to Gainesville might be a good one if they win here.
Prediction: Choctawhatchee over FAMU DRS
No. 8 Terry Parker (14-0) at No. 7 Clay (11-0): We have been warned how good Clay is and in fact warned twice by Orange Park on this one. However, we won't take away that Terry Parker has relied really well on its defense to win its games this year including the Gateway Conference. This could be a big battle here in Green Cove Springs.
Prediction: Clay over Terry Parker
No. 16 Crystal River (10-1) at Brandon (8-5): Crystal River is in the playoffs for the first time in flag football and might have gotten a good shot to get their first playoff win given how unpredictable Brandon's district was this season. However, this might be another game where anything goes.
Prediction: Crystal River over Brandon
No. 1 Robinson (14-0) at St. Petersburg Northeast (8-3): Everyone is trying to find ways to stop what is arguably the best team in Flag Football in this state and that is Robinson. Northeast wants to bring out the band for this and present it as a distraction, but that likely will not work. Robinson is used to everything at this point despite Northeast finding a way once again to win their district this year.
Prediction: Robinson over Northeast
No. 5 Mainland (12-1) at No. 4 Harmony (11-2): This is one of the best matchups in Class 1A for the regional semifinals. Both teams have played in a gritty way, squeaking out wins against tough opponents. This could likely be one of those games that could be 6-all that goes into overtime. That is how comparable both teams are.
Prediction: Harmony over Mainland
No. 15 Jensen Beach (10-3) at Oxbridge Academy (7-3): Jensen Beach rode through their district as the No. 3 seed upsetting Westwood and Glades Central along the way. For Oxbridge Academy, they put away a very good Suncoast team last week to win the district again. In the end, Jensen Beach is much more battled tested here than Oxbridge is.
Prediction: Jensen Beach over Oxbridge Academy
No. 3 Pembroke Pines Charter (14-0) at Miami Norland (7-4), 5 pm: Pembroke Pines Charter has dominated all season, but the are focused on one game a time. Miami Norland was a surprise this year getting by twice on Monsignor Pace. However, Norland's luck may run out here despite hosting.
Prediction: Pembroke Pines Charter over Miami Norland
No. 6 Miami Edison (12-1) vs. No. 11 Booker T. Washington (8-1) at Gibson Park, 2:30 pm: Miami Edison is the best team coming out of Miami-Dade this year in Flag Football and has literally dominated almost every game they have won in. Booker T. Washington has vastly improved in year two and they are looking to shape themselves up like their tackle counterparts, but this game might not be a place for it to continue
Prediction: Miami Edison over Booker T. Washington