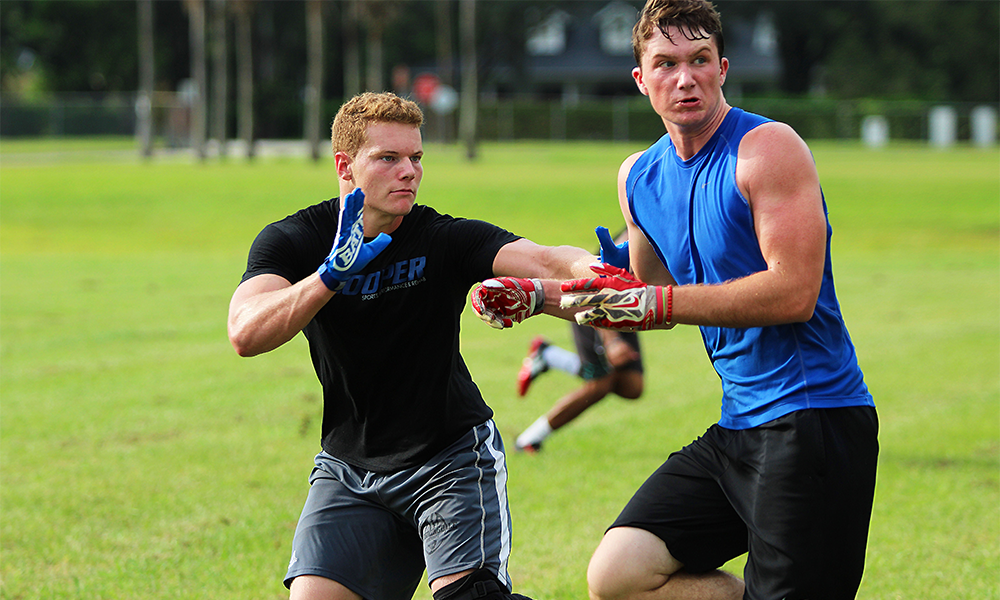 VALRICO, Fla. — OVER THE PAST few months, the topic of high school football players transferring schools has been a touchy one, thanks to the new transfer law that went into place earlier this year.
Some are for the laws, some are against, it really just depends on what the reasoning behind the transfer is – every case is a different one. Just like the case of Bloomingdale's Landon Moody. Moody, a rising junior, transferred from Jesuit at the beginning of the fourth grading period last school year and instantly made a good impression on the Bloomingdale coaches.
What makes this case different from a number of others – Moody transferred from an established program at Jesuit to an emerging one on the other side of Hillsborough County.
Here are the facts on each team: Jesuit is coming off of two straight regional championship seasons and four straight district championships. Bloomingdale, who's close to 40 years younger than Jesuit, mind you, has two playoff appearances in its 30-year history.
Even so, there's a lot happening at the school that bears the same name as the street it lives on.
First, there's Max Warner at the top, running the show after a few years at Virginia Tech as an offensive quality control coordinator. In his first year, Bloomingdale went from a 1-9 school to a 6-4, playoff-hungry team in the tough Class 7A-District 9.
"One of the biggest reasons I came to Bloomingdale was because I really like the direction that this team is going. Coach Warner going 6-4 in his first year is really something to be excited about," Moody said.
There's more to it than that. Moody grew up in the Valrico/Bloomingdale area in eastern Hillsborough County and now plays with a bunch of the guys that he played little league football with when he was younger. So when he went back to his home school, it was more of a reunion, rather than a bunch of stares and scoffs.
——————
LANDON AND I found ourselves talking over lunch earlier this week. It hadn't been the first time we had seen each other (I watched him smack an Immokalee Indian on a kickoff last November), but it was the first time that I had seen him since he had a considerable growth spurt.
He also looked stronger, and a lot more tone than the first time I found him at a Big County Preps camp in June 2016.
Before that, I discovered the linebacker didn't like Mexican food (as he turned down an offer for Chipotle, instead choosing the all-American Steak n' Shake), and when he did order his food, there was to be nothing but ketchup and mayonnaise on a bacon cheeseburger.
"I'm a picky eater," he said to me, smiling.
Obviously so.
We talked mainly about football, how Jesuit will be without him and a few other players, about Bloomingdale and what they would look like in the next year. Landon seemed very confident in the core that Bloomingdale has in the 2019 and '20 classes. He also explained more about all of his transitions over the past two years of high school – that from moving from DE to LB, Jesuit to Bloomingdale, even small in-game adjustments like angles and positioning.
"There's a lot of instinct and techniques that go into playing linebacker," Landon said. "If you're even a degree off, you can miss a tackle."
There's a fine line between tackling angles, just as the fine line between making the clutch tackle or knocking a guy into the fourth row.
Landon posted a video on Twitter (see below) of him knocking one of his own teammates into the dirt within the first couple weeks of him being at Bloomingdale during the spring football season. Still, he's managed to make more friends than enemies so far.
https://twitter.com/lmoody99/status/859916641169276928
"He came in and became a leader without making anyone around him mad," one Bloomingdale assistant coach told me.
Landon continued to beam pridefully about his team and the direction they're going together. That, not exclusive to Bloomingdale, really impressed me about the 'backer. His pride towards his football team (no matter where he is) and mates stem from Jesuit, where Landon really didn't get a chance to play much, except on kickoff.
"I really wanted to help out the team as much as I could. If Jesuit had wanted me to be the waterboy, I would've done it," Landon said.
He never passed out water to guys, but he certainly deserves a drink after the amount of effort he puts into everything he does.
——————
THE FIRST TIME I got a chance to see Moody in action, I wrote, "Landon Moody is going to be something special for Jesuit." Obviously, I didn't know the transfer would happen when I wrote those words, but I really liked the way that he played at that camp. In a simple pass protection drill, he easily got around then-teammate Kijah Kelly.
Two Jesuit boys against each other…the LB wins easy. Kijah Kelly vs. Landon Moody. @BigCountyPreps1 pic.twitter.com/pYUiJJzgNT

— Will Turner (@TBTurner813) June 5, 2016
Throughout the day, as it got warmer (eventually topping out in the mid-90s), Moody continued to work hard and to show more heart and intensity than a lot of the guys that were out there. Maybe it was a youth thing – Moody was a rising sophomore at the time – either way, his performance was particularly impressive.
Moody plays the game with a fire that isn't seen in a lot of players these days. He plays with heart and a boatload of intensity, and it's those intangibles that make him someone to really watch out for.
"It's all just a mindset. I'm going to show that I am the best player on the field. I've got everything to prove because at this moment, who really knows who Landon Moody is? Nobody. I want to be respected by other players and coaches for the player that I am on the field," Moody said.
Whether that respect comes through the big hits – like the one he put on Tampa Catholic's Bentlee Sanders on a kickoff in the big rivalry game last season – or being a solid every-down player, that's his biggest goal.
Doing so at Bloomingdale, Moody believes, could be a major thing that the Bulls need in 2017.
Also very beneficial to the developing team is the leadership he brings to the table, thanks to a handful of mentors that eased his transition from defensive end to linebacker.
"My dad coached me all the way up to high school. There were a lot of long practice sessions with him, but it really helped me turn into a great football player. He played defensive end. I started working with Robert Spann [former OLB at Southern Illinois], to become more sound of a player, and it helped tremendously. John Zielinski and Dalton Garrett at Jesuit really took me under their wing and taught me a lot as well."
Lessons from them, whether it be leadership or technique, have helped Moody feel pride and confidence in his abilities.
"I really believe you can outplay an athlete with good technique."
Consider the number of quality athletes in the six county area that is Tampa Bay. There's a lot of them.
Considering that, those are some strong words from the young man.
But just like his strength in the weight room translates to the hard hits on the field, I think he's more than capable in backing that up.
——————
REALLY THOUGH, HOW does Moody fit into the equation to help the Bulls achieve more over the next two years than they have in the previous 30?
Well, Moody brings a toughness to Bloomingdale's defense that really was needed when playing against district opponents in Tampa Bay Tech, Durant, and Plant City. Bloomingdale gave up a combined 134 points to those three teams alone, and combine a 47-point loss to Armwood the week before, the Bulls' defense allowed 40-plus points for four consecutive weeks in 2016. Even after that, Bloomingdale allowed East Bay to score 34 en route to the beginning of a four-game winning streak to finish the year at 6-4.
Had the offensive unit not put points on the board in bunches against the Indians, Bloomingdale would've finished 2-4 on the year in district play.
From the looks of things, 7A-9 is going to be just as competitive as each of the last two years, at least from the offensive side of things. Tampa Bay Tech looks as stocked as ever with athletes, Durant has Carlton Potter back at quarterback to make the offense efficient, and Plant City still is a dangerous team to play against.
"Closing the gap against those three," as Warner said, will have to start on the defensive side to give the offense a chance to work.
"It's going to be a lot tougher for us down the stretch against those guys," Moody said. "There's a winning culture that's being established at Bloomingdale, which is the most important thing for us to lean on going forward."
A winning culture isn't the only thing this Bloomingdale squad is trying to achieve.
"We're going to bring a physicality that this school hasn't seen in a while. That'll be our identity. We've got a bunch of guys that play with so much heart and intensity, guys that will scrap until the end of every game."
That could begin this year, with a solid core of seniors, and eventually, continue with a really strong class of 2019 and 2020 players.
"We've got a bunch of studs in this 2018 class. This year will be the year we lay the foundation for other Bloomingdale teams down the road," Moody said.
A foundation, built from the bottom-up at Bloomingdale, will be an important part towards giving back to the community that has poured so much into the school.
A foundation, that will make the transition from emerging program to Hillsborough County powerhouse, much smoother.