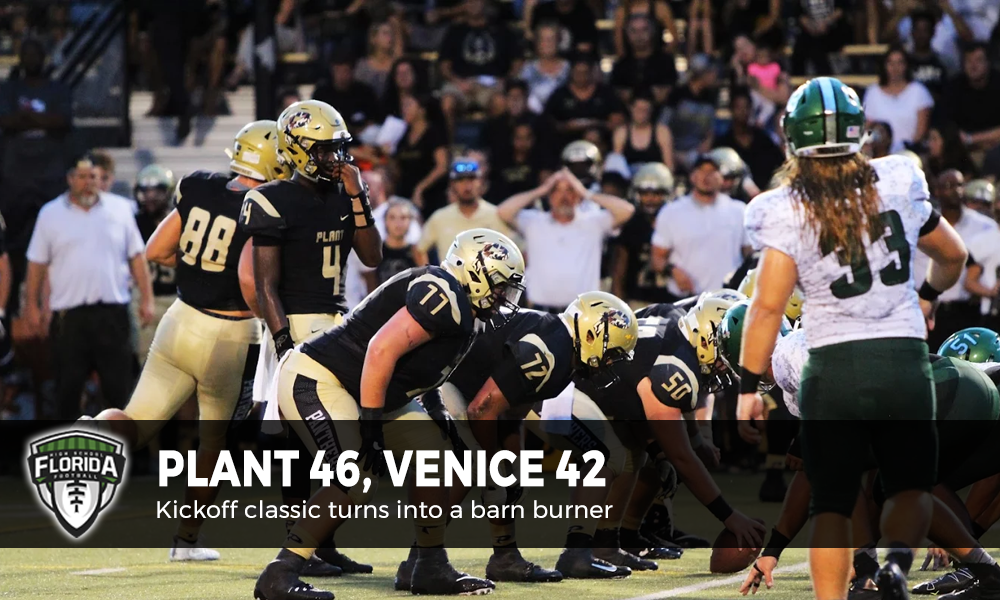 TAMPA, Fla. — The second and third ranked teams in FloridaHSFootball.com's Class 7A rankings combined for 88 total points on Friday night at Dad's Stadium in South Tampa.
Looking at the first half, nobody in the stadium believed the second half would be as high-scoring as it was. Plant (Tampa) and Venice combined for 69 in the final two frames to make for an exciting finish to the Kickoff Classic between the two powerhouses.
It would be Plant QB Jordan McCloud's first official fall game after spending last season at Sickles, while Leonard Parker got the nod to start at running back following the news that Ty Thompson went down with an ACL injury last Saturday.
Meanwhile, Venice ventured into South Tampa after winning this game 38-25 a year ago. It completed a home-and-home series for the two squads, an important one, according to Plant head coach Robert Weiner.
"We schedule this game because we know how talented they are and how tough they are, but we also know how well-coached they are. It's a huge thing for us down the stretch to be able to play a team of their caliber. We want to play these type of teams early in the season to get a marking point of where we are," Weiner said.
Both the Indians and Panthers got off to a slow start offensively, making it look like a single score could possibly win the game.
Yeah, nope.
Evan Passath knocked a 31-yard field goal through the uprights to put the Panthers on the board on the first, and they would lead wire-to-wire following that. Brandon Brooks powered through the tough Indian defense to find paydirt from eight yards away to give Plant an 11-0 lead early after the two-point conversion.
Venice got on the board towards the end of the second quarter when QB Bryce Carpenter found Jaivon Heiligh right at the pylon for a four-yard touchdown pass. The two Coastal Carolina-commits would end up taking over the game as Venice rode on their backs for the majority of the game.
On the first kickoff of the second half, Plant LB Micah McFadden used brute force to knock the ball out of the hands of the returner, and Plant would recover in great field position to eventually set up a one-yard score by Brooks.
Venice wouldn't break as Carpenter found Heiligh for a 56-yard score to make it 18-15 with not even three minutes off the clock in the third.
Plant had an answer with an 87-yard touchdown from McCloud to Alex Carvajal, who would then break free for a 75-yard run in the fourth quarter. Parker broke an outside run three yards to give Plant a 17-point cushion with three minutes remaining in the quarter.
Again, Venice wouldn't go down lightly. Carpenter broke free for a 56-yard run to cut the lead to ten. On the ensuing drive, Brooks pushed through with his third rushing touchdown on the evening. He only ran for 26 total yards on seven carries.
So, it went from 11-8 at halftime to 39-22 at the end of the third. What happened to low-scoring?
"I think the offenses tried to have some pride, I don't think anybody stopped anyone in that second half," Weiner said. "It seemed like every time we got a lead that could pretty much end the game, we just let them right back in it."
Case in point: Carpenter ran it in from 16-yards away to cut the lead back to ten early in the fourth. McCloud fired a ball over the middle to Penn State-commit Judge Culpepper for a 21-yard touchdown pass to extend the lead back to 17. Venice's defense got a boost when Jared Bailey intercepted McCloud, which set up Carpenter's third rushing touchdown to shrink the lead to nine.
Venice CB Jared Bailey had an interception in the 46-42 loss at Plant on Friday night. #wtproductions pic.twitter.com/ZpDQAlrWwv

— Will Turner (@TBTurner813) August 19, 2017
Carpenter found Heiligh in the end zone for a third time, this time from 45-yards out, making it a 46-42 ball game with just over two minutes to play.
The Indians got the ball at the 50, with just over a minute and a half left.
It was not to be. Plant's pass rush (solid most of the evening) flushed Carpenter out of the pocket, forcing two straight incompletions. McFadden followed it up with a sack on third down, while Culpepper finished the job on fourth, stripping the ball and the game away from the Indians.
However, Carpenter did finish with 266 passing yards, 128 of those to Heiligh. Carpenter was responsible for all six touchdowns Venice put on the board, compiling 436 total yards on the ground and through the air.
Venice QB Bryce Carpenter compiled 436 total yards and six touchdowns (three rush, three pass) in the 46-42 loss vs. Plant. #wtproductions pic.twitter.com/4TTGUtKYW6

— Will Turner (@TBTurner813) August 19, 2017
Venice WR Jaivon Heiligh had 128 receiving yards and three touchdowns in Friday's 46-42 loss at Plant. #wtproductions pic.twitter.com/4cb0NkDQaG

— Will Turner (@TBTurner813) August 19, 2017
McCloud finished with 247 yards and two touchdowns in his first fall start as a Panther.
Plant QB Jordan McCloud had 247 passing yards and two touchdowns in the 46-42 win over Venice. #wtproductions pic.twitter.com/YuZs7NlMON

— Will Turner (@TBTurner813) August 19, 2017
"It was a great first game with all these boys, we had a rough first half, but we just came out in that second half and really did our thing on offense," McCloud said.
Carvajal finished with 167 yards on just five touches and the one touchdown while Parker collected 37 yards on 11 carries but added another 74 on passes from McCloud.
Plant WR Alex Carvajal had 167 total yards, including an 83-yard TD catch and 75-yard run in the win vs. Venice. @_alexxx_c #wtproductions pic.twitter.com/SUQqvl3uNV

— Will Turner (@TBTurner813) August 19, 2017
Venice will open the regular season next week on the road with Camden County (GA) while the Panthers travel much less to tangle with rival Hillsborough next Friday.