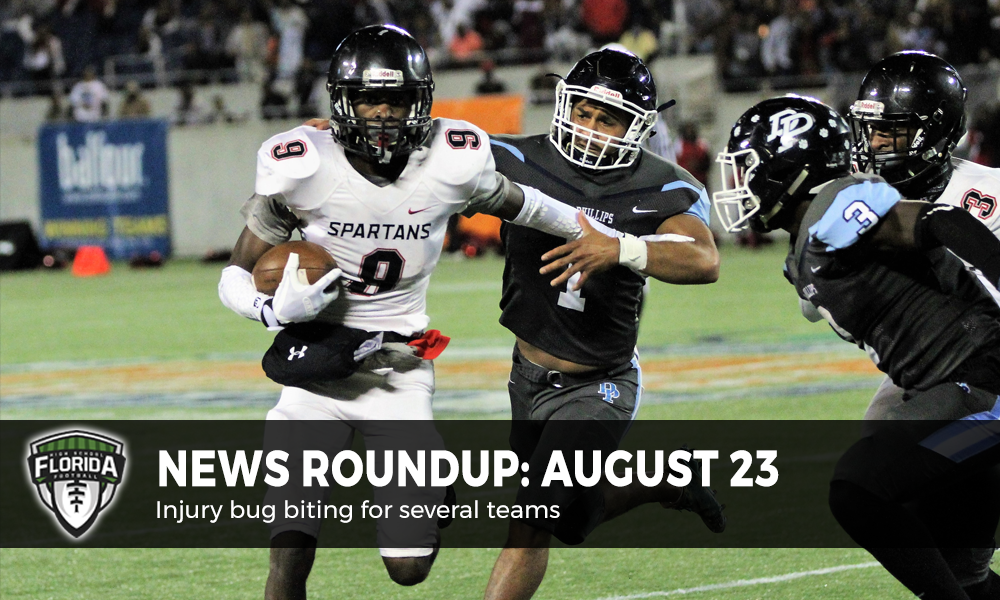 INGLE OUT FOR DR. PHILLIPS
Dr. Phillips is going to be missing top defensive back and Tennessee commit Tanner Ingle for at least half of the regular season.
According to the Orlando Sentinel, Ingle learned last week had been practicing on a torn meniscus, which forced him to miss last Friday's Kickoff Classic loss at Osceola (Kissimmee).
He was scheduled to have knee surgery on Monday.
Ingle hopes to return to the field by Week 5 which would be when the Panthers host Daytona Beach Mainland On Friday, Sept. 22, according to the report.
Dr. Phillips will host University (Orange City) on Thursday night. Dr. Phillips is currently ranked No. 9 overall in FloridaHSFootball.com's Top 25, while ranked No. 2 in Class 8A.
BIG LOSS AT TAMPA JEFFERSON
According to the Tampa Bay Times, wide receiver Jermaine Eskridge is out for the season after breaking the same arm he broke during the playoffs last season.
The break to the arm came during last week's preseason win over Newsome, the report indicates.
The loss is considered a big blow for Jefferson as they open the season on Friday night at Plant City.
DWYER'S CAMERON JONAS TO MISS SEASON; COMMITS SYRACUSE
One of Dwyer's top players in Cameron Jonas will miss his senior year after tearing his ACL during practices on August 11, according to the South Florida Sun-Sentinel.
However, Jonas was able to commit on Monday to Syracuse, telling people on Twitter that "It took the pressure off my chest to see that they'll stay loyal," which came after talking to coaches according to the report.
Jonas, a three-star prospect according to 247Sports, plans to enroll early at Syracuse.
It remains to be seen how hard of a setback this will be for Dwyer as they open the season at Park Vista on Friday night. Dwyer is currently ranked No. 8 in Class 7A, according to FloridaHSFootball.com, while Park Vista is ranked No. 10 in Class 8A.
RECOMMENDED READS
Recommended reads is a daily (or almost) daily dose of some great articles from various sources around the state. You never know what you might just learn!
• Bradenton Herald: Braden River prepares for first out-of-state opponent with Disney trip
• Daytona Beach News-Journal: Bold predictions for 2017 Volusia-Flagler football season
• Fort Myers News-Press: Shocky Top: Dunbar WR Shocky Jacques-Louis commits to Tennessee
• Fort Myers News-Press: Will Earnest Graham, North Fort Myers football finally get over playoff hump?
• Miami Herald: USF finds hidden gem in talent-rich Broward County
• Orlando Sentinel: Jones Tigers will make memories on football trip
• Prep Sports Scouting: 1-on-1 with 2019 Gibbs S La'Darius Henry
• SFHSSports: COUNTDOWN TO KICKOFF: Class of 2018 Top 50
• South Florida Sun-Sentinel: Cardinal Gibbons cornerback Marquis Williams commits to Pittsburgh