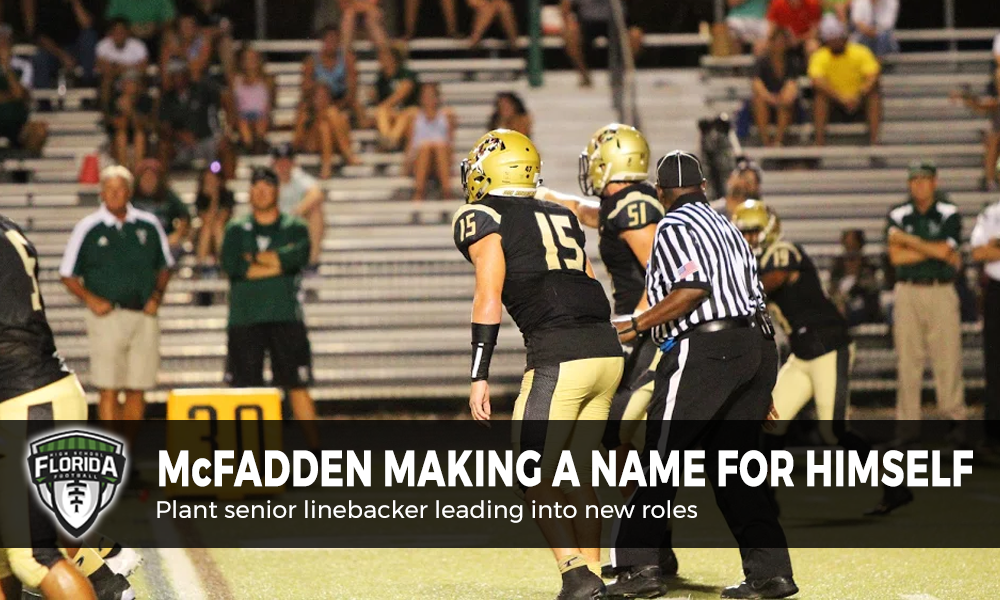 TAMPA, Fla. — When Thomas Allen graduated early to play at Indiana, Micah McFadden's football world changed.
At least positionally.
The former-outside linebacker had played in the position his entire career at Plant High School and had made a name for himself as a Panther under Bo Puckett's top-notch defense. Moving inside to play in the middle would be a big change for the rising senior.
McFadden compiled 116 tackles at the outside linebacker position in 2016 as his Panthers advanced to the 7A state final against St. Thomas Aquinas. Playing on a defense stocked with now Division-One players, including Allen, as well as Whop Philyor and Juwan Burgess (don't forget about Davis Bak, who went to the Ivy League), McFadden could rely on his brothers to make stops when needed.
When they graduated, McFadden had to make the transition from defensive role-player to a defensive leader.
When Allen graduated, McFadden's move to the middle would be one of the biggest of his life.
Even so, McFadden wasn't so concerned about living up to be the type of player that Allen was, but someone that would end up being a different player, one so completely unique.
"You can't fix yourself to be somebody else," McFadden said. "I can always be a better me, but I'll never be Thomas because I'm not Thomas. For me, it's always about stepping up and making plays on the field."
Nerves ensued as McFadden got his first fall start at MLB on Friday as Plant took on Venice in the Kickoff Classic.
"Friday was really the most nervous I've ever been in a football game. It was the first time that I played the position, and I think I did well. I'm still nervous to try and keep up and play at a high level," McFadden said.
The sentiment was echoed by his defensive coordinator.
"Micah did good," Puckett said. "He'll be all over the field for us this season but his natural position is MLB. What's nice is we can move him out to outside-linebacker or defensive end, where he can terrorize a quarterback."
McFadden has learned from Puckett and head coach Robert Weiner since he started at Plant in his freshman year of 2015. The relationship between the three has always been solid, according to the senior. Plant's mantra over the past few years, tagged 'One Heartbeat' is evident not just on the back of helmets, but in the locker room, and McFadden credits it to the Panthers' coaching staff.
"I've always had a great relationship with Coach Weiner and Coach Puckett. I love that they both bring a mindset of making this team a family, and they really try to make that happen at all times."
He'll have some 'family' from Plant, as he's currently verbally committed to Indiana. Already noted, three of his teammates will play their first snaps as Hoosiers in 2017, however, McFadden truly believes that three of them at the Big Ten school had nothing to do with his decision.
"Yeah, sure, it's going to be awesome playing with those guys," McFadden assured. "The thing is, even if they weren't there, I would still have considered going to Indiana. Ever since I visited the school, I really loved everything about it. Having those guys there is honestly a plus. It's something extra."
The family mindset of Plant was present at Indiana, which contributed to the decision as well.
"The coaching staff reminded me a lot of Plant, and it really made me like Indiana even more."
Before that, McFadden's attention changes to facing a cross-Tampa rival in Hillsborough, which accounts for one of the oldest (and fiercest) rivalries in the state. If it's anything like last week, McFadden will have to do everything in his power to lead the defense and limit offensive production.
A plus in this matchup, McFadden won't have to contend with Venice QB Bryce Carpenter, who led the Indians with 42 points and a chance to win the game.
"It was really tough playing against Bryce last week. I played against him last year, and he had a great game, but being at MLB this time was especially difficult because it was really a one-on-one battle between the two of us. We just can't let them [Hillsborough] get any confidence if we get the upper hand. We have to continue to have the mindset that 'your offense won't beat us, but our defense will beat you.'"
If Plant continues to put 40-plus points a game, the Panthers' offense will continue to beat a lot of teams.
It'll be up to McFadden and the rest of the Plant defense to beat offenses in its quest for a second straight trip to Orlando.