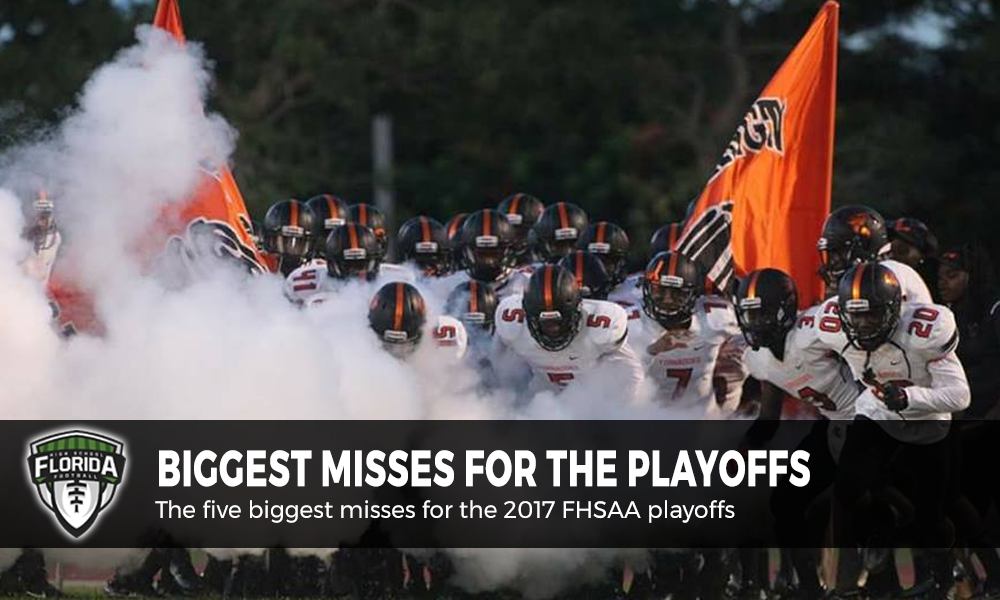 Help support the No. 1 Independent high school sports website in the State of Florida by becoming a FRIEND of FloridaHSFootball.com for as little as $3.00 per month by clicking here.
With the dust settled now after the FHSAA revealed the playoff brackets on Sunday, we took some time to figure out the biggest misses for this year's playoffs based on the new playoff points system.
BALDWIN
Record: 5-5
Classification: Class 3A
Region: Region 1
The Skinny: This is one school that has received some arguments in the fact they should have been in over a 3-6 Newberry program. However, if you go deeper than just looking at the records of the two schools, you will see where and why Baldwin got left on the outside looking in for the playoffs. Simply put the schedule and the wins are the factors here. Baldwin's best win came against a Category 2 win against a 6-4 Class 5A Stanton program which finished with it's the best record in school history. Newberry's best win came against an 8-2 Class 4A Trenton program to give them a Category 1 win. We circle that Newberry win as the tipping point because had Newberry lost that game, the Indians would be in the playoffs right now.
BISHOP KENNY
Record: 7-3
Classification: Class 5A
Region: Region 1
The Skinny: In most years (and in most places) a 7-3 record would get you a playoff spot. For a lot of teams this year that was the case. However, in Bishop Kenny's case, a 7-3 record was not enough, and certainly not enough to jump over a 5-4 Rickards team for the final wildcard spot in Class 5A-Region 1. All three of Bishop Kenny's losses came to Bolles, Ponte Vedra and Jacksonville Trinity Christian which made the Region 1 bracket. That speaks to the strength of the Crusaders schedule. Considering that Bishop Kenny only needed nine more seconds to tick off the clock without Bolles scoring to secure win number eight on the season, their 38-34 Week 8 loss to the Bulldogs will be the one game that should be circled that left Bishop Kenny on the outside looking in.
BOOKER T. WASHINGTON (MIAMI)
Record: 4-5
Classification: Class 4A
Region: Region 4
The Skinny: The Tornadoes missing the playoffs has been one of the biggest talked about misses here, but some of the blame goes straight back on the shoulders of the Tornadoes (but not all of it). Kudos goes to the Tornadoes for scheduling one of the toughest schedules in the state. However, where the blame does enter is that you got to win at least one of those tough games against a Category 1 or 2 team (with the exception of Dillard which finished as a Category 2 team). We will take the Columbus loss for example since it was a very close game. Had the Tornadoes won this one game, it would have put them right on the edge of being in. But there is one more killer here that hurt the Tornadoes at the end: Not making up the game with Miami Southridge. If the Tornadoes had made up this game up, plus had gotten a win over Columbus, we might not be talking about the Tornadoes in the playoff misses.
CRESCENT CITY
Record: 7-2
Classification: Class 1A
Region: Region 4
The Skinny: We have seen a lot of complaints in regards to Crescent City getting left out after a 5-5 Williston team jumped to get in and we do agree they should have had a chance to be in the Class 1A-Region 4 bracket. However, there are two glaring holes here that got the Raiders in this position: 1). Not getting the make-up game in with Wildwood which has been very much a source controversy. 2). Four of their seven wins came against teams that finished as a Category 4 team. Crescent City did play two playoff teams that reached the playoffs in their respective classifications, University Christian (2A) and Bradford (4A). The most impressive win for Crescent City is a win over a much improved Pierson Taylor team which finished as a Category 2 team. So the question how did Williston earn it over Crescent City? None of Williston's wins came against a Category 4 team.
FOUNDATION ACADEMY
Record: 7-3
Classification: Class 2A
Region: Region 2
The Skinny: This might be one of the toughest misses of all the misses here. Foundation Academy has been one of the strongest teams in Class 2A and there is debate already going why they should be in and but they are not. For Foundation Academy, they missed out on the playoffs by just five-tenths of a difference in point average with Zephyrhills Christian (35.5-35). What made the difference? Zephyrhills Christian's Week 11 win over Admiral Farragut which gave them a Category 3 win, compared to Foundation Academy's seven wins all coming from teams that finished at the Category 4 level. There is really nothing wrong here that Foundation Academy did in what turned out to be a much stronger region in Class 2A than what was expected.
Others considered: Trinity Prep (3A, 7-2), Trinity Catholic (3A, 6-3), The Villages (4A, 5-5), Anclote (5A, 7-3), Suncoast (5A, 6-3), Lake Wales (6A, 7-3), Charlotte (6A, 5-4), Archbishop McCarthy (6A, 6-4), Chiles (7A, 6-4), Durant (7A, 6-4), Newsome (8A, 6-4), West Orange (8A, 6-4), Monarch (8A, 7-2), Braddock (8A, 7-2)
TWITTER POLL
POLL: Which of these teams missing the playoffs seems to be the biggest to you?

— Florida HS Football (@FlaHSFootball) November 7, 2017