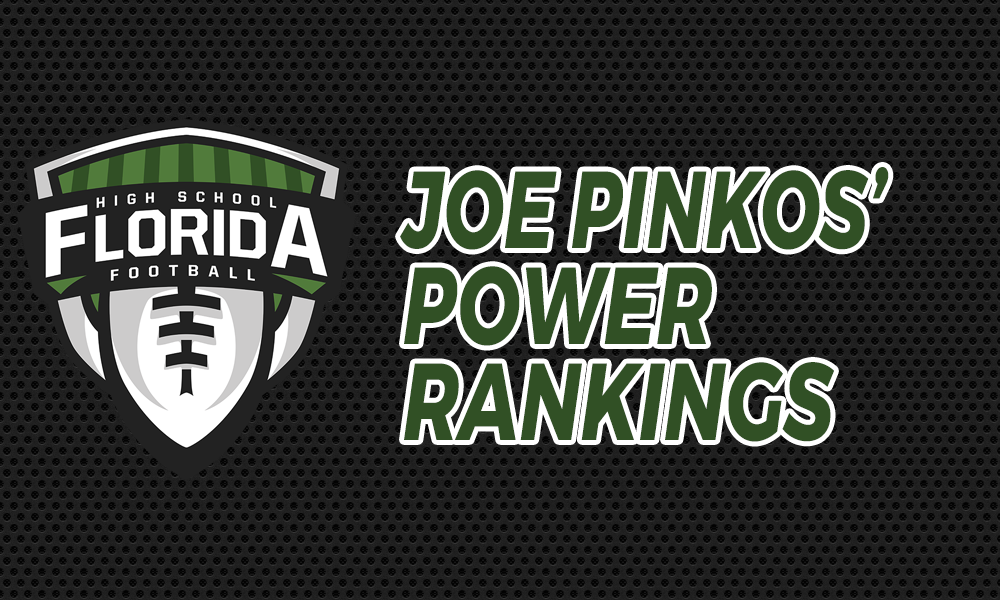 Help support the No. 1 Independent high school sports website in the State of Florida by becoming a FRIEND of FloridaHSFootball.com for as little as $3.00 per month by clicking here.
JOE PINKOS' POWER RATINGS
Florida High School Football
RANKINGS
(Based on games through Saturday, November 4, 2017)
Rankings, based on Joe Pinkos' Power Ratings, of Florida's top high school football teams overall and by classification follow.
Joe Pinkos' Power Ratings are calculated by a formula based on strength of opposition and margin of victory with greater weight given to recent games. To determine the forecasted margin of victory between any two teams, simply figure the difference in the respective power ratings.
FLORIDA'S POWER 25 listings show rank, team, record and classification in parentheses, and power rating.
FLORIDA'S POWER 25
1. IMG Academy (7-0, Ind.) 210.8
2. American Heritage (Plantation) (8-0, 5A) 204.7
3. Venice (9-1, 7A) 202.2
4. Northwestern (7-2, 6A) 200.2
5. Cocoa (8-1, 4A) 200.1
6. Viera (7-1, 7A) 199.4
7. Armwood (10-0, 6A) 199.1
8. Cardinal Gibbons (9-1, 5A) 198.3
9. Vero Beach (10-0, 8A) 198.2
10. Tampa Bay Tech (9-1, 7A) 198.0
11. St. Augustine (9-0, 6A) 197.7
12. Bartram Trail (7-3, 7A) 197.1
13. Miami Central (8-2, 6A) 197.0
14. Deerfield Beach (8-2, 8A) 196.9
15. Chaminade-Madonna (7-2, 3A) 196.4
16. Carol City (6-3, 6A) 196.3
17. Osceola (Kissimmee) (9-0. 8A) 195.8
18. Raines (9-1, 4A) 195.7
19. Oxbridge Academy (7-1, 3A) 195.4
20. Vanguard (9-0, 6A) 194.3
21. Lakeland (8-0, 7A) 194.1
22. Miramar (8-1, 8A) 194.0
23. Riverview (Sarasota) (9-1, 8A) 193.9
24. Crestview (8-0, 6A) 193.5
25. Clearwater Central Catholic (9-0, 3A) 193.0
Rankings by Classification
CLASS 8A POWER 10
1. Vero Beach (10-0) 198.2
2. Deerfield Beach (8-2) 196.9
3. Osceola (Kissimmee) (9-0) 195.8
4. Miramar (8-1) 194.0
5. Riverview (Sarasota) (9-1) 193.9
6. Columbus (8-1) 191.9
7. Winter Park (10-0) 190.5
8. Wekiva (9-1) 189.4
9. Miami High (8-1) 188.6
10. Plantation (9-1) 188.5
CLASS 7A POWER 10
1. Venice (9-1) 202.2
2. Viera (7-1) 199.4
3. Tampa Bay Tech (9-1) 198.0
4. Bartram Trail (7-3) 197.1
5. Lakeland (8-0) 194.1
6. St. Thomas Aquinas (7-2) 188.9
7. Braden River (7-1) 188.2
8. Robert E. Lee (9-1) 188.1
9. Plant (9-1) 187.9
10. Palmetto (6-3) 187.6
CLASS 6A POWER 10
1. Northwestern (7-2) 200.2
2. Armwood (10-0) 199.1
3. St. Augustine (9-0) 197.7
4. Miami Central (8-2) 197.0
5. Carol City (6-3) 196.3
6. Vanguard (9-0) 194.3
7. Crestview (8-0) 193.5
8. North Fort Myers (8-0) 191.5
9. Mainland (6-3) 187.2
10. Escambia (7-2) 187.1
CLASS 5A POWER 10
1. American Heritage (Plantation) (8-0) 204.7
2. Cardinal Gibbons (9-1) 198.3
3. Rockledge (6-3) 192.4
4. West Florida Tech (9-1) 1917
5. Immokalee (9-0) 191.1
6. Baker County (9-1) 190.4
7. Clay (7-3) 189.8
8. Trinity Christian (Jacksonville) (7-3) 188.8
9. Jones (9-1) 186.9
10. Godby (9-1) 186.0
CLASS 4A POWER 5
1. Cocoa (8-1) 200.1
2. Raines (9-1) 195.7
3. University School (7-1) 184.0
4. Booker T. Washington (Miami) (4-5) 182.9
5. Bradford (8-1) 179.7
CLASS 3A POWER 5
1. Chaminade-Madonna (7-2) 196.4
2. Oxbridge Academy (7-1) 195.4
3. Clearwater Central Catholic (9-0) 193.0
4. Taylor County (7-3) 180.5
5. Melbourne Central Catholic (7-3) 175.2
CLASS 2A POWER 5
1. Champagnat Catholic (5-2) 177.7
2. University Christian (7-2) 164.0
3. Seven Rivers Christian (8-2) 159.4
4. Moore Haven (9-0) 154.8
5. Victory Christian (8-1) 153.8
CLASS 1A POWER 5
1. Madison County (10-0) 190.8
2. Dixie County (10-0) 184.6
3. Pahokee (6-2) 174.4
4. Baker (10-0) 163.8
5. Blountstown (8-1) 163.2
INDEPENDENT POWER 3
1. IMG Academy (7-0) 210.8
2. Satellite (7-2) 164.5
3. Superior Collegiate (7-3) 154.6
SUNSHINE STATE ATHLETIC CONFERENCE (SSAC) POWER 5
1. St. Stephen's Episcopal (8-0) 163.5
2. Windermere Prep (9-0) 161.8
3. Orlando Christian Prep (6-4) 158.0
4. Orangewood Christian (8-2) 151.8
5. Jupiter Christian (8-2) 142.5