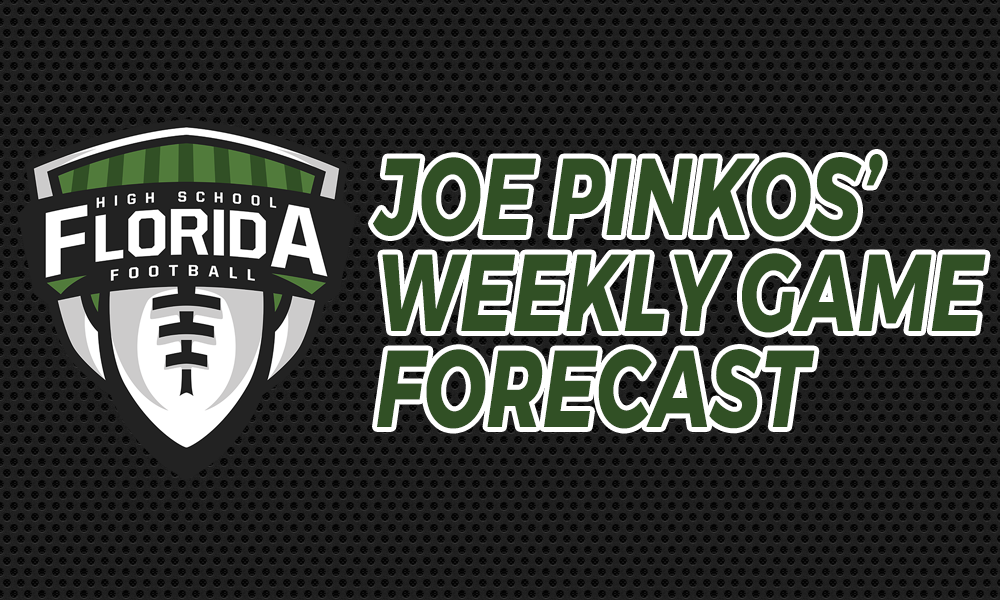 Help support the No. 1 Independent high school sports website in the State of Florida by becoming a FRIEND of FloridaHSFootball.com for as little as $3.00 per month by clicking here.
JOE PINKOS' POWER RATINGS
Florida High School Football
The following match-ups and results are forecast for the 2017 Florida Football Finals:
Class 1A– Madison County over Baker
Class 2A– Champagnat Catholic over University Christian
Class 3A– Chaminade-Madonna over Oxbridge Academy
Class 4A– Cocoa over Raines
Class 5A– American Heritage (Plantation) over West Florida Tech
Class 6A– Northwestern over Armwood
Class 7A– Venice over Viera
Class 8A– Vero Beach over Deerfield Beach
2017 PLAYOFF FORECAST-Week 1
Joe Pinkos' Power Ratings are calculated by a formula based on strength of opposition and margin of victory with greater weight given to recent games. The forecasted margin of victory for each game is determined by subtracting the power rating of the lower-rated team from the power rating of its higher-rated opponent.
CLASS 8A (Regional Quarterfinals)
Region 1
Winter Park 11 over Spruce Creek
Apopka 7 over Seminole (Sanford)
Flagler Palm Coast 1 over Boone
Wekiva 14 over Lake Mary
Region 2
Osceola (Kissimmee) 21 over Manatee
Dr. Phillips 13 over Ridge Community
Riverview (Sarasota) 27 over Gateway
Vero Beach 28 over Olympia
Region 3
Miramar 10 over Park Vista
Plantation 17 over Atlantic (Delray Beach)
Deerfield Beach 13 over Western
Palm Beach Central 7 over Seminole Ridge
Region 4
Columbus 32 over Homestead
South Dade 17 over North Miami
Southridge 14 over Belen Jesuit
Miami High 6 over Miami Palmetto
CLASS 7A (Regional Quarterfinals)
Region 1
Bartram Trail 31 over East Ridge
Columbia 6 over Lincoln
Robert E. Lee 17 over Fleming Island
Buchholz 3 over Edgewater
Region 2
Lakeland 14 over Winter Haven
Lake Nona 3 over Wiregrass Ranch
Plant 27 over East River
Viera 34 over Gaither
Region 3
Venice 42 over St. Petersburg
Braden River 28 over South Fort Myers
Palmetto 27 over Pinellas Park
Tampa Bay Tech 24 over Bloomingdale
Region 4
St. Thomas Aquinas 38 over South Miami
West Broward 14 over Forest Hill
Doral Academy 4 over Nova
William T. Dwyer 26 over Mater Academy
CLASS 6A (Regional Quarterfinals)
Region 1
St. Augustine 31 over Tate
Navarre 13 over Niceville
Escambia 15 over Pine Forest
Crestview 17 over Gulf Breeze
Region 2
Armwood 24 over Sebring
Hillsborough 1 over Lake Gibson
Vanguard 7 over Gainesville
Mitchell 1 over Chamberlain
Region 3
North Fort Myers 25 over Clearwater
Fort Myers 7 over Palmetto Ridge
Largo 3 over Barron Collier
Naples 10 over Port Charlotte
Region 4
Northwestern 35 over Matanzas
Miami Central 28 over Heritage
Carol City 28 over Dillard
Mainland 3 over Norland
CLASS 5A (Regional Quarterfinals)
Region 1
West Florida Tech 17 over Rickards
Wakulla 14 over Ribault
Trinity Christian (Jacksonville) 10 over Bolles
Godby 7 over Ponte Vedra
Region 2
Baker County 28 over Nature Coast Tech
Menendez 24 over Belleview
Clay 28 over Hernando
River Ridge 3 over Zephyrhills
Region 3
Immokalee 37 over Booker
Dunbar 10 over Hardee
Jesuit 9 over Jefferson
Lakewood 24 over Tarpon Springs
Region 4
American Heritage (Plantation) 28 over Merritt Island
Bishop Moore 14 over Westwood
Cardinal Gibbons 11 over Jones
Rockledge 17 over Palm Bay
CLASS 4A (Regional Semifinals)
Region 1
Raines 76 over North Bay Haven
West Nassau 3 over Marianna
Region 2
Bradford 42 over Keystone Heights
Dunnellon 21 over Trenton
Region 3
Cocoa 62 over Lake Placid
Avon Park 1 over Lake Highland Park
Region 4
University School 13 over Glades Central
Monsignor Pace 7 over Key West
CLASS 3A (Regional Semifinals)
Region 1
Taylor County 26 over Newberry
Fort White 16 over Florida High
Region 2
Melbourne Central Catholic 6 over The First Academy
Oxbridge Academy 24 over King's Academy
Region 3
Clearwater Central Catholic 21 over Tampa Catholic
Calvary Christian (Clearwater) 3 over Lakeland Christian
Region 4
Chaminade-Madonna 35 over American Heritage (Delray Beach)
Benjamin 14 over Everglades Prep
CLASS 2A (Regional Semifinals)
Region 1
University Christian 35 over FAMU DRS
North Florida Christian 18 over St. John Paul II Catholic
Region 2
Victory Christian 1 over Zephyrhills Christian
Seven Rivers Christian 24 over St. Francis Catholic
Region 3
Cambridge Christian 27 over Southwest Florida Christian
Indian Rocks Christian 7 over Admiral Farragut
Region 4
Moore Haven 7 over Glades Day
Champagnat Catholic 28 over St. John Neumann
CLASS 1A (Regional Semifinals)
Region 1
Baker 10 over Jay
Holmes County 26 over Chipley
Region 2
Blountstown 29 over Jefferson County
Port St. Joe 27 over Cottondale
Region 3
Madison County 52 over Union County
Dixie County 42 over Lafayette
Region 4
Pahokee 13 over Williston
Frostproof 8 over Wildwood
Independent
IMG Academy 27 over Bishop Sullivan Catholic VA
Sunshine State Athletic Conference (SSAC) Playoffs
Coastal League Championship Game
Windermere Prep 10 over Orangewood Christian
Coral League Championship Game
St. Stephen's Episcopal 21 over Jupiter Christian
Forecast Record
Last Week 205-39, 84.0%
Season 2,060-445, 82.2%