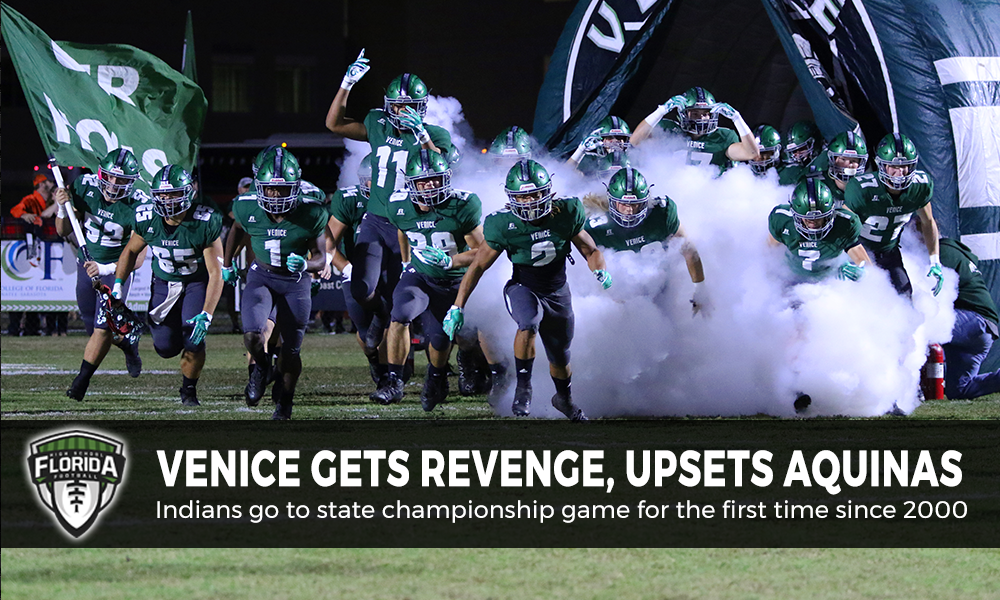 Help support the No. 1 Independent high school sports website in the State of Florida by becoming a FRIEND of FloridaHSFootball.com for as little as $3.00 per month by clicking here.
VENICE, Fla. — There will be a new state champion in Class 7A come next Friday.
The Venice Indians made sure of it.
Looking for revenge after a 46-8 drubbing the year prior, Venice came into Friday night with only one thing on its mind – beating St. Thomas Aquinas and advancing to the state championship game for the first time since 2000.
St. Thomas Aquinas, on the other hand, looked to knock off the Indians and continue their trek towards a fourth straight state championship.
Round Four.

A trip to Orlando on the line. This time last year, @STA_Football won 46-8.@VeniceIndianFB will get a shot at revenge. It's the Class 7A State Semifinal.

And it goes down at Powell-Davis in 30 minutes. pic.twitter.com/bjGxr45ggU

— Will Turner (@TBTurner813) December 1, 2017
Something would have to give.
Maybe that thing would give for St. Thomas Aquinas on Asante Samuel Jr.'s blocked field goal that Jaden Davis would return for a touchdown. Maybe something would give on Alex McCourt's 43-yard field goal that boosted the Raiders to an early 10-0 lead.
Or maybe, it would be down to Venice QB Bryce Carpenter, once again. The Indians would capitalize on a methodical 16-play drive that included seven rushes from Carpenter (and eventually a seven-yard strike that would put Venice on the board).
A long, methodical, 16-play drive for the Indians ends in this 7-yard @Cashinout_Carp trot into the end zone.

10-7 STA, @VeniceIndianFB draws within three. The score they needed. @FlaHSFootball pic.twitter.com/4IqA069dWm

— Will Turner (@TBTurner813) December 2, 2017
Venice's defense pitched a masterful performance on the next drive, as they forced numerous Raider three and outs. Finally, St. Thomas Aquinas was able to air one out. Derek Wingo found a wide-open Tavares Kelly for a 52-yard passing touchdown.
The Indian sideline, normally rowdy, was silent as Venice walked to the locker room for the halftime break.
It would become rowdy once again when Carpenter found fellow Coastal Carolina-commit Jaivon Heiligh in the end zone for a four-yard pass. It was set up by 13 straight rushes, as Carpenter and RB Brandon Gregory exchanged touches, slowly wearing down the Raider defense.
"We saw some things in the run game we thought we could exploit and made some big halftime adjustments," said Venice head coach John Peacock. "Brandon ran hard and Bryce ran hard and they really battled tonight."
A Noah Lay interception would set up Carpenter's second rushing touchdown of the night, this time from 13 yards away, giving the Indians their first lead of the affair.
McCourt would hit a 41-yard field goal to tie the game up at 20 with 10 minutes to play.
Four minutes later, Gregory powered in for a two-yard score to finalize the scoring.
Venice and St. Thomas Aquinas would trade drives as time wound down.
The Raiders took over possession after three solid defensive stops. They had 35 seconds to drive 68 yards down the field to keep the state championship streak alive. Wingo would pass to his halfback on first. Then an incomplete pass. Another pass over the middle set up the Raiders around midfield.
Wingo would fire to his right on the next first down. The ball tipped out of his receivers hands and into the hands of a player in green: Jared Bailey. Upset: complete. Bailey's third interception in as many games would seal the deal in knocking off the three-time defending state champion and in turn, send the Indians to the state championship game for the first time in 17 years.
.@Jared3Bailey the hero! He comes up with the HUGE interception and @VeniceIndianFB will take over! pic.twitter.com/OO48RgExtZ

— Will Turner (@TBTurner813) December 2, 2017
"Everything that went on in my head during that play," Bailey said, "was just everything that this defense, and this team, has worked for since my sophomore year to get to this point. We finally got over the hump. It poured out of all of us, my emotions were the emotions of the whole team on my back."
Venice faces just one more test: the Bartram Trail Bears (St. Johns), who held off a late rally from Plant (Tampa) on Friday night to advance to face the Indians in the Class 7A State Championship next Saturday afternoon.
Quotable:
"You work so hard and so long to get to this point and to have that kind of performance with the guts and just how the kids played and how they finished was unbelievable. I can't say enough about these kids, I'm a little emotional, I wish my dad were here, but I just cannot say enough about these kids. I've got eight more days with Bryce [Carpenter] and Jaivon [Heiligh] and all of those guys that have been working so hard for so many years, and we've got just one more game to get it done." – Peacock on the emotions of advancing to the state championship the 2017 Indians
"We knew that if there was time on the clock, we would have time to win this game. We've been in situations like this before, like against Braden River, we just kept telling ourselves that we have a chance in this and that we're going to keep fighting" – Carpenter on the mentality coming out of the halftime break down 17-7
"Jeremy Trebbles and Jared and all of our corners and defensive backshelp me work every single day during practice to be ready for games like this. We knew it was going to be a tough battle and we came out on top. We know it's going to be great at states" – Heiligh on how his own teammates helped him battle through tough St. Thomas Aquinas defenders