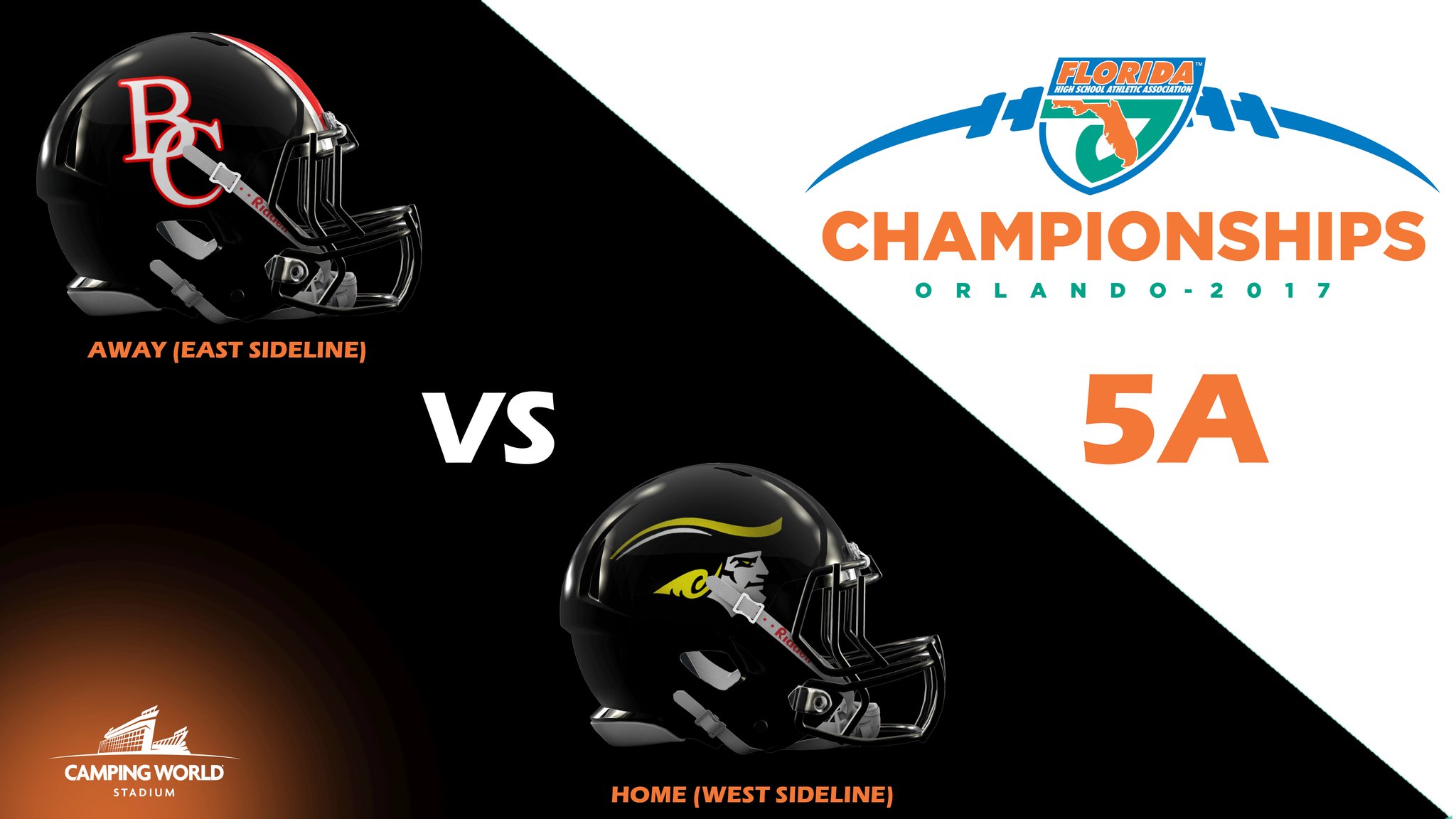 CLASS 5A STATE CHAMPIONSHIP
Baker County Wildcats (13-1) vs. Plantation American Heritage Patriots (12-0)
GAME TIME & LOCATION INFO
When: Friday, December 8
Where: Camping World Stadium, Orlando
Kickoff: 3:07 p.m. EST
Tickets: $12 General Admission, $17 Reserved Seating — purchase online at ticketmaster.com
RADIO, TELEVISION & ONLINE INFO
Pregame Show: Varsity Sports Network/NFHSNetwork.com (FREE) — LIVE at 9:00 a.m. EST
TV Broadcast: Spectrum Sports, Channel 1147 in Spectrum coverage areas
Online Stream: Boxcast TV via Spectrum Sports ($9.95 fee to watch)
Radio Broadcast: Baker County — WFBB 97.5 FM Glen St. Mary/Macclenny & WFBB on TuneIn
Social Media Updates: @FlaHSFootball on Twitter — Entire game
Halftime Recap: Florida HS Football Facebook Page — LIVE at Half
Postgame Recap: Florida HS Football Facebook Page — LIVE following the game
Postgame Show: Varsity Sports Network/NFHSNetwork.com (FREE) — LIVE at 30 minutes following the Class 6A State Championship Game
ABOUT BAKER COUNTY
Head Coach: Jamie Rodgers
Road To Orlando: d. Nature Coast Tech, 24-7 (Regional Quarterfinals); d. Menendez, 37-28 (Regional Semifinals); d. Clay, 29-14 (Regional Finals); d. West Florida Tech, 48-28 (State Semifinals)
Last State Championship Game Appearance: First appearance
Playoff History: Baker County is 10-12 in playoff games with no state championship or state runner-up finishes
Rankings: No. 10 in the final Associated Press Florida high school football poll; No. 6 in Joe Pinkos' end of regular season rankings
Top Players To Watch: RB Seth Paige, Sr.; WR/FS Lee Graham, Sr.; OT/DE/RB Cooper Hodges, Sr.; QB/WR John Green, Jr.; WR/CB Wesley Belford, Sr.;
The Skinny: Baker County is the epitome of a ground-and-pound team. Seth Paige rushed for four touchdowns and over 300 yards as the Wildcats went to the Panhandle and hammered West Florida 48-28 in the 5A state semifinals. This is the first state championship game appearance for Baker County, who hadn't advanced past the second round of the playoffs before 2017. Baker County also knocked off Nature Coast Tech, Menendez, and Clay before the long road trip to Pensacola. Josh Haygood was expected to be part of the two-headed rushing attack with Paige, but was injured halfway through the season. Paige has more than picked up the slack, and John Green is also a dual-threat at quarterback but isn't asked to throw much by Coach Jaime Rodgers. Cooper Hodges anchors both the offensive and defensive lines and scored a touchdown against West Florida as the blocking back. Wesley Belford is the top target for Green when Baker County does throw the ball and is the leader of the Wildcats secondary as well.
ABOUT AMERICAN HERITAGE
Head Coach: Patrick Surtain
Road To Orlando: d. Merritt Island, 42-0 (Regional Quarterfinals); d. Bishop Moore 56-27 (Regional Semifinals); d. Cardinal Gibbons, 58-57/3OT (Regional Finals); d. Immokalee, 28-21 (State Semifinals)
Last State Championship Game Appearance: 2016 (Class 5A)
Playoff History: American Heritage is 27-20 in playoff games including three state championship finishes in 2013 (Class 5A), 2014 (Class 5A), 2016 (Class 5A) and one state runner-up finish in 1998 (Class 2A)

Rankings: No. 1 in the final Associated Press Florida high school football poll; No. 1 in Joe Pinkos' end of regular season rankings
Top Players To Watch: QB Cam Smith, Sr.; WR/RB Miles Jones, Sr.; RB Jordan Johnson, Sr.; RB Tyler Jones, Sr.; WR Anthony Schwartz, Sr.; WR Josh Alexander, Sr.; LB Calvin Hart, Junior, Sr.; LB Joel Wilson, Sr.; DL Andrew Chatfield, Sr.; DL Nesta Silvera, Sr.; DB Patrick Surtain II, Sr.; DB Tyson Campbell, Sr.
The Skinny: American Heritage is looking to go back-to-back as 5A state champions, and also trying for their fourth state title in five years. The Patriots had to work to win the title a year ago, holding off Ponte Vedra late for a 33-31 win. American Heritage is ranked 3rd nationally by MaxPreps and also ranked in the top five in other national polls. The Patriots are led offensively by QB Cam Smith (94-155 passing, 1,340 yards, 17 TD's, 8 INT's, 69 carries, 370 yards) who is another dual-threat guy. American Heritage has three quality running backs in Vanderbilt commit Miles Jones (58 carries, 688 yards, 12 TD's), Jordan Johnson (119 carries, 753 yards, 7 TD's), and Tyler Jones (74 carries, 625 yards, 10 TD's). The Patriots are more of a run-first team, and Smith's top target through the air is Anthony Schwartz (23 receptions, 434 yards, 6 TD's). Nester Silvera (98 tackles, 30 tackles for loss, 12 sacks) paces the American Heritage defensive line, along with Calvin Hart, Junior (92 tackles, 10 tackles for loss, 4 sacks) and Andrew Chatfield (84 tackles, 22 for loss, 14 sacks). The Patriots haven't lost a game in Patrick Surtain's two seasons, and outscored opponents 547-183, but had to work to get past Cardinal Gibbons in overtime in the regional final and rallied past Immokalee 28-21 in the state semifinal round to advance back to Orlando.
GAME OUTLOOK
At first glance this seems like a David vs. Goliath matchup. American Heritage is ranked in the top five nationally and is looking for state title #4 in five seasons. Baker County has never played in a state championship game, and had not advanced past the 2nd round until this playoff run. But Baker County has played tough in the postseason, getting through two tough matchups in the postseason in Menendez and Clay before making the long trip to the Panhandle and rolling past West Florida in the state semifinals to advance to Orlando. Seth Paige runs tough, and Baker County will be a run-first offense that will try to out-physical American Heritage. American Heritage has definitely been tested in the 5A playoffs with tough wins over Cardinal Gibbons and Immokalee. The experience and athletic factor definitely favors American Heritage, but if Baker County can effectively run the ball and the weather in Orlando is bad, causing some American Heritage turnovers, the Wildcats could stay in this one. Otherwise the Patriots seem too good.
WHO THE COMPUTERS PREDICT
We take a look at the computers and their predictions for the 2017 FHSAA State Championship games:
Joe Pinkos' Forecast: American Heritage by 14
USA TODAY High School Sports Score Predictor: American Heritage 39, Baker County 14
THE EXPERT PICKS
We gave our media pickers the biggest challenge of the year by not only predicting the winner of each state championship game, but the actual score of each game as well. Here are their picks:
Joshua Wilson, FloridaHSFootball.com: American Heritage 31, Baker County 17

Will Turner, FloridaHSFootball.com: American Heritage 49, Baker County 28

Bill Hammel, Irish Bill's Twist On Sports: American Heritage 38, Baker County 24

Mike Ridaught, The Prep Zone: American Heritage 39, Baker County 20

Marty Pallman, The Prep Zone: American Heritage 38, Baker County 30

Larry Savage, Gainesville Sun: American Heritage 34, Baker County 24

Corey Davis, DuvalSports.com: Baker County 31, American Heritage 30

Doug Pugh, Big County Preps: American Heritage 24, Baker County 21

Jake Perper, Prep Sports Scouting: American Heritage 30, Baker County 23

Joel Hillsman, Total Sports Coverage: American Heritage 24, Baker County 21