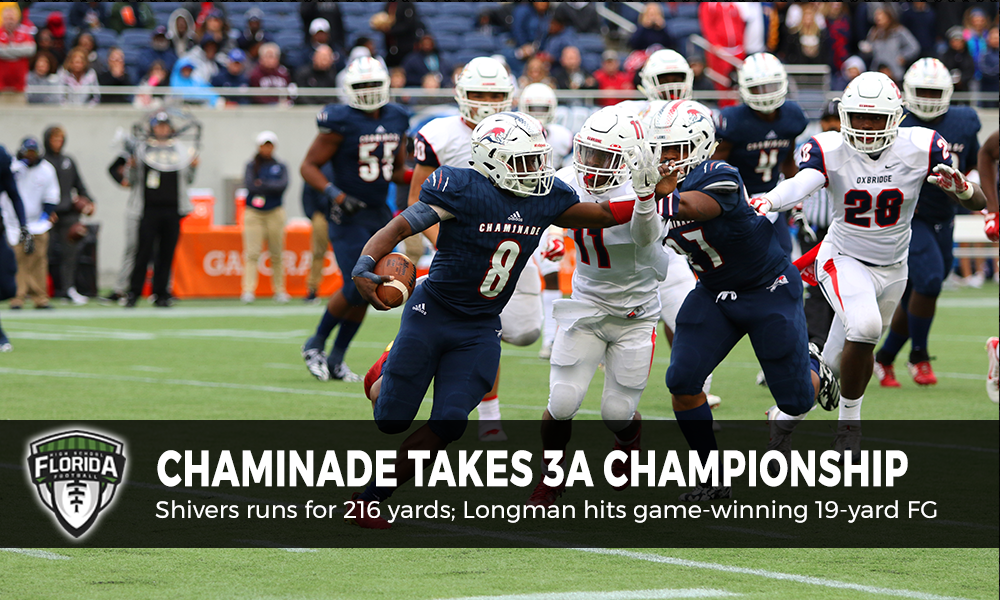 ORLANDO, Fla. — Eight seconds.
That is what was left on the clock that came down to deciding the 2017 Class 3A State Champion as Daniel Longman booted in a 19-yard field goal to give Chaminade-Madonna Lions a 31-28 lead over the Oxbridge Academy ThunderWolves.
That score would hold as the final score of the game.
Chaminade-Madonna Head Coach Dameon Jones had nothing but praise for his kicker.
"It could have been 40-yards out, 50-yards out with Longman, I was kicking it. I had that much confidence in that kid."
However, Chaminade-Madonna felt it had the game in hand at the start of the fourth quarter with a 28-14 lead.
But that was not the case.
It was during the fourth quarter that Oxbridge Academy would find the firepower to get back into the game shutting down two Chaminade-Madonna drives that resulted in three-and-outs.
As such, the efforts of Gio Richardson, who was 16-of-33 for 286 yards, three touchdowns, and an interception, led the comeback on both drives to tie the game at 28-all with 3:27 left in the game.
The thought overtime though was not on Chaminade-Madonna's mind.
With the ball back in hand, the Lions made a serious effort to march down the field with the efforts of junior quarterback Daelen Menard (5-of-9, 144 yards, two touchdowns) and senior running back Shaun Shivers who rushed for 216 yards on 30 carries and two touchdowns.
Facing third-and-nine on their own from their own 30, Menard found Akeem Hayes for a 12-yard gain to get them out to their own 42. Two plays later Menard found the light, speeding past ThunderWolve defenders for a 23-yard gain. After that, a Shaun Shivers 15-yard run after that helped put the Lions in the position to kick the game winner from Longman.
The first half of the game saw the first two drives by both teams trading punches in the end zone to put things at 14-all early in the second quarter but saw Chaminade-Madonna take a 21-14 after the second Oxbridge Academy touchdown to take a 21-14 lead in at half.
Jones, who has been a head coach for a long time in South Florida including a previous stop at Hallandale where he had taken them to the state semifinals in 2015 was feeling pretty good about the win.
"It feels good. I am just happy for my kids, my coaches, and the Chaminade-Madonna community. Longtime coming," Jones said. "It is a blessing."
Scoring Summary
Oxbridge Academy 7; 7; 0; 14 — 28
Chaminade-Madonna 14; 7; 7; 3 — 31
1st Quarter

CM — 9:29 — Shaun Shivers 7 run (Longman kick)
OX — 3:53 — Gio Richardson 1 run (Yonathan Rodriguez kick)
CM — 2:14 — Akeem Hayes 44 pass from Daelen Menard (Longman Kick)
2nd Quarter
OX — 9:22 — James Meeks 20 pass from Richardson (Rodriguez kick)
CM — 7:15 — Shivers 2 run (Longman kick)
3rd Quarter
CM — 3:49 — Xavier Williams 55 pass from Menard (Longman kick)
4th Quarter
OX — 7:53 — Herman McCray 17 pass from Richardson (Rodriguez kick)
OX — 3:27 — De'John King 17 pass from Richardson (Rodriguez kick)
CM — 0:04 — Longman 19 field goal