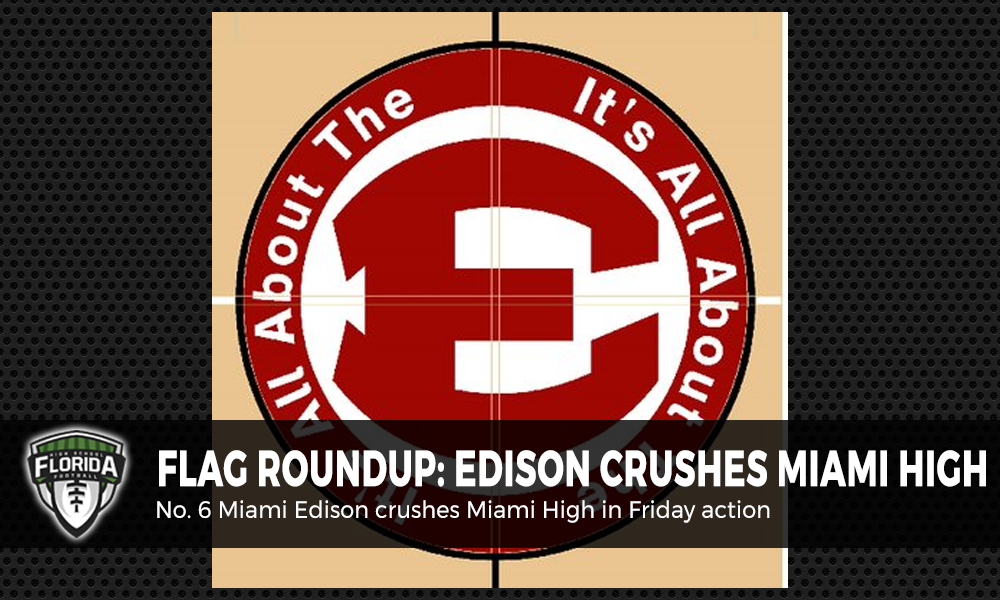 Friday is usually the lightest day of the week when it comes to Flag Football, but there still was some action on the grid for some teams. Here is our recap with scores from the action on Friday:
No. 6 Miami Edison crushes Miami High
No. 6 Miami Edison crushed Class 2A Miami High 63-7 on Friday afternoon, rolling behind a stellar performance from  Quarterback Tatyana Freemont who threw for 370 yards and eight touchdowns while also collecting two flag pulls and an extra point rush.
Destiny Doughty was responsible for hauling in three of Freemont's touchdown passes. She finished with 52 yards total, but also contributed on several extra points and had two flag pulls. Nikesha Pierre lead the team in receiving yards with 85 yards and also hauled in three touchdown receptions of her own and contributing on two extra-point conversions.
And yes even special teams played a roll in the game with Serena Johnson returning a 72-yard punt for the Red Raiders for a score, plus having one interception, two sacks and three flag pulls.
Miami Edison (2-0) led 20-0 at the half and never looked back in the second half. The Red Raiders will host Miami Central in a District 1A-15 matchup next Wednesday at 3:30 p.m…  Miami High falls to 0-2 on the season and will host Miami Coral Park in a District 2A-15 matchup next Wednesday at 3:30 p.m…
Top 25 Scoreboard Powered by ScoreStream
#6 Miami Edison 63, Miami High 7
#10 Cooper City 19, Everglades 0
#19 Pembroke Pines Charter 48, Chaminade-Madonna 0
#20 Harmony 14, Celebration 6
Other Flag Football Scores
Cypress Creek (Orlando) 14, Olympia 0
Western 37, Flanagan 0
Dillard 14, Hallandale 0
Miami Carol City 19, iMater Prep 0
Keystone Heights 44, Bradford 6
McArthur 21, Miramar 0
North Miami 31, North Miami Beach 0
Northeast (Oakland Park) 13, Coconut Creek 0
Boyd Anderson 13, Pompano Beach 0
Miami Coral Park 25, Reagan 7
Archbishop McCarthy 20, Somerset Academy (Pembroke Pines) 14
Hollywood Hills 7, South Broward 0
Belleview 26, Trinity Catholic 14
Did Not Report
John I. Leonard at Palm Beach Lakes
Miami Springs at Hialeah-Miami Lakes
Palm Harbor University at Pinellas Park

Sign Up For Our Newsletters