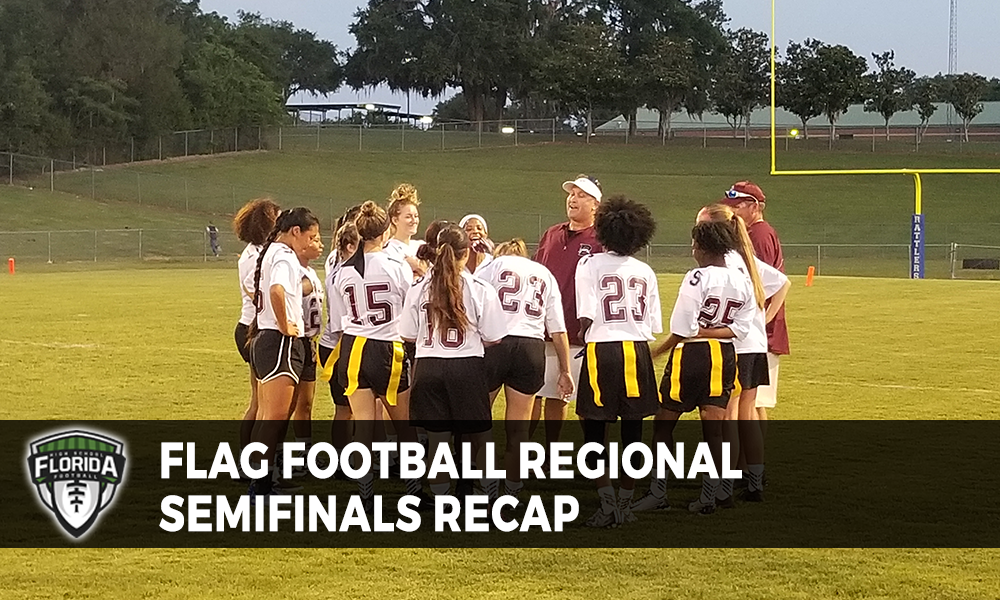 The FHSAA Flag Football Playoffs got underway last night with the regional semifinals in both Classes 2A and 1A. A lot of great action was to be found across all parts of the state. Here is a recap of all the action:
WHERE WE WERE AT FIRST
Brandon 33, Belleview 19
Brandon took the lead early in the first quarter and never really looked in this Class 1A-Region 2 Semifinal as they took a 33-19 win over the host Belleview Rattlers.
Belleview, a first-time team to the playoffs, struggled out of the game finding it tough to match the rhythm and tempo that the visiting Eagles got established early falling behind early in the first quarter 6-0 and eventually falling behind 19-0 late in the second quarter before scoring in the final seconds to cut the lead 19-6 at halftime.
However, Belleview started to make a push after halftime scoring once in the third quarter and once again after forcing a stop on the visiting Eagles in the fourth quarter to draw the score to 26-19. However, it wouldn't be enough as Brandon found the end zone one more time and intercepted a pass late on Belleview's final drive to seal the deal to move on to the regional finals.
Araminta Porter lead the Eagles with three interceptions, which Brandon capitalized on both times in the first half before getting the game-sealing interception. She also lead the night on receiving as well with over 100 yards.
Brandon moves to 10-5 overall while Belleview finishes the season 11-3.
Watch the interview above and take a look at the recap from the Ocala Star-Banner here.
CLASS 2A
No. 10 Wekiva 25, Sandalwood 13
After officials arrived late at Sandalwood, the Mustangs took the lead on the host Saints and never looked back despite it being close in the second half, taking their first three drives of the first half in for scores to leas 19-0 late in the first half.
After a late start due to a mix-up with officials, #WekivaFFB opens with the first three scores (including the first possession) and now leads 19-0 late in the first half! @FlaHSFootball @osvarsity #VarsityScores

— Wekiva Athletics (@WekivaSports) May 4, 2018
The Mustangs sealed the deal late in the 4th quarter with a touchdown to go up 25-13 after Sandalwood had made 19-13, Wekiva, early in the 4th quarter. Wekiva is now 13-0 while Sandalwood finishes the year at 9-4.
With 2 minutes remaining in the game, #WekivaFFB punches in a huge 4th down to go up 25-13 over @SandalwoodHSJax! @FlaHSFootball #flgffb @osvarsity #VarsityScores

— Wekiva Athletics (@WekivaSports) May 4, 2018
Congratulations to #WekivaFFB on not only their first District Championship but also their first @FHSAA Regional Championship appearance as they improve to 14-0! @FlaHSFootball #flgffb @osvarsity #VarsityScores pic.twitter.com/xPZBaL3ues

— Wekiva Athletics (@WekivaSports) May 4, 2018
No. 8 Dr. Phillips 21, No. 22 Fort Pierce Central 0
The visiting Cobras of Fort Pierce Central found it very hard to overcome the host Panthers as Dr. Phillips posted their ninth shutout on the season. Aaliyah Govan threw for two touchdowns and rushed for one more while Shayla Douglas had two interceptions on the night for Dr.  Phillips.
Dr. Phillips record moves to 13-1 with the win while Fort Pierce Central closes out the season with a 9-3 record.
Flag Football (13-1) shuts out Ft. Pierce Central 21-0 to advance to the Regional Championship! Aaliyah Govan throws for 2 TDs, rushes for another, 2 interceptions on defense; Shayla Douglas 2 interceptions @FlaHSFootball

— Dr. Phillips HS Athletics (@PantherZone) May 4, 2018
No. 14 Bloomingdale 18, Lake Nona 0
Another game that got a late start due to a mixup in officials saw the visiting Bulls dominate the host Lions from start to finish to advance to Monday's Regional Finals. Bloomingdale moves to 12-3 on the season while Lake Nona finishes at 10-2 overall.
Bloomingdale 18
Lake Nona 0

The Bulls will host Alonso on Monday in the regional final!!

— Bdale Flag Football (@BdaleFLAG) May 4, 2018
No. 1 Alonso 41, Lakewood Ranch 12
The top-overall team in the state completely dominated first-time playoff team Lakewood Ranch in the Regional Semifinals to advance to Monday's Regional Finals. Alonso moves on to 14-0 on the season while Lakewood Ranch finishes their second season in school history with a record of 10-4.
Ravens open the playoffs with a 41-12 victory over Lakewood Ranch. Extend to 14-0 and will travel Bloomingdale on Monday for the regional final.

— Alonso Ravens FFB (@RavensFlagFB) May 4, 2018
No. 4 Seminole Ridge 26, West Boca Raton 6
The Hawks shook off the rust of the district games last week and dominated West Boca Raton 26-6 to advance to next week's regional finals. Seminole Ridge moves to 12-1 on the season while West Boca Raton finishes the season with an 11-2 overall record.
https://twitter.com/JamesParsonJR/status/992198141259677696
No. 18 Western 6, N0. 20 Blanche Ely 0 
The visiting Wildcats scored the only touchdown to defeat the host and previously undefeated Tigers in the regional semifinals. Western will host Monday's Regional finals game against Seminole Ridge. Western moves to 12-2 overall while Blanche Ely finishes the season at 11-1.
https://twitter.com/principalarrojo/status/992197579105619969
No. 6 Cooper City 18, No. 12 Dr. Krop 6
Host Cooper City lead the entire game to defeat Dr. Krop in a rematch of last year's Regional Semifinal, 18-6. Cooper City moves on to 14-1 on the season while Dr. Krop finishes with a 9-2 overall record.
Photos below from Chuck Bethel Jr. of the Miami Sports Tribune.
Miami High 26, Miami Killian 20
Miami High defeated Miami Killian 26-20 in early action in the regional semifinals on Thursday. Miami High moves to 9-3 overall while Miami Killian finishes the season 8-4 3overall.
CLASS 1A
No. 2 Choctaw 20, No. 16 Lincoln 7
After a dismal first half which saw the No. 2 overall ranked team down at half, it had everyone taking fault from quarterback Kassandra Fairly for her bad reads to coaches blaming themselves for conservative play calling and crediting the Lincoln defense.
Instead of having a pity party, the Indians got to work in the second-half and Fairly connected with Zipporah Womack on two touchdowns to push Choctaw over Lincoln to move to Monday's regional final.
Choctaw moves on to 12-0 while Lincoln finished the season overall at 9-5.
Read the full game story from the Northwest Florida Daily News here.
1A Regional Semifinal@choctaw_flag 20 – Lincoln 7
Final @FlaHSFootball @FHSAA pic.twitter.com/SGt7uw9M9D

— Kevin Horgan (@TheKevinH) May 4, 2018
No. 9 Clay 21, No. 24 Terry Parker 0
In a rematch of last year's regional semifinal contest, the Blue Devils easily handled the host Braves on the road, posting a 21-0 shutout with Kimber Griffing leading the way for the Clay Defense with a pick-six. Clay moves to 12-0 on the season while Terry Parker finishes 12-2
No. 3 Robinson 41, No. 25 Osceola (Seminole) 0
The defending Class 1A state champions made a statement in the opening round by playing their most complete game of the season shutting out the visiting Warriors from Pinellas County. Robinson moves on to 12-2 on the season while Osceola finishes with a 12-2 overall record.
Robinson Flag advances with a victory over Osceola. It marks the 7th straight Regional Final appearance. Game is Monday @ Brandon 7 pm. Opportunity to go to the State Finals is on the line. Come out and support the Knights.

— RobinsonFlagFootball (@RobinsonFlag) May 4, 2018
Was our most complete game of the year. Congratulations on a great season! https://t.co/3bGYVg0Iig

— RobinsonFlagFootball (@RobinsonFlag) May 4, 2018
No. 19 Seabreeze 20, Jones 14
After falling behind 14-0 at halftime, the host Sandcrabs got to work in the second half behind the efforts of sophomore Quarterback Bailey McQuarrie threw for two touchdowns and rushed for one more to defeat the visiting Tigers along with five interceptions by the defense.
Seabreeze moves to 12-3 on the season while Jones finishes the season 9-6 overall.
Read the recap from the Daytona Beach News-Journal here.
No. 7 Glades Central 20, Suncoast 0
History was made as Glades Central won their first flag football playoff game in school history. Senior Wiskierra Lemene counted for all three touchdowns scored in the game to help the Raiders advance to Monday's regional finals.
Glades Central moves to 14-1 overall while Suncoast finishes the season 12-3.
Super Senior Wiskierra Lemene continues to lead her team scoring 3 touchdowns last night in the Regional Semifinal Playoff game against @CoachBlum33 Lady Chargers. The best player in Palm Beach County @FlaHSFootball @JRWagner5 @Sentinel_Sports @ABLichtenstein

— Coach Curry Lady Raiders (@currygcflag) May 4, 2018
No. 15 Monsignor Pace 18, No. 13 Boyd Anderson 7
The Lady Spartans are back in full form as they took down the host Cobras 18-7 to advance to the Regional Finals on Monday relying mostly on their defense.
Monsignor Pace moves to 10-1 overall while Boyd Anderson finishes the season at 13-1.
Pace 18
Boyd Anderson 7

On to the next one #DefenseWinsChampionships
Way to step up D!!!

WOOOO!!! pic.twitter.com/8HEtNG0Drv

— Pace Flag FB (@SpartansFlagFB) May 4, 2018
No. 5 Miami Edison 7, Miami Jackson 0
Last year's state runner-up in Class 1A was just able to squeak by Miami Jackson who they had defeated by a wider margin two weeks ago in the GMAC Tournament. The Red Raiders move to 12-0 on the season while Miami Jackson finishes the season at 8-4 overall.
REGIONAL FINALS SCHEDULE
See full playoff brackets for Class 2A and Class 1A by clicking the links
All games on Monday, May 7 at 7:00 p.m. ET unless noted:
CLASS 2A
Dr. Phillips (13-1) at Wekiva (14-0)
Alonso (14-0) at Bloomingdale (12-3)
Seminole Ridge (12-1) at Western (12-2)
Miami High (9-3) at Cooper City (14-1)
CLASS 1A
Choctaw (12-0) at Clay (12-0)
Robinson (12-2) at Brandon (9-5)
Glades Central (14-1) vs. Seabreeze (12-3) at the Ormond Beach Sports Complex
Miami Edison (12-0) at Monsignor Pace (10-1)