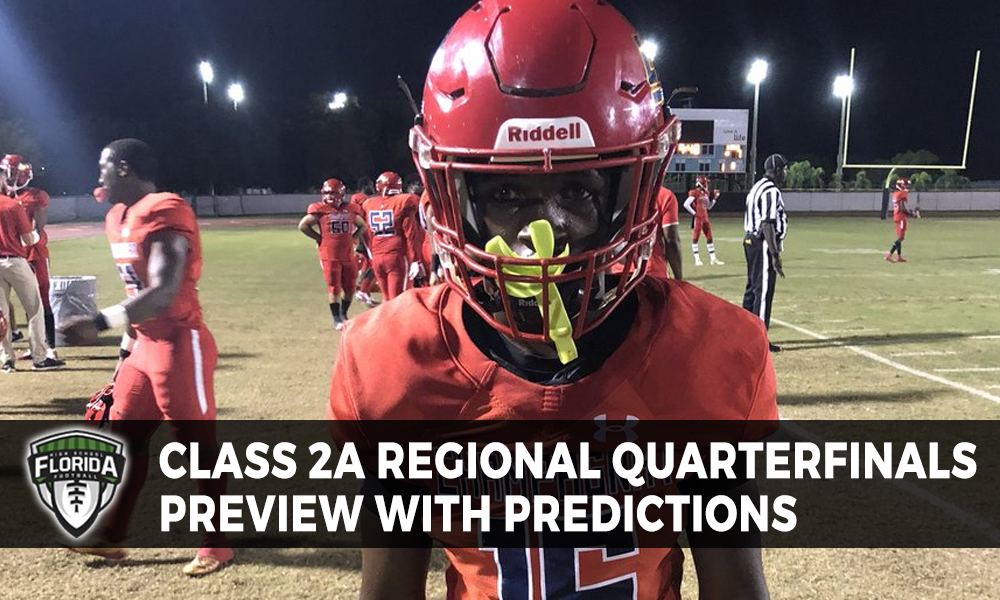 The regional quarterfinals open up Friday night in Class 2A and there is a good slate of games to keep an eye on as the Drive To December gets going.
All game scheduled for Friday, November 9 with a 7:30 p.m. Eastern kickoff unless noted.
ONE TO WATCH
CLASS 2A-REGION 4: No. 5 Champagnat (4-5) at No. 4 Miami Christian (7-1), Thursday, 7:00 p.m. ET: Really hard to pick a game in Class 2A as one to watch, but if there is one to watch it is this game. Not much is known about the two teams other than Champagnat Catholic is looking to defend its Class 2A state championship and Miami Christian is a newcomer to the Class 2A playoff scene this season.
Prediction: Champagnat 24, Miami Christian 20
THE REST OF THE SLATE
Region 1
No. 5 FAMU DRS (4-4) at No. 4 Aucilla Christian (8-1): FAMU DRS has played a much tougher schedule than Aucilla Christian has this season and this why they will prevail with a playoff win in the first round. Prediction: FAMU DRS 28, Aucilla Christian 20
No. 6 Rocky Bayou Christian (4-5) at No. 3 University Christian (6-4): Headed to be on of the ugliest games in the first round of the playoffs, this one will likely be over very quickly as the talent level is night and day between the two programs. Prediction: University Christian 40, Rocky Bayou Christian 3
Region 2
No. 5 Deltona Trinity Christian (6-4) at No. 4 Oak Hall (6-4): This Oak Hall's first football playoff game since the 1970's, but are they are ready for it? Deltona Trinity Christian has more experience here over the years with the playoffs and that is likely to be a big difference. Prediction: Trinity Christian 30, Oak Hall 17
No. 6 St. Francis Catholic (4-5) at No. 3 Zephyrhills Christian (7-3): Second straight season both teams have made the playoffs, but Zephyrhills Christian has clearly played the tougher schedule of the two coming into this one. It won't be close at all. Prediction: Zephyrhills Christian 35, St. Francis Catholic 7
Region 3
No. 5 Cambridge Christian (3-7) at No. 4 Evangelical Christian (6-4): Cambridge Christian has been pretty successful in the playoffs the last few seasons, but this year the Lancers have struggled. Evangelical Christian is looking clearly the better team here in this one. Prediction: Evangelical Christian 35, Cambridge Christian 10
No. 6 Southwest Florida Christian (2-8) at No. 3 Carrollwood Day (5-5): Carrollwood Day had an off week last week after having to forfeit due to a storm that wrecked the field. So the extra rest should help here for this game as they are clearly the better team in terms of talent and the schedule they have played. Prediction: Carrollwood Day 27, Southwest Florida Christian 7
Region 4
No. 6 Naples First Baptist (3-5) at No. 3 Glades Day (6-4): First Baptist's first trip to the playoffs in two years, but they are going up a very solid Glades Day team that has been battled test by some other teams that are in the Class 2A playoff field that drew first-round byes. Prediction: Glades Day 28, First Baptist 14