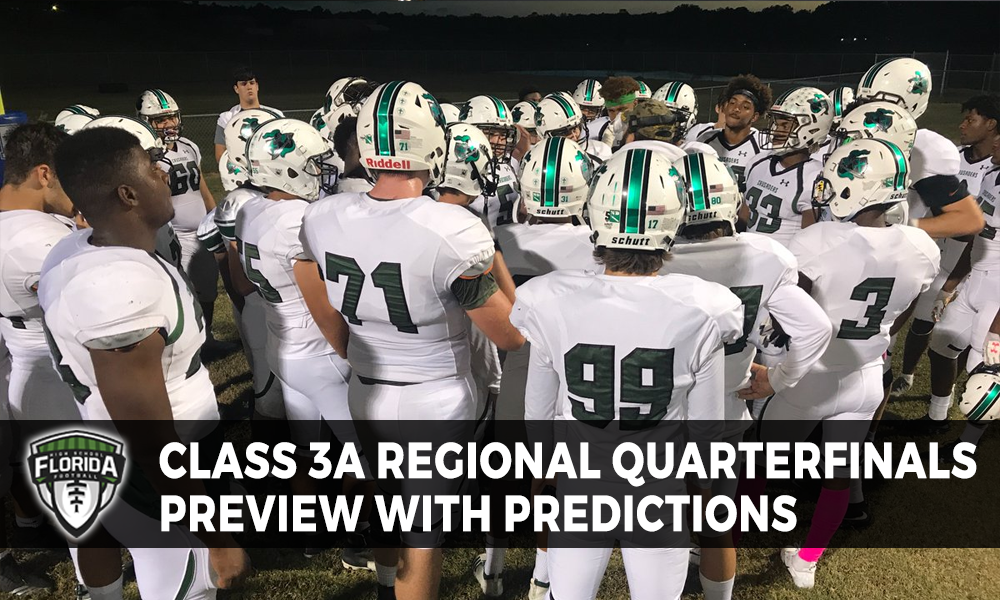 The regional quarterfinals open up Friday night in Class 3A and there is a good slate of games to keep an eye on as the Drive To December gets going.
All game scheduled for Friday, November 9 with a 7:30 p.m. Eastern kickoff unless noted.
ONE TO WATCH
CLASS 3A-REGION 1: No. 5 Pensacola Catholic (5-5) at No. 4 Fort White (8-2): This a matchup of the two of the most battle-tested teams not to get a first-round bye. Pensacola Catholic has played mostly a schedule of teams in higher classifications with the same being said for Fort White. For the visiting Crusaders keep an eye on running back Ja'kobi Jackson (109 carries, 938 yards, 11 TDs) with running back Waymond Jordan (117 carries, 734 yards, 7 TDs) in leading the rushing attack. Speaking for the host Indians watch out for quarterback Dylan Blair (117-230 passing, 1,649 yards, 20 TDs, 9 INTs) who has been one of the top quarterbacks in Class 3A this season. Running back Stanley Maxwell (161 carries, 1,197 yards, 15 TDs) will help keep things balanced for the Indians' attack. Overall, whichever defense figures out how to shut the other down are going to win this game and advance next week's game at No. 1 Florida High.
Prediction: Fort White 31, Pensacola Catholic 20
POLL: Who wins on Friday night?

CLASS 3A-REGION 1 QUARTERFINAL
#5 Pensacola Catholic (5-5) at #4 Fort White (8-2)@PensacolaCHS @fwhs411

CLASS 3A BRACKET: https://t.co/djNUWAKPot#flhsfb

— FloridaHSFootball.com (@FlaHSFootball) November 7, 2018
THE REST OF THE SLATE
Region 1
No. 6 Taylor County (5-5) at No. 3 Baldwin (9-1): A tough game for both the visiting Bulldogs and host Indians, as this marks the first time ever that the Indians will host a home playoff game. However, talent-wise I think the Indians are further ahead in this department, giving them the edge. Prediction: Baldwin 35, Taylor County 17
POLL: Who wins on Friday night?

CLASS 3A-REGION 1 QUARTERFINAL
#6 Taylor County (5-5) at #3 Baldwin (9-1)@TPerryfl @indianbaldwinfb @bmsh_athletics

CLASS 3A BRACKET: https://t.co/djNUWAKPot#flhsfb

— FloridaHSFootball.com (@FlaHSFootball) November 7, 2018
Region 2
No. 5 Holy Trinity (5-4) at No. 4 Cardinal Newman (8-2): When looking at the schedule between the two teams, Cardinal Newman is much more battle-tested despite the second-half of the season improvements seen by Holy Trinity to get in the playoffs. Prediction: Cardinal Newman 31, Holy Trinity 20
POLL: Who wins on Friday night?

CLASS 3A-REGION 2 QUARTERFINAL
#5 Holy Trinity (5-4) at #4 Cardinal Newman (8-2)@HTtigerfootball @CoachHooksHT @NewmanCrusaders

CLASS 3A BRACKET: https://t.co/djNUWAKPot#flhsfb

— FloridaHSFootball.com (@FlaHSFootball) November 7, 2018
No. 6 Melbourne Central Catholic (6-4) at No. 3 Father Lopez (8-2): It is hard to make out what the visiting Hustlers identity is on the field this year having lost the majority of their toughest games. The host Green Wave are no pushover and has shown considerable improvement this season. Prediction: Father Lopez 28, MCC 10
POLL: Who wins on Friday night?

CLASS 3A-REGION 2 QUARTERFINAL
#6 Melbourne Central Catholic (6-4) at #3 Father Lopez (8-2)@MCC_HighSchool @HustleGangFball @mcchustlers @FLCAthletics

CLASS 3A BRACKET: https://t.co/djNUWAKPot#flhsfb

— FloridaHSFootball.com (@FlaHSFootball) November 7, 2018
Region 3
No. 5 Lakeland Christian (6-4) at No. 4 Tampa Catholic (7-3): These teams are a bit familiar with each other having been in a district with each other prior to last season. Now they will meet here in the playoffs and really the biggest question is – can the visiting Vikings handle the challenge after getting pushed around last week by Clearwater Academy? The host Crusaders have been much more battle tested this season. Prediction: Tampa Catholic 28, Lakeland Christian 10
POLL: Who wins on Friday night?

CLASS 3A-REGION 3 QUARTERFINAL
#5 Lakeland Christian (6-4) at #4 Tampa Catholic (7-3)@LCSVikings @LCS_Football @TC_Football @JerisMcIntyre

CLASS 3A BRACKET: https://t.co/djNUWAKPot#flhsfb

— FloridaHSFootball.com (@FlaHSFootball) November 7, 2018
No. 6 Clearwater Calvary Christian (5-5) at No. 3 Cardinal Mooney (8-2): Calvary Christian just managed to slip into the playoffs ahead of St. Petersburg Catholic, but they draw a very much improved Cardinal Mooney team, and this could be a problem early on for the visiting Warriors. Prediction: Cardinal Mooney 35, Calvary Christian 14
POLL: Who wins on Friday night?

CLASS 3A-REGION 3 QUARTERFINAL
#6 Clearwater Calvary Christian (5-5) at #3 Cardinal Mooney (8-2)@Calvary_FB @SportsCalvary @CMooneyFootball

CLASS 3A BRACKET: https://t.co/djNUWAKPot#flhsfb

— FloridaHSFootball.com (@FlaHSFootball) November 7, 2018
Region 4
No. 5 Palmer Trinity (8-2) at No. 5 Westminster Christian (9-1), 3:00 p.m. ET: This game could go either way since they saw each other last week with Palmer Trinity coming out on top. So are the host Warriors still reeling from the loss or the visiting Falcons going to be thinking too much about last week's win to win a game that actually matter now? Prediction: Palmer Trinity 24, Westminster Christian 20
POLL: Who wins on Friday afternoon?

CLASS 3A-REGION 4 QUARTERFINAL
#5 Palmer Trinity (8-2) at #4 Westminster Christain (9-1)@palmertrinity @WCS_Football @wcsmiami_sports

CLASS 3A BRACKET: https://t.co/djNUWAKPot#flhsfb

— FloridaHSFootball.com (@FlaHSFootball) November 7, 2018
No. 6 Fort Lauderdale Calvary Christian (5-5) at No. 3 Delray American Heritage (7-3): The visiting Eagles got in the playoffs thanks to upsetting Class 2A newcomer Miami Christian last week, but they get the unfortunate draw of a much-improved American Heritage program. The host Stallions are looking to get back to Orlando where they made a name for themselves, and that starts with this game. Prediction: American Heritage 30, Calvary Christian 14
POLL: Who wins on Friday night?

CLASS 3A-REGION 4 QUARTERFINAL
#6 Fort Lauderdale Calvary Christian (5-5) at #3 Delray American Heritage (7-3)@CalvaryDana @CalvaryFB @stallionsfb

CLASS 3A BRACKET: https://t.co/djNUWAKPot#flhsfb

— FloridaHSFootball.com (@FlaHSFootball) November 7, 2018