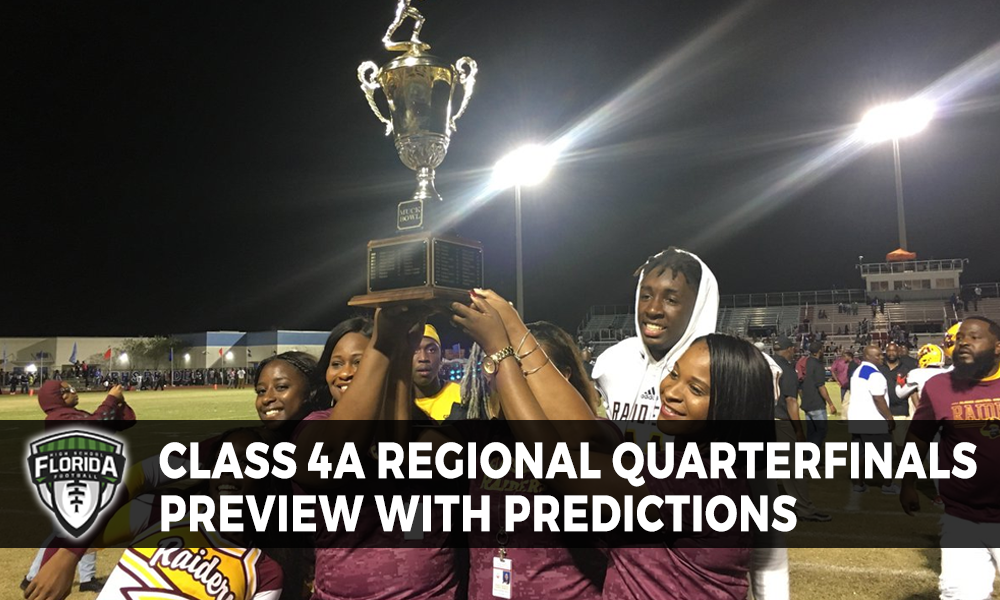 The regional quarterfinals open up Friday night in Class 4A and there is a good slate of games to keep an eye on as the Drive To December gets going.
All game scheduled for Friday, November 9 with a 7:30 p.m. Eastern kickoff unless noted.
ONE TO WATCH
CLASS 4A-REGION 2: No. 6 South Sumter (5-5) at No. 3 Dunnellon (5-5): A regular season rematch between these two quality teams from North Central Florida, it is going to be all out war for both teams. South Sumter is back in the playoffs after missing last year with Dunnellon looking to bounce back after getting bounced quickly out of what was set to be a strong run by a surprising Bradford team. With both teams having played strong schedules this season, both are battle tested and ready for this matchup. For the visiting Raiders, watch out for quarterback Garhett Miller (74-143 passing, 1,185 yards, 12 TDs, 7 INTs) and running back Trenton Taylor (143 carries, 690 yards, 8 TDs) to carry the team in this game for South Sumter. For the host Tigers, keep an eye on Trent Townsend who is only a freshman quarterback but has done very well in that role while Javon Lee has proven to be an effective weapon in the athlete roll.
Prediction: Dunnellon 30, South Sumter 17
POLL: Who wins on Friday night?

CLASS 4A-REGION 2 QUARTERFINAL
#6 South Sumter (5-5) at #3 Dunnellon (5-5)@AthleticsSSHS @sshsraiders @DunnellonHigh @DtownFb

CLASS 4A BRACKET: https://t.co/myITcipdGn #flhsfb

— FloridaHSFootball.com (@FlaHSFootball) November 7, 2018
THE REST OF THE SLATE
Region 1
No. 5 Rutherford (2-6) at No. 4 Marianna (4-5), 7:30 CT: A rematch of last week's game that was easily taken by the host Bulldogs. Seeing nearly the same result again, just in a different location. Prediction: Marianna 34, Rutherford 10
POLL: Who wins on Friday night?

CLASS 4A-REGION 1 QUARTERFINAL
#5 Rutherford (2-6) at #4 Marianna (4-5)@Rams_Football1

CLASS 4A BRACKET: https://t.co/myITcipdGn #flhsfb

— FloridaHSFootball.com (@FlaHSFootball) November 7, 2018
No. 6 Gadsden County (0-9) at No. 3 South Walton (5-4), 7:30 CT: Gadsden County is in the playoffs through a coin flip and could be without their head coach after he suffered a heart attack in the middle of the week. So, a lot of emotions will be riding high in this game for both teams. Prediction: South Walton 17, Gadsden County 14
POLL: Who wins on Friday night?

CLASS 4A-REGION 1 QUARTERFINAL
#6 Gadsden County (0-9) at #3 South Walton (5-4)@PhilTisa @southwaltonHS

CLASS 4A BRACKET: https://t.co/myITcipdGn #flhsfb

— FloridaHSFootball.com (@FlaHSFootball) November 7, 2018
Region 2
No. 5 Bradford (5-5) at No. 4 P.K. Yonge (9-1): Hopefully Bradford has forgotten its Week 11 loss to Middleburg quickly as they taken on a much improved P.K. Yonge team. However, what plays to the visiting Tornadoes' advantage is they have played a much tougher schedule here over the host Blue Wave. Prediction: Bradford 20, P.K. Yonge 14
POLL: Who wins on Friday night?

CLASS 4A-REGION 2 QUARTERFINAL
#5 Bradford (5-5) at #4 P.K. Yonge (9-1)@BHSTornadoFB @PKYFootball @waverunnerpky @pkyongedrs

CLASS 4A BRACKET: https://t.co/myITcipdGn #flhsfb

— FloridaHSFootball.com (@FlaHSFootball) November 7, 2018
Region 3
No. 5 Avon Park (5-5) at No. 4 Astronaut (9-1): What a year can do for two teams. Avon Park has regressed backward especially in the second half of the regular season, while Astronaut is ahead of where it planned to be in returning to a playoff contender. This one might not be close. Prediction: Astronaut 35, Avon Park 14
POLL: Who wins on Friday night?

CLASS 4A-REGION 3 QUARTERFINAL
#5 Avon Park (5-5) at #4 Astronaut (9-1)@AstronautFB @coachjpworden @ASTRO_ATHLETICS

CLASS 4A BRACKET: https://t.co/myITcipdGn #flhsfb

— FloridaHSFootball.com (@FlaHSFootball) November 7, 2018
No. 6 Lake Placid (6-4) at No. 3 LaBelle (7-3): A regular season rematch between both teams, Lake Placid was the winner the first time around. A similar result could happen again, but not by as wide of a margin as it was in the regular season. Prediction: Lake Placid 28, LaBelle 17
POLL: Who wins on Friday night?

CLASS 4A-REGION 3 QUARTERFINAL
#5 Avon Park (5-5) at #4 Astronaut (9-1)@AstronautFB @coachjpworden @ASTRO_ATHLETICS

CLASS 4A BRACKET: https://t.co/myITcipdGn #flhsfb

— FloridaHSFootball.com (@FlaHSFootball) November 7, 2018
Region 4
No. 5 Gulliver Prep (7-3) at No. 4 Monsignor Pace (5-5): Monsignor Pace has played a way tougher schedule this season compared to Gulliver Prep and I think that is going to show here in this game with the host Spartans coming out on top of the visiting Raiders. Prediction: Monsignor Pace 31, Gulliver Prep 24
POLL: Who wins on Friday night?

CLASS 4A-REGION 4 QUARTERFINAL
#5 Gulliver Prep (7-3) at #4 Monsignor Pace (5-5)@GulliverFB @GulliverSports @GulliverSchools @PaceSpartans

CLASS 4A BRACKET: https://t.co/myITcipdGn #flhsfb

— FloridaHSFootball.com (@FlaHSFootball) November 7, 2018
No. 6 Coral Springs Charter (7-1) at No. 3 Glades Central (7-3): It is the first playoff appearance for Coral Springs Charter, but other than there is not much to look at with this game as the talent level between the two teams is night and day. Glades Central runs away with this opening round game. Prediction: Glades Central 38, Coral Springs Charter 6
POLL: Who wins on Friday night?

CLASS 4A-REGION 4 QUARTERFINAL
#6 Coral Springs Charter (7-1) at #3 Glades Central (7-3)@CSCSFootball @cscpanthers @CoachMattGarris @GCHSRaiders

CLASS 4A BRACKET: https://t.co/myITcipdGn #flhsfb

— FloridaHSFootball.com (@FlaHSFootball) November 7, 2018