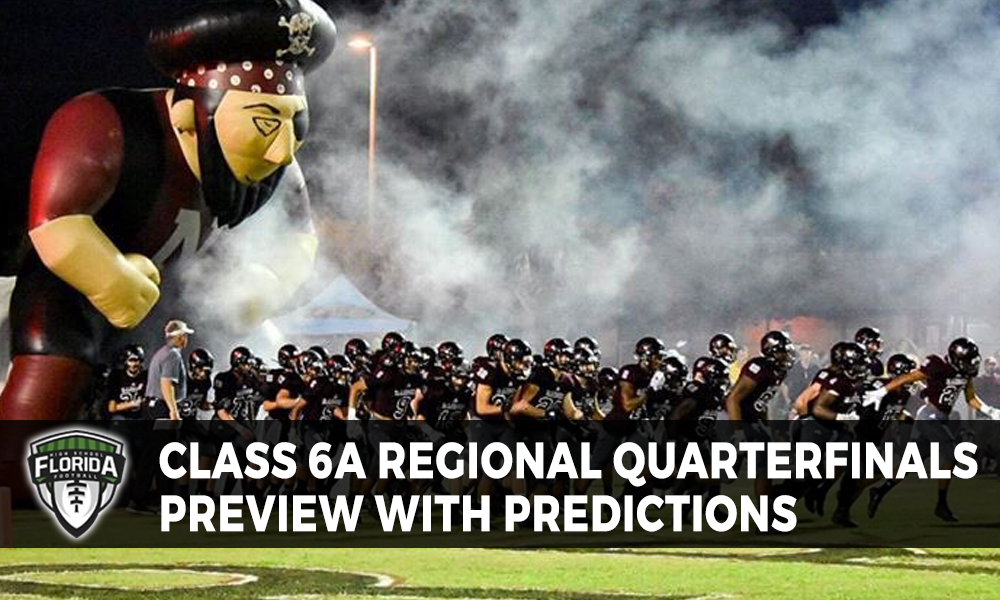 Help support the No. 1 Independent high school sports website in the State of Florida by becoming a FRIEND of FloridaHSFootball.com for as little as $3.00 per month by clicking here.
The regional quarterfinals open up Friday night in Class 6A and there is a good slate of games to keep an eye on as the Drive To December gets going.
All game scheduled for Friday, November 9 with a 7:30 p.m. Eastern kickoff unless noted.
THREE TO WATCH
CLASS 6A-REGION 2: No. 5 Gainesville (7-3) at No. 4 Lake Wales (9-1): Gainesville comes into this game playing having played one of the toughest schedules of any team in Region 2 while Lake Wales rides into this with a nine-game win streak and in the playoffs after just missing out on things last year. The Hurricanes will be led by senior quarterback Luke Matthews (184-251 passing, 2,455 yards, 21 TDs, 9 INTs) with Jalen Kelsey (55 receptions, 994 yards, 8 TDs) being one of his favorite targets. However, some balance will be found with Niles Cromwell (85 carries, 866 yards, 13 TDs) coming out of the backfield. For the host Highlanders, keep an eye on quarterback Chayli Garnett (117-188 passing, 1,928 yards, 18 TD, 4 INTs) along with a great rushing attack from Johnny Richardson (148 carries, 1,186 yards, 15 TDs) to carry the offense. Don't be surprised if this game turns into a barnburner like a few of the games Lake Wales has been put through this season already.
Prediction: Gainesville 35, Lake Wales 31
POLL: Who wins on Friday night?

CLASS 6A-REGION 2 QUARTERFINAL
#8 Sebring (7-2) at #1 Vanguard (10-0)@CScott39 @vanguard_high @edwinfarmer1974

CLASS 6A BRACKET: https://t.co/2MiPJazYH1#flhsfb

— FloridaHSFootball.com (@FlaHSFootball) November 7, 2018
CLASS 6A-REGION 3: No. 5 Barron Collier (7-3) at No. 4 Fort Myers (8-2): This is about as good as it gets when it comes to a South Florida playoff game. Two teams that are battle tested and well coached and this will have the makings to be one of the most talked about games of the first-round slate. The visiting Cougars will have the balance playmaking abilities of quarterback Jason Grimes (81-121 passing, 1,113 yards, 13 TDs, 4 INTs) and running back Drew Powell (184 carries, 1,273 yards, 13 TDs) to help attack things against the host Green Wave defense. Speaking of the Green Wave, watch out for dual-threat quarterback Willie Neal (67-116, 1,076 yards, 11 TDs, 2 INTs; 82 carries, 473 yards, 6 TDs rushing) to lead the offense through the Barron Collier defense as well as running back Yasias Young (99 carries, 676 yards, 9 TDs). Overall, this will be a very competitive and potentially tight ball game where mistakes could be costly when the final whistle blows.
Prediction: Fort Myers 21, Barron Collier 17
POLL: Who wins on Friday night?

CLASS 6A-REGION 3 QUARTERFINAL
#5 Barron Collier (7-3) at #4 Fort Myers (8-2)@BarronCollier @BCCougarsFB @FMHSAthletics

CLASS 6A BRACKET: https://t.co/2MiPJazYH1 #flhsfb

— FloridaHSFootball.com (@FlaHSFootball) November 7, 2018
CLASS 6A-REGION 4: No. 6 Miami Northwestern (5-5) at No. 3 Mainland (7-3): The defending Class 6A state champions are on the road to start their title defense in Daytona Beach after going through some struggles this season including going an even .500 on the regular season. For the visiting Bulls they are going to need defense to keep them in the game and they will have linebacker Samuel Brooks who has been one of the major forces of that Bulls defense to lead the way. For the host Buccaneers, keep an eye on running back D'Andre McMillian who has rushed for 1,000 yards this season, but will be relying on its defense to say in this game against the Bulls.
Prediction: Miami Northwestern 24, Mainland 21
POLL: Who wins on Friday night?

CLASS 6A-REGION 4 QUARTERFINAL
#6 Miami Northwestern (5-5) at #3 Mainland (7-3)@MNW_Bulls1955 @MainlandFtBall @MAINLANDBUCS

CLASS 6A BRACKET: https://t.co/2MiPJazYH1 #flhsfb

— FloridaHSFootball.com (@FlaHSFootball) November 7, 2018
THE REST OF THE SLATE
Region 1
No. 8 Pace (7-3) at No. 1 Navarre (9-1), 7:30 p.m. CT: Regular season rematch between District 6A-2 foes here and was not that close the last time. Don't expect any different result as Navarre could have a favorable path to regional finals this season. Prediction: Navarre 40, Pace 21
POLL: Who wins on Friday night?

CLASS 6A-REGION 1 QUARTERFINAL
#8 Pace (7-3) at #1 Navarre (9-1)@PaceHSfootball @NHSRaidersFB @TheNHSRaiders @IrishBill63

CLASS 6A BRACKET: https://t.co/2MiPJazYH1#flhsfb

— FloridaHSFootball.com (@FlaHSFootball) November 7, 2018
No. 5 Escambia (8-2) at No. 4 St. Augustine (5-5): St. Augustine just lucked out on not having a two-decade streak of playoff berths be crushed by not winning the District 6A-4 title through points. While both teams have played a tough schedule, the visiting Gators has fared better in most games than the host Yellow Jackets. Prediction: Escambia 31, St. Augustine 20
POLL: Who wins on Friday night?

CLASS 6A-REGION 1 QUARTERFINAL
#5 Escambia (8-2) at #4 St. Augustine (5-5)@ehs_gators @SAHSJackets @sahs_athletics

CLASS 6A BRACKET: https://t.co/2MiPJazYH1#flhsfb

— FloridaHSFootball.com (@FlaHSFootball) November 7, 2018
No. 6 Niceville (7-3) at No. 3 Crestview (7-2),  7:30 p.m. CT: A rematch of a Week 10 District 6A-3 clash that decided the district championship, it could be another game where Crestview posts 60 points again. However, the visiting Eagles may not let the host Bulldogs do that much damage again, but it is going to be a tough game for Niceville to come out of with a win. Prediction: Crestview 45, Niceville 24
POLL: Who wins on Friday night?

CLASS 6A-REGION 1 QUARTERFINAL
#6 Niceville (7-3) at #3 Crestview (7-2)@Niceville_FB @NicevilleEagles @crestview_fb @CrestviewHS

CLASS 6A BRACKET: https://t.co/2MiPJazYH1#flhsfb

— FloridaHSFootball.com (@FlaHSFootball) November 7, 2018
No. 7 Gulf Breeze (8-2) at Pine Forest (7-3), 7:30 p.m. CT: Trouble is brewing in Gulf Breeze as they don't have their leading rusher who suffered a broken ankle last week. With this being another regular-season rematch, this could very well go Pine Forest's way once again. Prediction: Pine Forest 28, Gulf Breeze 13
POLL: Who wins on Friday night?

CLASS 6A-REGION 2 QUARTERFINAL
#8 Sebring (7-2) at #1 Vanguard (10-0)@CScott39 @vanguard_high @edwinfarmer1974

CLASS 6A BRACKET: https://t.co/2MiPJazYH1#flhsfb

— FloridaHSFootball.com (@FlaHSFootball) November 7, 2018
Region 2
No. 8 Sebring (7-2) at No. 1 Vanguard (10-0): While the visiting Blue Streaks do have some talent, they haven't seen a team like Vanguard at any point this season and that is why this could be hard to best and upset the host Knights in this one in Ocala. Prediction: Vanguard 35, Sebring 21
POLL: Who wins on Friday night?

CLASS 6A-REGION 2 QUARTERFINAL
#8 Sebring (7-2) at #1 Vanguard (10-0)@CScott39 @vanguard_high @edwinfarmer1974

CLASS 6A BRACKET: https://t.co/2MiPJazYH1#flhsfb

— FloridaHSFootball.com (@FlaHSFootball) November 7, 2018
No. 6 Lake Weir (7-3) at No. 3 Mitchell (8-2): Lake Weir is only in the playoffs for the third time in school history while Mitchell has won their four consecutive district championship. The difference here is who has been here and who hasn't been here, and I think that favors the host Mustangs over the visiting Hurricanes. Prediction: Mitchell 28, Lake Weir 14
POLL: Who wins on Friday night?

CLASS 6A-REGION 2 QUARTERFINAL
#6 Lake Weir (7-3) at #3 Mitchell (8-2)@lwhurricanes @CoachRobLW @JWMHS

CLASS 6A BRACKET: https://t.co/2MiPJazYH1 #flhsfb

— FloridaHSFootball.com (@FlaHSFootball) November 7, 2018
No. 7 South Lake (6-4) at No. 2 Armwood (9-1): Tough draw here for the host Eagles who made the playoffs after missing out last season. The host Hawks look to try to make another run to Orlando and this game favors them more than some of the computers are likely suggesting. Prediction: Armwood 31, South Lake 17
POLL: Who wins on Friday night?

CLASS 6A-REGION 2 QUARTERFINAL
#7 South Lake (6-4) at #2 Armwood (9-1)@SouthLakeEagles @SLHSEagleNation @FootballSlhs @armwoodpressbox @Armwood_Hawks @armwoodmayor

CLASS 6A BRACKET: https://t.co/2MiPJazYH1 #flhsfb

— FloridaHSFootball.com (@FlaHSFootball) November 7, 2018
Region 3
No. 8 Lehigh (6-3) at No. 1 Naples (9-1): The visiting Lightning struggled in the back stretch of the season and are looking to bounce back one of the most playoff experienced teams in Southwest Florida. However, it won't be easy, especially if the host Golden Eagles are back at full strength in this one. Prediction: Naples 34, Lehigh 20
POLL: Who wins on Friday night?

CLASS 6A-REGION 3 QUARTERFINAL
#5 Barron Collier (7-3) at #4 Fort Myers (8-2)@BarronCollier @BCCougarsFB @FMHSAthletics

CLASS 6A BRACKET: https://t.co/2MiPJazYH1 #flhsfb

— FloridaHSFootball.com (@FlaHSFootball) November 7, 2018
No. 6 North Fort Myers (7-3) at No. 3 Largo (7-3): The Red Knights are looking to bounce back on the playoff trail after dropping their opener last year. They get a good chance here against the host Packers who has not played as a comparable schedule this season. Prediction: North Fort Myers 24, Largo 14
POLL: Who wins on Friday night?

CLASS 6A-REGION 3 QUARTERFINAL
#6 North Fort Myers (7-3) at #3 Largo (7-3)@NFMHSAthletics @LargoFootball

CLASS 6A BRACKET: https://t.co/2MiPJazYH1 #flhsfb

— FloridaHSFootball.com (@FlaHSFootball) November 7, 2018
No. 7 Clearwater (6-4) at No. 2 Charlotte (8-2): Will say this is a tough draw for the visiting Tornadoes as they go up against another of Southwest Florida's most experienced teams when it comes to playoff games. The host Tarpons will be ready for this one as they are back in the playoffs after missing out last season. Prediction: Charlotte 35, Clearwater 20
POLL: Who wins on Friday night?

CLASS 6A-REGION 3 QUARTERFINAL
#7 Clearwater (6-4) at #2 Charlotte (8-2)@CHS_Tornadoes @CoachMesick @CHSTarponFB

CLASS 6A BRACKET: https://t.co/2MiPJazYH1 #flhsfb

— FloridaHSFootball.com (@FlaHSFootball) November 7, 2018
Region 4
No. 8 Miami Norland (4-6) at No. 1 Miami Carol City (8-2): A District 6A-16 rematch here in the first round and this one was no contest in the regular season and it shouldn't be here at all once again. Prediction: Miami Carol City 45, Miami Norland 13
POLL: Who wins on Friday night?

CLASS 6A-REGION 4 QUARTERFINAL
#8 Miami Norland (4-6) vs. #1 Miami Carol City (8-2)@_MNVikings @CarolCitySr1

CLASS 6A BRACKET: https://t.co/2MiPJazYH1 #flhsfb

— FloridaHSFootball.com (@FlaHSFootball) November 7, 2018
No. 5 Miami Central (8-2) at No. 4 Dillard (8-2): This not the draw the host Panthers wanted as they get the visiting Rockets once again to open the playoffs. The records might be the same, but the comparisons stop there as the Rockets have played a much tougher schedule and are more battle tested. Prediction: Miami Central 42, Dillard 20
POLL: Who wins on Friday night?

CLASS 6A-REGION 4 QUARTERFINAL
#5 Miami Central (8-2) at #4 Dillard (8-2)@Roc__Nation

CLASS 6A BRACKET: https://t.co/2MiPJazYH1 #flhsfb

— FloridaHSFootball.com (@FlaHSFootball) November 7, 2018
No. 7 Eau Gallie (7-3) at No. 2 Palm Bay Heritage (8-3): A District 6A-14 rematch, this game was almost no contest in the regular season. It could be the same way again here in this one. The Panthers are just much more prepared given playoff experience over the years. Prediction: Palm Bay Heritage 35, Eau Gallie 14
POLL: Who wins on Friday night?

CLASS 6A-REGION 4 QUARTERFINAL
#7 Eau Gallie (7-3) at #2 Palm Bay Heritage (8-2)@EGCommodores @eghscommodores @EauGallieHC @SwarmGang

CLASS 6A BRACKET: https://t.co/2MiPJazYH1 #flhsfb

— FloridaHSFootball.com (@FlaHSFootball) November 7, 2018