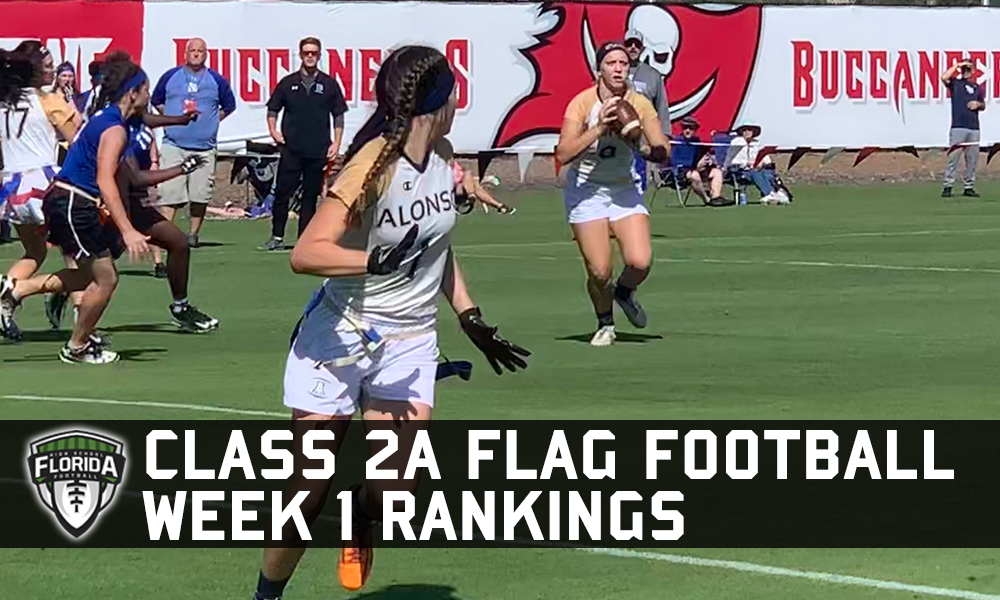 Each week during the season we update the Top 25 rankings in Class 2A providing our Top 10 teams as well as provide The Next 15 teams that we have ranked to complete the Top 25 rankings. Information used to determine the rankings include record, quality wins, defeating ranked opponents and strength of schedule (after Week 1). It is important that teams update their information with scores with us on a regular basis each week by emailing us score reports at flag@floridahsfootball.com, sending us a direct message on Twitter @FlaHSFootball or updating scores in the ScoreStream app.  Lack of information (scores) reported by the teams will only hurt their chances of being ranked, especially if they are having a solid season.
CLASS 2A
THE TOP 10
1. Alonso (Tampa)
NOTE: Loaded again with talent, the Ravens should have the opportunity to repeat this season as the Class 2A Champions.
2. Seminole Ridge (Loxahatchee)
NOTE: Can't discount the Hawks despite the two back-to-back runner-up finishes as they will still be a contender in Class 2A.
3. Wekiva (Apopka)
NOTE: After tasting success the Mustangs are upping the schedule this season and looking for another impressive year.
4. Cooper City
NOTE: Quarterbacks might be an issue, but the Cowboys (or Cowgirls in this instance) should still be able to contend to make it back to state for the third year in a row.
5. Riverview (Riverview)
NOTE: This might be the Sharks' most talented squad and with a consistent coaching staff this could be a magical year in "The View."
6. Dr. Phillips (Orlando)
NOTE: The Panthers will be in the mix to be one of the top teams again in Class 2A this season and will play some quality competition along the way.
7. St. Cloud
NOTE: New head coach this year for the Bulldogs, but we aren't expecting too much drop off from what has been one of the most consistent programs in Osceola County.
8. Jupiter
NOTE: A toss up between putting Jupiter and Dwyer in this spot, but Warriors earn it by default for now as they will again challenge Seminole Ridge and Dwyer for the top spot in District 2A-9.
9. Bloomingdale (Valrico)
NOTE: Bulls are still in the mix for their district this year but will see a strong Riverview team battle it out with them along with a much-improved Newsome squad.
10. Dwyer (Palm Beach Gardens)
NOTE: As mentioned on Jupiter, it was a toss-up where to put both teams. It will be a three-horse race for District 2A-9 once again this season.
RELATED: All-Classification Top 25 Flag Football Rankings for Week 1
THE NEXT 15
11. Lake Nona (Orlando)
12. Steinbrenner (Lutz)
13. Newsome (Lithia)
14. Western (Davie)
15. Park Vista (Lake Worth)
16. Dr. Krop (Miami)
17. West Boca Raton
18. Blanche Ely (Pompano Beach)
19. Lakewood Ranch (Bradenton)
20. Apopka
21. Plant (Tampa)
22. Miami Southridge
23. Sandalwood (Jacksonville)
24. Martin County (Stuart)
25. Mandarin (Jacksonville)