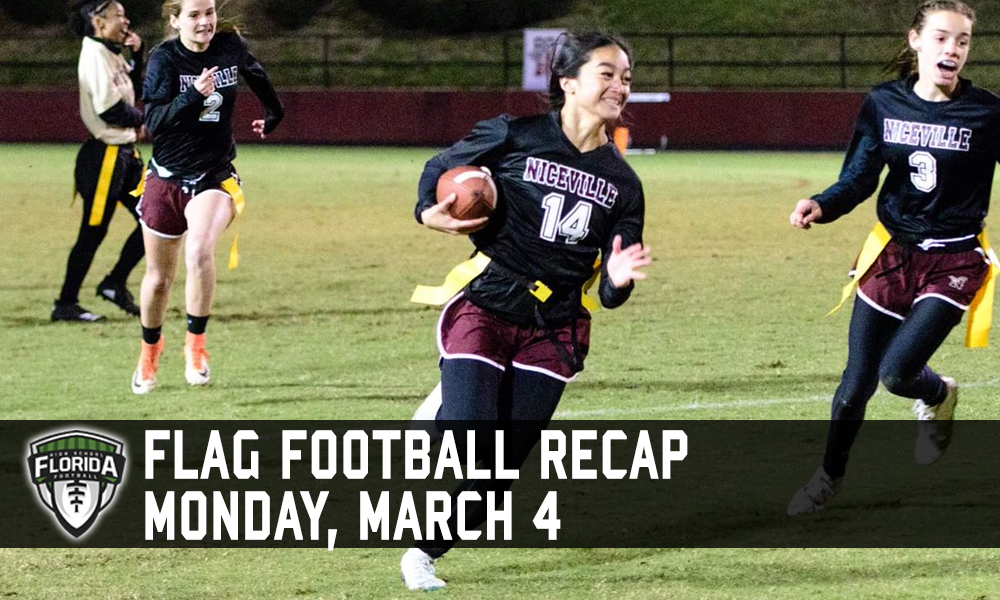 Yesterday was the opening day of the 2019 Girls Flag Football season and with that came a handful of games to get the season started.
NOTE: Teams are encouraged to report box scores, stats and more from their games by emailing them to flag@floridahsfootball.comflag@floridahsfootball.com. Information sent to us might just be used in our daily recaps throughout the season.
PACE PICKS UP FIRST WIN IN SCHOOL HISTORY
The first-year program, the Pace Patriots are already off to a huge start thanks to a 14-0 win over Crestview. Pace, which is one of three Santa Rosa County schools to launch Flag Football teams found themselves on the winning side last night thanks to quarterback Shay Crooks who threw for 178 yards and two touchdowns while Makayla Michael had a 71-yard touchdown catch and an interception on defense. Laikyn Burklow also had a 14 yard TD catch, and Kaylee Gehrke had a sack for a safety in the Patriots win over the Bulldogs.
Pace moves to 1-0 on the season while Crestview starts off 0-1. Pace will travel to Cantonment on Thursday to take on another first-year program in Tate while Crestview will host Pensacola Washington on Friday to open up District 1A-1 play.
NO. 19 SEABREEZE OPENS SEASON WITH SHUTOUT
All-Classification Top 25 No. 19 Daytona Beach Seabreeze opened the season Monday night with a 34-0 shutout win over South Daytona Warner Christian to move to 1-0 on the season and 1-0 in District 1A-9. The Sandcrab were led by quarterback Bailey McQuarrie who went 4-of-15 for 53 yards, two passing touchdowns, and one interception. McQuarrie also counted for 23 yards rushing and two more touchdowns and also had one catch for five yards. Kara Haas rushed four times for 34 yards including one touchdown while also catching three passes for 65 yards. Haas also had a pick-six and two flag pulls for a loss on defense. Alihya Hanh recorded two interceptions while freshman Kyle Stewart recorded three sacks for 34 yards and two rushes for 15 yards. Alex Nelson had two catches for 18 yards and a touchdown while Mickayla Pendlebury five flag pulls, two of which were for a loss of 10 yards combined.
Seabreeze's next game will be on Tuesday, March 12 at New Smyrna Beach while Warner Christian (0-1, 0-1) will play at Palm Coast Matanzas at 6:00 p.m. ET this evening.
Varsity came up with their first win of the regular season, beating Christian Warner 34-0!

— Seabreeze Flag Football (@SeabreezeFlag) March 5, 2019
WOLFSON TAKES DOWN CLASS 1A NO. 20 TERRY PARKER
In a perfect storm, the Wolfson Wolfpack opened up the season taking down one of the best flag football programs in Jacksonville in Class 1A No. 20 Terry Parker to open the season last night. The Wolfpack scored the lone touchdown in the game to nab a 6-0 win over the Braves.
SOME PHOTOS FROM NICEVILLE
Here are some photos shared on Twitter before, during and after 1A No. 15 Niceville's 64-0 win over Bratt Northview to move to 1-0 on the season as well as 1-0 overall in District 1A-1. Niceville will host Fort Walton Beach tonight at 7:00 p.m. CT in another District 1A-1 matchup.
Niceville flag football opens their season with a 64-0 win over Northview. ⁦@SethSnwfdn⁩ ⁦@SamGrubenhoff⁩ pic.twitter.com/n2ocHlOBaa

— Paula Mims (@PaulaMims22) March 5, 2019
Pregame huddle before @NicevilleFlag first game. @AD_Nice3 @seanmoorer5 pic.twitter.com/LII7rOqoEw

— NHS_stats (@nhs_stats) March 5, 2019
Yes, she is happy! Venus Mayo's first career pick 6. (Last Night, photo courtesy of Paula Mims) pic.twitter.com/AZbUSJQHR8

— Niceville Flag (@NicevilleFlag) March 5, 2019
STATEWIDE SCOREBOARD FOR MONDAY, MARCH 4

ALL-CLASSIFICATION TOP 25
No. 18 Dwyer 20, John I. Leonard 6
Congratulations to the Dwyer Flag Football team for winning their home opener tonight 20 – 6 against John I. Leonard. #WeAreDwyer #PantherPride #StudentAthletes pic.twitter.com/BLy1mGntJ1

— William T. Dwyer HS (@DwyerHS) March 5, 2019
No. 19 Seabreeze 34, Warner Christian 0
No. 25 Pembroke Pines Charter 48, Northeast (Oakland Park) 0
CLASS 2A TOP 25
No. 10 Dwyer 20, John I. Leonard 6
No. 14 Western 48, Coconut Creek 0
CLASS 1A TOP 25
No. 9 Seabreeze 34, Warner Christian 0
No. 15 Niceville 64, Northview 0
Wolfson 6, No. 20 Terry Parker 0
OTHER SCORES
Flagler Palm Coast 6, Pine Ridge 0
Boca Raton 12, Somerset Canyons 0
Olympic Heights 12, West Boca Raton 0
Coral Springs 19, Deerfield Beach 0
Stranahan 25, Taravella 0
Hallandale 13, McArthur 7
Hialeah 13, North Miami Beach 6
Hialeah Gardens 13, Mourning 0
Homestead 19, North Miami 0
Pace 14, Crestview 0
Northeast (St. Petersburg) 45, Largo 0
Booker T. Washington 13, Miami Northwestern 6
Keys Gate Charter 14, Palm Glades Prep 0
Miami Norland 20, Hialeah Educational 0
Lake Weir 2, Vanguard 0 (forfeit)
Blanche Ely 7, Coral Glades 6
POSTPONEMENTS
Pensacola at Tate
DID NOT REPORT
Inlet Grove at Palm Beach Gardens
Winter Park at Ocoee