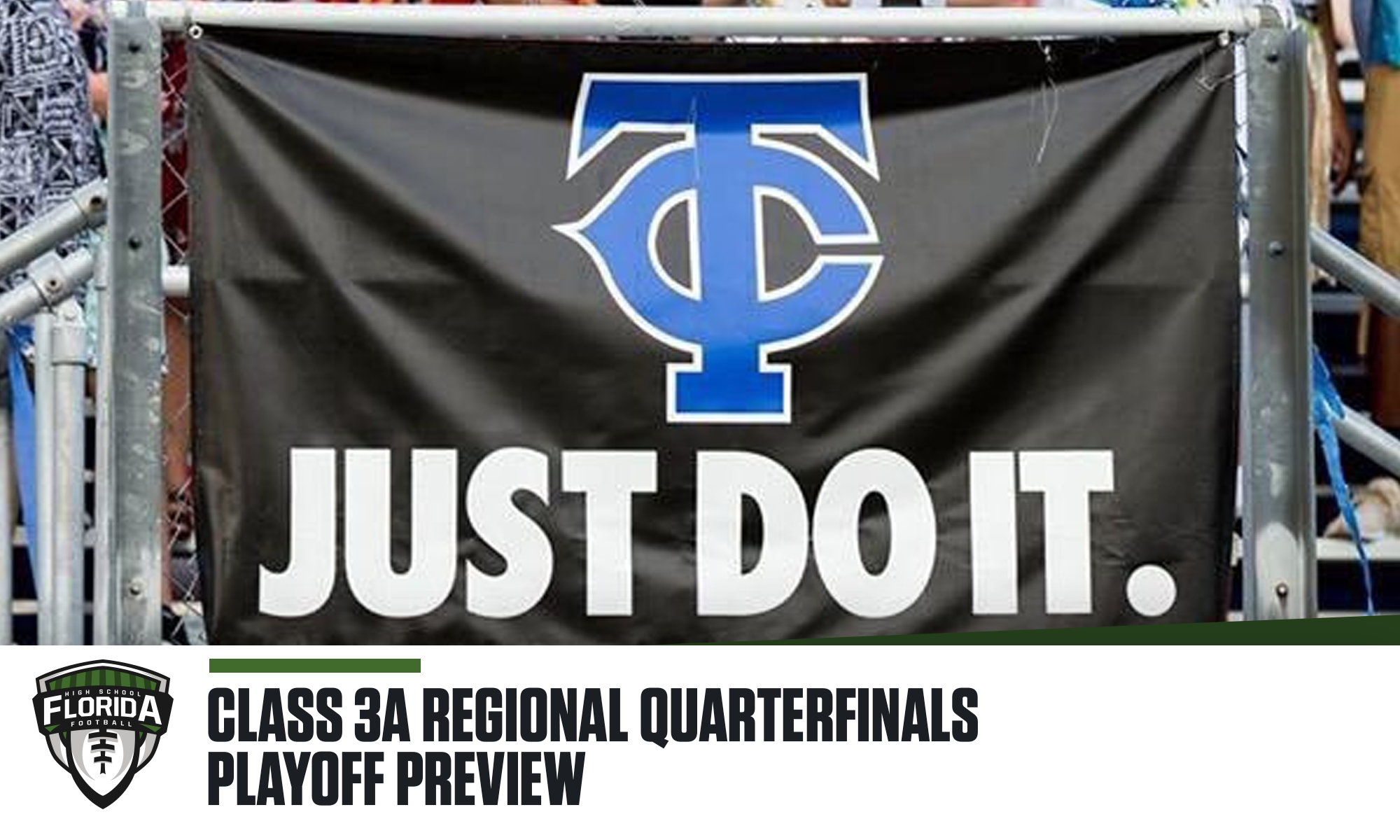 Here is our Class 3A Regional Quarterfinals Playoff Preview with predictions for all 8 games in the classification.
GAME TO WATCH
CLASS 3A-REGION 1
No. 5 Trinity Christian (Jacksonville) (5-5) at No. 4 Trinity Catholic (7-3)
When: Friday
Where: Dunlap Field at Celtic Stadium, Ocala
Kickoff: 7:30 p.m.
The Skinny: The visiting Conquerors faced one of the toughest schedules in the entire state this season which all 10 opponents they faced reached the playoffs. …. For the host Celtics, they have faced their own challenging schedule, having dropped games to The Villages, Calvary Christian (Clearwater) and Dunnellon … The last time these two teams met in the playoffs was in 2014 when Conquerors defeated the Celtics on the road, 20-10. … Key players to watch for Trinity Christian include quarterback JaCory Jordan who has thrown for 1,069 yards and 8 touchdowns this season, but keep an eye on more for Kyjuan Herndon who has rushed for 208 times for 1,630 yards and 14 touchdowns in 10 games. … For Trinity Catholic watch out for Jamarian Samuel who has been a beast in the backfield with 192 carries for 1,942 yards and 17 touchdowns while linebacker Chase Oliver looks to be a lockdown threat on defense who has 107 tackles, 20 tackles for loss, six sacks, two interceptions, one fumble recovery and one forced fumble in 10 games.
Prediction: Trinity Christian 34, Trinity Catholic 28
OTHER PREDICTIONS
All games on Friday at 7:30 p.m., unless noted.
REGION 1
No. 6 Baldwin (7-3) at No. 3 Episcopal (9-1): A rematch from the regular season when the Indians crushed the host Eagles 35-7 back on September 20. If you look at the schedules both teams have played, it is not even close as Baldwin has played the tougher schedule. We fear we might see a similar result in this playoff game. Prediction: Baldwin 30, Episcopal 10
REGION 2
No. 5 Melbourne Central Catholic (3-6) at No. 4 Frostproof (5-5): This game is sort of a toss-up because it appears on paper that the visiting Hustlers might have played a tougher schedule, but it is tough for teams to visit Polk County teams and find a way to win games there. This might be the case here. Prediction: Frostproof 21, Melbourne Central Catholic 17
No. 6 Trinity Prep (5-5) at No. 3 The First Academy (Orlando) (4-5): The visiting Saints weren't even aware they were in the playoffs until the Orlando Sentinel made them aware of it, but here they are and the visiting Royals should be ready for this matchup. It is hard to say which team has played a tougher schedule this season, but we will take the home team in this one. Prediction: The First Academy 28, Trinity Prep 7
REGION 3
No. 5 Clearwater Central Catholic (7-3) at No. 4 Calvary Christian (Clearwater) (8-2): This is clearly our second game to watch as both teams are evenly matched for this meeting of the two programs in Clearwater. Last year when the teams met in the regular season, the visiting Marauders handled the host Warriors very easily 48-12. However, it won't be like that this time around in a game likely to go back and forth for all four quarters. Prediction: Clearwater Central Catholic 35, Calvary Christian 30
No. 6 Benjamin (7-3) at No. 3 Cardinal Newman (7-2): The matchup that everyone didn't get to see in the regular season thanks to Hurricane Dorian. Now both teams will meet on the field when it matters the most. Both teams are evenly matched talent-wise and this should be a good one for the fans. Prediction: Cardinal Newman 31, Benjamin 30
REGION 4
No. 5 Miami Edison (5-5) at No. 4 Westminster Christian (6-4), 3: The Red Raiders are in the playoffs after playing a tough schedule and they travel down to Westminster Christian for an early afternoon playoff game with the Warriors. When you look and compared who both teams have played, it is very clear that the Red Raiders have played the tougher schedule. This won't be a pretty one, to say the least. Prediction: Miami Edison 38, Westminster Christian 6
No. 6 St. Andrew's (7-3) vs. No.3 Somerset Silver Palms (7-2) at Southridge Stadium, Thursday, 7: St. Andrew's is in the playoffs for the first time in 45 years while Somerset Silver Palms is making their first-ever FHSAA playoff appearance. So yes, while this will be an experience for both teams, the thing that will stand out the most is who has played a tougher schedule this and that goes in favor of the host Stallions over the visiting Scots. Prediction: Somerset Silver Palms 41, St. Andrew's 17
WHO WINS TONIGHT?

CLASS 3A – REGION 4 QUARTERFINAL@SASCOTS vs. @RepTheSet
Southridge Stadium
7 PM ET

3A PREVIEW: https://t.co/2k3tvItkH1#flhsfb

— FloridaHSFootball.com (@FlaHSFootball) November 7, 2019