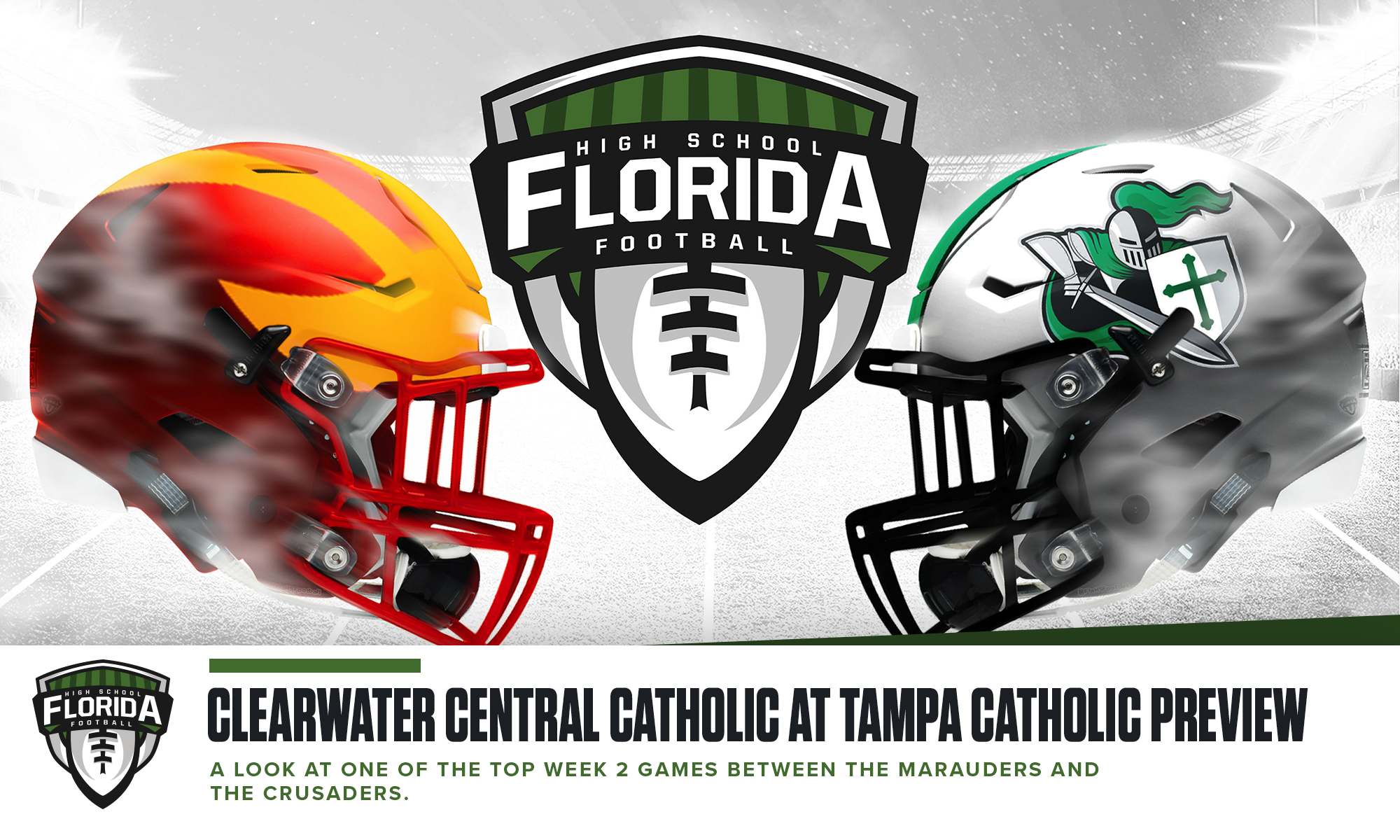 Clearwater Central Catholic Marauders (0-0) at Tampa Catholic Crusaders (1-0)
When: Friday
Where: Crusader Field, Tampa (no tickets available)
Kickoff: 7 p.m.
Internet: Live Stream via Tampa Catholic's YouTube, Facebook, and Twitter Accounts
Coaches: Chris Harvey, Clearwater Central Catholic; Jeris McIntyre, Tampa Catholic
Last Five Meetings
2019: Clearwater Central Catholic 27, Tampa Catholic 9
2018 (playoffs): Clearwater Central Catholic 30, Tampa Catholic 3
2018: Clearwater Central Catholic 34, Tampa Catholic 14
2017 (playoffs): Clearwater Central Catholic 37, Tampa Catholic 35
2017: Clearwater Central Catholic 25, Tampa Catholic 0
Skinny: One of the top Catholic school rivalries in the Sunshine State, if not in the nation, these two schools always like to find a way to do battle on the field when they meet. While the visiting Marauders have won the last five contests over the last three years, you only have to look back to 2016 to find the last time Tampa Catholic won in this rivalry. The Marauders lost quite a considerable amount of talent from last year's squad that reached the team's eight state Class 3A state semifinal appearance in the last nine years. Some of the big losses included All-State RB Jordan Niles and FloridaHSFootball.com's Class 3A Offensive Player of the Year who was a 2,000+ yard rusher and All-State DL Johnny Newton who racked 104 tackles, 29.5 TFL, and 16 sacks last season. Right there that is just two names that left huge shoes behind to fill. As such, a lot of younger guys are going to be having to step up and handle things. For the host Crusaders, they opened the season last week with a 43-7 win over IMG Academy's White Team, also known as the varsity team. QB Xavione Washington (2023) lead the offense with 124 yards passing and 57 rushing yards with three total touchdowns in the win last week while the defense collected three sacks and an interception.
Joe Pinkos' Forecast: Tampa Catholic by 3
Twitter Poll
POLL: Who wins Friday night in one of our Top Games of the Week?

Clearwater Central Catholic (0-0) at Tampa Catholic (1-0)
When: Friday
Where: Crusader Field, Tampa
Kickoff: 7 p.m. ET#flhsfb @CCCMaraudersFB @CCCMarauders @CoachCHarvey @DanKrauseCCC @JerisMcIntyre @TC_Football

— FloridaHSFootball.com (@FlaHSFootball) September 9, 2020