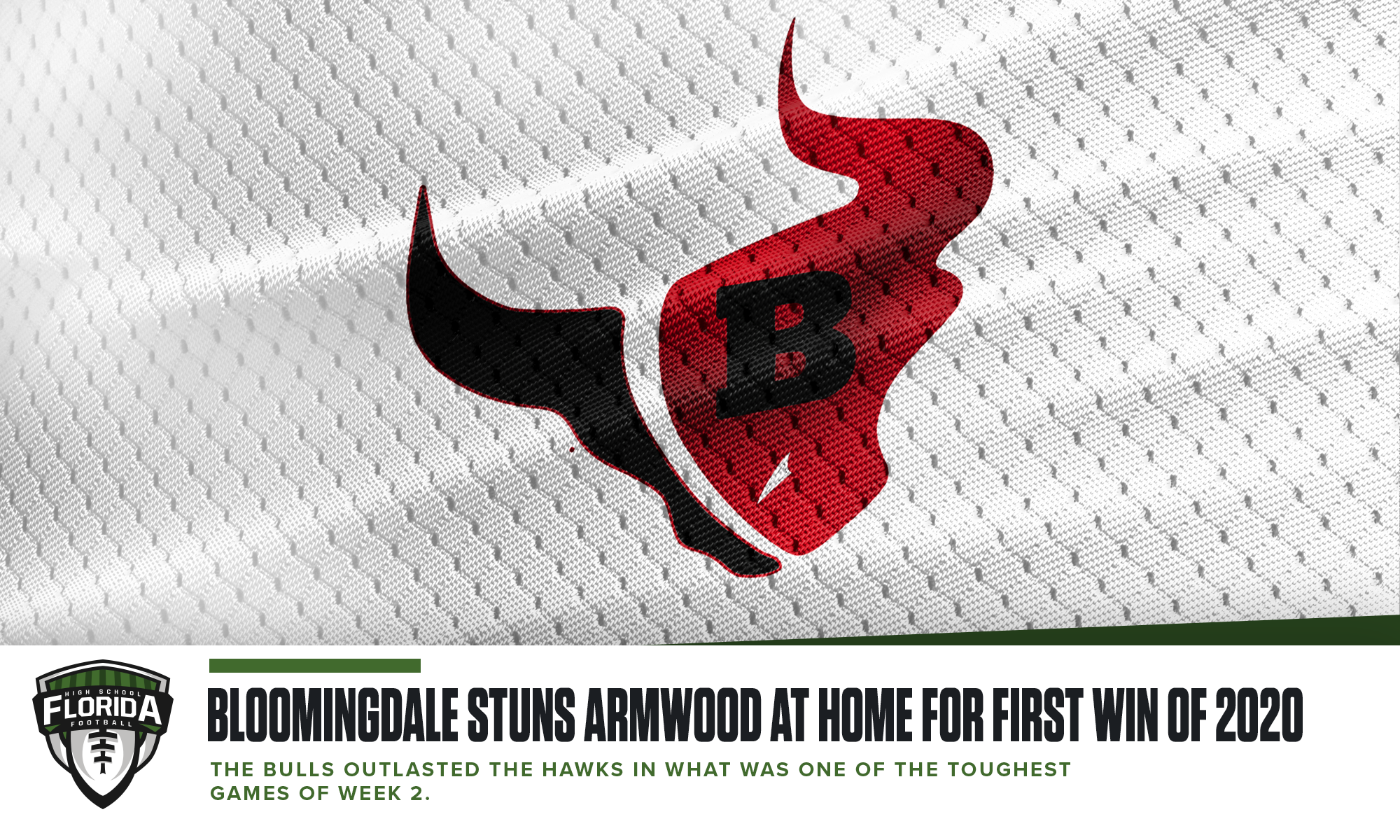 The Armwood Hawks entered Friday's matchup against the Bloomingdale Bulls favored by 31 points.
It made some sense. Armwood is a football factory that features some of the state's best players year after year. Bloomingdale, while one of the better teams in Hillsborough County, rarely gets a win over the Hawks.
Not in 2020. The Bloomingdale Bulls made a statement to start the season. Being the team that makes Armwood start the year 0-1 already gives plenty of bragging rights. How about being the team that starts Armwood off 0-1 as 30-point underdogs… and the final score is 15-14?
THE GAME
Many of FloridaHSFootball.com's Top Games of the Week were delayed due to weather, so I decided to check out not if Armwood was leading, but instead by how much.
With two minutes till halftime, the score was 0-0.
However, while I was trying to figure out if my computer wasn't working or if that score was accurate, Armwood quarterback Cam'Ron Ransom found receiver Charles Montgomery, a four-star Florida commit, who hauled in a 70-yard score.
A Hail Mary attempt by Bloomingdale QB Tre Simmons – a former Hawk – turned into an Armwood pick, courtesy of cornerback Demarion Hopkins.
HALFTIME@ArmwoodHawksfb 7@Bdale_Football 0@Dhop2x with the interception to finish the first half. pic.twitter.com/UOfub5CdWQ

— Will Turner (@TBTurner813) September 12, 2020
Now, Florida high school football will likely see more entertaining second halves this season. But Week 1 in Valrico could definitely crack some list by the end of the season.
Armwood's center snapped the ball over Ransom's six-foot frame, the ball tumbled behind the quarterback and into the endzone.
Bulls linebacker Jamarion Neal dove for it. Touchdown, Bulls. They go for two, and they get two. 8-7, Bloomingdale.
Wow. Snap goes over Cam Ransom's head, it's picked up by @JamarionNeal.

A GUTSY decision by @JakeCoulson3 and OC @MatthewHike to go for two pays off with a huge second effort.

We've got a ballgame. @Bdale_Football leads 8-7. 6:56 Q3. pic.twitter.com/pBg1xrdMbj

— Will Turner (@TBTurner813) September 12, 2020
Nice defense from both teams, plus a missed opportunity by the Bulls, who scooped up a second too-high snap-on Armwood's 10-yd line but failed to score, maintained 8-7 going into the fourth.
Ransom threw a pass to receiver Jamal Jones to put Armwood up 14-8 with just over six minutes to go in the game.
Next play, Notre Dame cornerback commit Riley Phillips waits for the punt, then takes it more than 50 yards.
15-14, Bloomingdale Bulls.
FINAL@Bdale_Football 15@ArmwoodHawksfb 14

They'll celebrate in Valrico tonight.@H2_Recruiting @FlaHSFootball @BloomingdaleSHS @BdaleathleticBC pic.twitter.com/yjEpiEdsFp

— Will Turner (@TBTurner813) September 12, 2020
Neal intercepted Ransom around the two-minute mark, but Bloomingdale failed to score.
It would be enough, though, to start the season with a win over an elite program.
FINAL THOUGHTS
Although he did make some really nice blocks and one gorgeous catch early on, I expected Top 100 receiver Agiye Hall – another former Armwood Hawk – to make up more of Bloomingdale's offense. He'll definitely be one to keep an eye on for the rest of the season.
WHAT'S NEXT
Armwood (0-1) will be at home next week for their home opener at Lyle Flagg Field in Seffner next Thursday night while Bloomingdale (1-0) gets to stay in the comfort of the home next week as the host Durant also another Thursday night tilt in Hillsborough County.