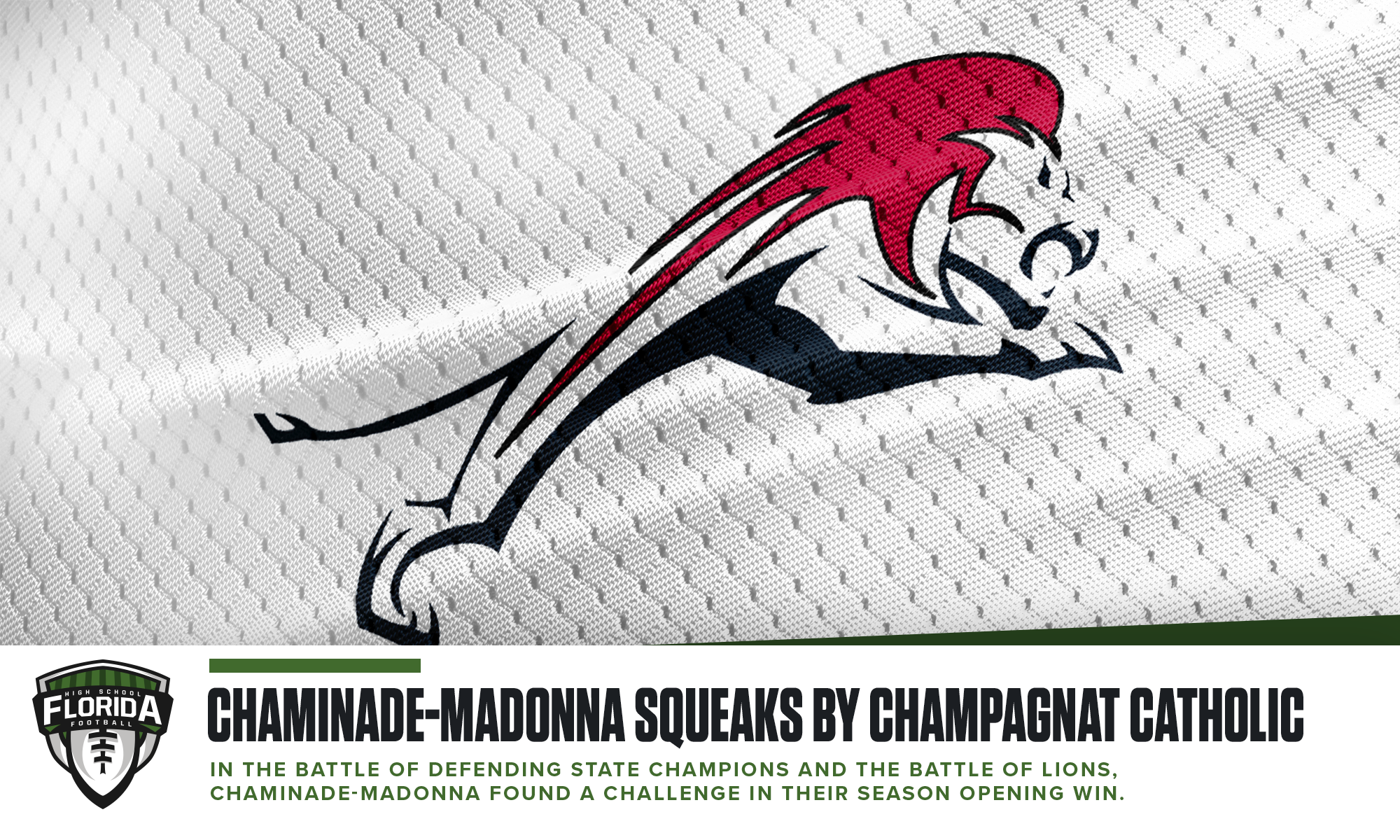 The battle of 2019 State Champions showdown in South Florida between Class 3A State Champion Chaminade-Madonna and Class 2A State Champion Champagnat Catholic was thought to have a clear winner before kickoff.
While the Chaminade-Madonna Lions did come out with the expected win with a final score of 27-14, the Lions from Champagnat kept it close.
Champagnat actually struck first on a dime from quarterback Tyous Taylor to running back Donovan Jones, a Gardner-Webb commit.
Champagnat goes up 7-0 on this touchdown pass from Tyous Taylor to Donovan Jones. 9:26 left in the first quarter. @SSHighSchools @FlaHSFootball pic.twitter.com/bTKRZSmDPT

— Adam Lichtenstein (@ABLichtenstein) September 11, 2020
Chaminade-Madonna answered quickly, though. The team jetted down the field and allowed its not-so-secret weapon, Thad Franklin, a four-star running back committed to the hometown Miami Hurricanes, to punch in a score from the one-yard line.
The rest of the first half stalled until about the 30-second mark when Franklin found the end zone again – this time from the two-yard line – to put Chaminade-Madonna ahead.
Miami commit Thad Franklin scores easily. Second of the night for @Gucciboypopo. Chaminade-Madonna leads 14-7 at halftime. pic.twitter.com/U8e8ERJyBP

— David Wilson (@DBWilson2) September 12, 2020
Do you know when you can physically see the way halftime affects a team? When the third-quarter buzzer goes off and the players come out with a certain swagger and hunger that wasn't there before? I guess it's not surprising that that energy came out at this game, but to see both teams conveying it was pretty fun.
However, in these kinds of games, talent makes the difference and Chaminade-Madonna just had more of it.
Despite Champagnat keeping Chaminade-Madonna from scoring early on in the third, the latter was able to get the ball back thanks to cornerback Brian Dilworth, an Auburn pledge, picking off of Taylor.
Auburn commit Brian Dilworth gets his first pick of the season. Chaminade takes over at about the 35. pic.twitter.com/hAmPrEPuq0

— Adam Lichtenstein (@ABLichtenstein) September 12, 2020
Franklin, FloridaHSFootball.com's 2019 3A Player of the Year, scored his third touchdown of the night to put the 'Nade Boyz up 20-7. (Champagnat blocked the kick.)
With the clock dwindling down to the end of the third quarter, it looked like Chaminade-Madonna had sealed the game. Not. So. Fast.
Champagnat's Malik Rutherford, an All-State receiver committed to Georgia Tech, did what he had to do on a tricky fourth-and-long with seconds to go before the fourth.
Georgia Tech commit Malik Rutherford makes a freaking play on fourth and long to end the third quarter. Chaminade-Madonna leads 20-7. pic.twitter.com/0AWzNL5Nwl

— David Wilson (@DBWilson2) September 12, 2020
Chaminade-Madonna called a timeout, but a Champagnat touchdown ensued in the third quarter anyway.
A 6-point margin fired up both teams in a dazzling way at the start of the fourth. But, once again, talent makes the difference.
Champagnat went for a pass that could have given them a first down…if the ball didn't fall into the hands of Chaminade-Madonna DB Michael Edwards.
Big pick by Chaminade's Michael Edwards. Gives Chaminade a chance to put this game away. pic.twitter.com/DCNeBnc9pA

— Adam Lichtenstein (@ABLichtenstein) September 12, 2020
Champagnat's defense held Chaminade-Madonna scoreless, but a lead with under two minutes to go was going to be especially tricky to overcome when Champagnat penalties led to a Chaminade-Madonna first down.
Franklin went for his fourth touchdown soon after, putting his team up 27-14.
Thad Franklin's fourth touchdown of the game happened somewhere in there. Chaminade-Madonna leads 27-14 with 1:32 left. pic.twitter.com/o7cpoLW9RM

— David Wilson (@DBWilson2) September 12, 2020
A matchup with an unsurprising outcome turned out to be much more than the box score showed. But, I was able to come away with three final thoughts: Thad Franklin is every bit of the superstar he's continually advertised as, Chaminade-Madonna's defense will be scary if it improves from week to week and Champagnat's grit and determination could get them crowned Class 2A Champions for the second year in a row.