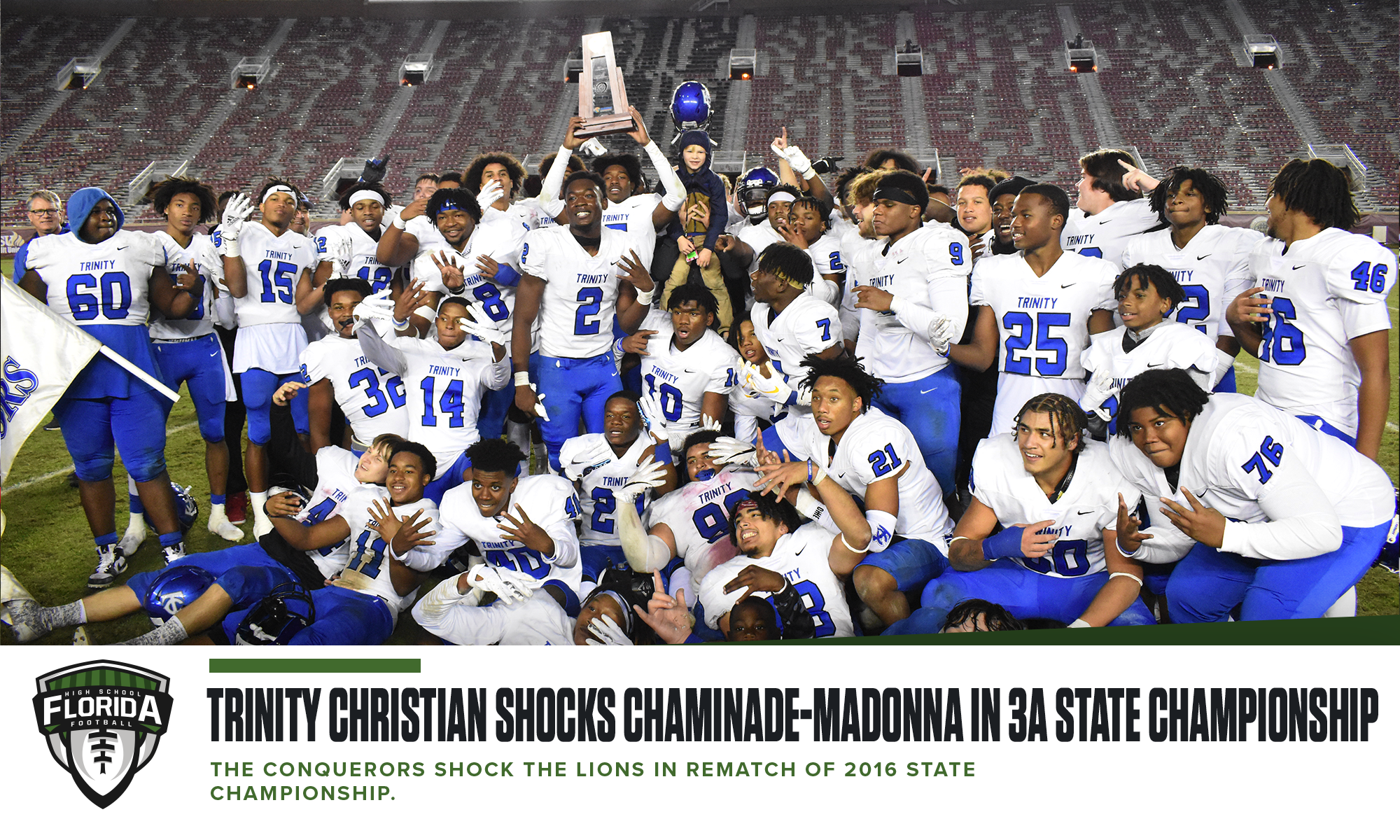 TALLAHASSEE, Fla. — The South Florida Sweep was short-lived. Soon after Champagnat Catholic downed University Christian in Class 2A, Trinity Christian (Jacksonville, Fla.; 12-1) took control against Chaminade-Madonna (8-2) and won Class 3A. The Conquerors' win broke a three-year Lions streak with a final score of 25-22.
Trinity Christian's offense headlined by Gators WR signee Marcus Burke, Air Force RB commit Kaleb Killia, and Bowling Green QB commit Ja'Cory Jones. All the Conquerors defense needed to do was be formidable. Fortunately for them, they exceeded expectations.
Chaminade-Madonna has a difference-making defense with Allan Haye Jr. (Miami signee), Kenyatta Jackson Jr., and Jamaal Johnson (Miami commit). However, an offense mostly made up of four-star Miami signee Thaddius Franklin and Howard QB signee Jaylon Tolbert was not enough to get the job done.
Game Recap
Although there were some scores, the first quarter was pretty mundane. Chaminade-Madonna got things started with safety.
But, Franklin was the first player to score a touchdown.
Future #Canes RB Thaddius Franklin with the score for Chaminade-Madonna pic.twitter.com/xR0fIAhRCc

— FloridaHSFootball.com (@FlaHSFootball) December 17, 2020
Trinity Christian tried to respond to the 9-0 hole quickly. However, a good Lions punt followed by some Jackson Action led to this.
2022 WDE Kenyatta Jackson with the MONSTER SACK on Trinity Christian QB

Offers from #Bama #AllIn #OhioState #Canes etc. pic.twitter.com/e0toNPXIsJ

— FloridaHSFootball.com (@FlaHSFootball) December 17, 2020
The Conquerors' most reliable weapon, Burke, wanted to break out. But, Chaminade-Madonna certainly did its homework and clamped Burke in the first half.
So, Trinity Christian looked to spread love across the roster. The run game was not too bad, and Killian got the chains moving. Unfortunately, what looked like a surefire Conquerors score turned into a Chaminade-Madonna pick just before the half.
Trinity Christian QB Ja'Cory Jordan looking to score, accidentally lets Chaminade-Madonna SS Charles Williams pick pic.twitter.com/DQyYHMJPPO

— FloridaHSFootball.com (@FlaHSFootball) December 17, 2020
The third quarter showed some promise for Trinity Christian. Killian found the endzone and put the blue and white on the board.
Kaleb Killian puts Trinity Christian on the board pic.twitter.com/ucsIa8iiVp

— FloridaHSFootball.com (@FlaHSFootball) December 17, 2020
After that, the Conquerors conquered, amassing 18 fourth-quarter points. First, a field goal. Then, two clutch touchdowns, courtesy of Marcus Burke.
Wow! JaCory Jordan to Marcus Burke TOUCHDOWN TRINITY ! Extra point to come! 16-16 tied! pic.twitter.com/D0n265ctFI

— Duval Sports ™️ (@DuvalSports) December 17, 2020
17-16, Trinity Christian. However, Franklin put Chaminade-Madonna back on top for a hot second…
But, Burke called the ballgame.
No chomp here, but @CERTIFIED_MB4 with the 26-yd go-ahead TD haul with under a minute left to play. #Gators signee with the clutch gene pic.twitter.com/7qRgd16u81

— Olivia Granaiola (@oliviagranaiola) December 17, 2020
Now, Trinity Christian owns 8 state championships.
Quotes
Trinity Christian Head Coach Verlon Dorminey
"[Losing the first game and then going 12-0] shows a lot about these kids. It shows their hard work… They've practiced hard all year, they've worked hard all year."
"It really was a tale of two halves. [In the beginning], we made some mistakes. I told them before the game to cut down on the mistakes… and you know what? We did it."
"Ja'Corey to Burke has been a great thing to watch over the last 2-3 years. It's going to be tough losing both of those guys next year."
Players of the Game
For Trinity Christian, Jordan went 9-of-18 for 161 yards, two touchdowns, and an interception. Burke had 7 receptions for 144 yards and two touchdowns. Lastly, Killian had 98 yards on 21 attempts. Defensively, Caden Morrell and Johnathan Goddard tallied a sack each.
For Chaminade-Madonna, Tolbert went 11-of-19 for 86 yards and Franklin picked up 106 yards and two touchdowns on 26 attempts. Jackson Jr., Haye Jr., and Johnson each had a sack, Dylan Reid recovered a fumble for a touchdown and Charles Williams had an interception.
College Roundup
Today is Early National Signing Day. So, let's get into it.
First, we've got Trinity Christian: WR Marcus Burke signed with Florida, OLB CJ Ross signed with USF, CB Corey Coley Jr. signed with Maryland, CB Terrell Jackson is committed to Army, RB Kaleb Killian is committed to the Air Force and OLB Lucius Lattimore signed with FAMU.
Also, Chaminade-Madonna: RB Thaddius Franklin and DT Allan Haye, Jr. signed with Miami, CB Torrie Cox, Jr. signed with Ohio and QB Jaylon Tolbert signed with Howard.