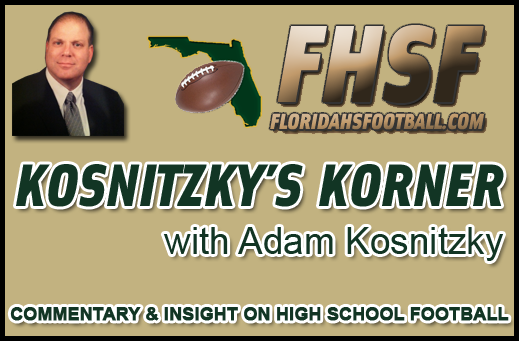 Imagine having your team just 3 yards, yes 3 yards from pulling off what many would argue would be the biggest upset in school history. A victory that would launch your school to it's first state final. What if you learned that your school's two biggest offensive weapons were only sophomores. This is just some of the story of what occurred just two years ago.
On that night Cypress Bay was battling with then Top 10 nationally ranked Miami Central in the state semi-final at Lockhart Stadium. Miami Central, who was a prohibitive favorite, led 21-10 in the 3rd quarter and seemed to take control over the game. However, after a long drive and a recovered onside kick were converted to touchdowns, the Lightning were in position to do the unthinkable as they led 24-21 in the 4th quarter.
With under 4 minutes to play and after a long run by Danny Epstein, Cypress Bay was on the Miami Central 3 yard line. When Cypress Bay was held to 4th and goal, rather than try again on 4th down which had been successful on two previous occasions, the Lightning kicked a FG to make the score 27-21.
Unfortunately, that proved to be the wrong decision as the Rockets marched 85 yards through the running of Devonta Freeman to take the lead in the final minute. Cypress Bay would give up a safety and the game ended with a 30-27 victory for Miami Central.
It was a bitter pill to swallow for the athletes that night who were only freshman and sophmores then in 2010 and will take the field for Cypress Bay when they challenge Apopka in the Class 8A Final this Saturday at 7:07 p.m. EST at the Florida Citrus Bowl.
Hence, when Cypress Bay defeated Columbus 33-13 in the Class 8A Semifinal last week it was a special moment for players such as Jaranta Lewis, Matt Dayes, Alex Montgomery, Nico Marley, Marquese Dudley-Gordon, Jason Rae and Dylan Seidle. These eight players collectively made a big impact that fateful night back in 2010 and while it took them 2 years to find those 3 yards, they are back and ready with the opportunity to make school history.