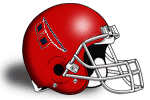 If you thought that the Manatee Hurricanes were going to ease off the gas a bit coming into 2013, think again.
For this season head coach Joe Kinnan has probably setup what is even a tougher schedule than what the Hurricanes faced last season, at least by the looks of the schedule.
And they will dig in deep to start right out of the gate.
The Sarasota Herald-Tribune reports that Manatee will hit the road for the first weekend of September in which they will play in a televised game on ESPN. They will be taking on Gilman, an all-boys school, which is based in Maryland.
The report indicated that the game will benefit Brother In Arms.
Also on the schedule includes Friendship Collegiate Academy out of Washington D.C. and University School, which both will provide tough challenges for the Hurricanes. University School won the Class 3A state championship this past season.
Other notable teams on the schedule include rivals, Southeast, Palmetto and Venice while the Hurricanes will face off against Riverview (Sarasota), St. Petersburg and Palm Harbor University in District 8A-7 play.
To view Manatee's 2013 schedule, click here.