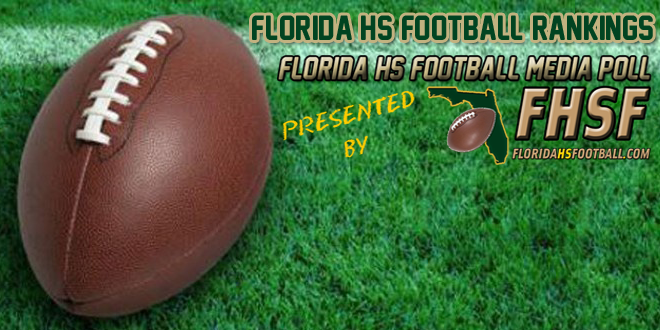 LAKE CITY – Another week in the 2013 Florida high school football season is down in the books and things are looking pretty good for most of the ranked teams both divisions in the Florida HS Football Media Poll.
The only noticeable change in the Large Schools Division of the Media Poll is the dropping out of Miami Jackson after its loss to Plantation American Heritage in s key District 5A-16 match-up last week.
So who replaced Miami Jackson in the rankings? Largo, which reenters the rankings this week at No. 20.
However, in the Small Schools Division of the Media Poll, there were a few noticeable changes.
First Madison County, Delray Beach American Heritage and Union County were all dropped out of the rankings after losing key district games that could make or break each team's chances of making the playoffs in November. However, with three teams gone means three teams enter and two entered as result of winning against the formerly ranked teams.
Dixie County and Pahokee both check into the rankings for the first time this year after getting huge wins over district favorites in Union County (District 1A-7) and Delray Beach American Heritage (District 3A-7). Dixie County is ranked No. 18 while Pahokee is ranked No. 19. Glades Day enters the rankings for the first time as well check in in at No. 20.
FLORIDA HS FOOTBALL MEDIA POLL – LARGE SCHOOLS DIVISION

Classes 5A, 6A, 7A & 8A

Team

Points (FPV)

Rec

Prev

1
Miami Central
416 (18)
4-1
1
2
Manatee
397 (2)
6-0
2
3
Apopka
359
6-1
3
4
St. Thomas Aquinas
342 (1)
4-1
4
5
Miramar
331
6-0
5
6
Dr. Phillips
298
6-0
6
7
Columbia
283
6-0
7
8
Godby
273
4-1
8
9
Dwyer
251
6-0
9
10
Armwood
243
5-0
10
11
East Lake
192
6-0
11
12
American Heritage (Plantation)
165
5-1
13
13
Lakeland
147
6-0
12
14T
Niceville
122
6-0
15
14T
Pensacola Catholic
122
6-0
14
16
West Florida
99
5-0
17
17
South Dade
79
6-0
19
18
Plant
70
4-1-1
18
19
Fort Pierce Central
60
5-0
20
20
Largo
22
5-1
NR
Others Receiving Votes: Lincoln – 21; Miami Jackson – 16; Sickles – 15; Merritt Island – 12; Deerfield Beach – 11; Venice – 11; Kathleen – 7; Rickards – 6; Wakulla – 6; Mainland – 5; Oviedo – 5; Cardinal Gibbons – 5; Naples – 5; Coral Gables – 4; Gainesville – 4; Lake Mary – 2; Escambia – 1; Winter Park – 1; South Sumter – 1; Hallandale – 1

FLORIDA HS FOOTBALL MEDIA POLL – SMALL SCHOOLS DIVISION

Classes 1A, 2A, 3A & 4A

Team

Points (FPV)

Rec

Prev

1
Booker T. Washington
419 (20)
6-0
1
2
University School
400 (1)
6-0
2
3
Trinity Christian (Jacksonville)
378
5-0
3
4
Cocoa
347
4-1
4
5
Raines
329
4-1
5
6
North Florida Christian
301
5-0
6
7
Tampa Catholic
288
5-1
7
8
Bolles
272
4-1
8
9
Clearwater Central Catholic
240
5-1
9
10
University Christian
215
4-2
12
11
Gulliver Prep
196
6-0
13
12
Warner Christian
155
5-1
14
13
Glades Central
131
3-2
15
14
Trinity Catholic
110
4-2
16
15
Blountstown
109
6-0
18
16
Champagnat
99
6-0
19
17
Lakeland Christian
74
6-0
20
18
Dixie County
59
4-0
NR
19
Pahokee
55
4-1
NR
20
Glades Day
38
5-0
NR
Others Receiving Votes: Union County – 36; Fort Meade – 29; American Heritage (Delray) – 23; Chiefland – 21; Madison County – 21; Liberty County – 20; Melbourne Central Catholic – 16; Westminster Christian – 15; Frostproof – 5; Providence – 5; Cardinal Mooney – 2; Fort White – 2
Our Panel of Pollsters
Eric Clark – Big County Preps; Danny Klein – Daytona Beach News-Journal; Philip Piccirillo – FloridaHSFooball.com; Joshua Wilson – FloridaHSFootball.com; Justin Barney – Florida Times-Union; Larry Savage – Gainesville Sun; Adam Fisher – Naples Daily News; Andre Fernandez – Miami Herald; Jeff Greer – Palm Beach Post; Brad Milner – Panama City News Herald; Brady Aymond – Pensacola News Journal; Shaquille Jackson – South Florida High School Football Show; Matt Baker – Tampa Bay Times; Nick Williams – Tampa Tribune; Laurel Pfhaler – TC Palm; Chris Green – South Dade News Leader; Nick Gryniewicz – ESPN 580 Orlando; Wells Dusenbury – ESPN 106.3 West Palm Beach; Marc Adams – 4 Quarters Online; Carson Ingle – 740 The Game Orlando; Doug Pugh – Bright House Sports Network; Austen Gregerson – St. Augustine Record