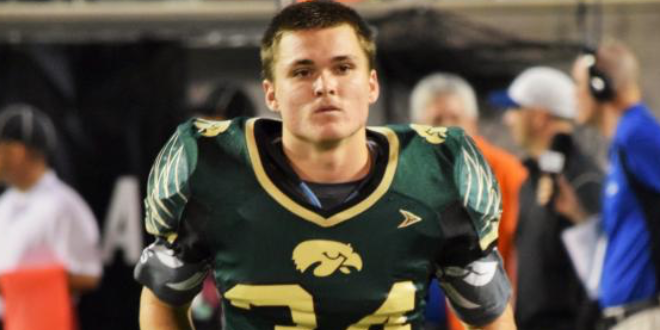 Name

Brandon Mays

Year

2018

Primary Position

LB

Secondary Position

QB

School

Viera (Melbourne)

Height

6'0″

Weight

195
Name

Brandon Mays

Year

2018

Primary Position

LB

Secondary Position

QB

School

Viera (Melbourne)

Height

6'0″

Weight

195
.
Schools Brandon Is Interested In

Appalachian State

Columbia


Florida

Georgia

NC State

Schools Brandon Has An Offer From

Columbia
Anticipated College Major: Undecided
Most memorable game to date: Playing in front of 20,000 people in Allen Texas [during the 2015 season].
What are your intangibles: Instincts to find the ball and to lead in all aspects of football.
Greatest High School Achievement: 2015 State Runner-Up in 7A with the Viera Hawks.
What are your plans and goals for this offseason: To visit college camps and to put on weight.
What goals do you have for the upcoming for the upcoming 2016 season: To continue to lead the Viera Hawks to another state championship game.
Statistics: 
2014: 112 tackles, 5 sacks, 1 INT
2015: 151 tackles, 11 sacks, 2 INT