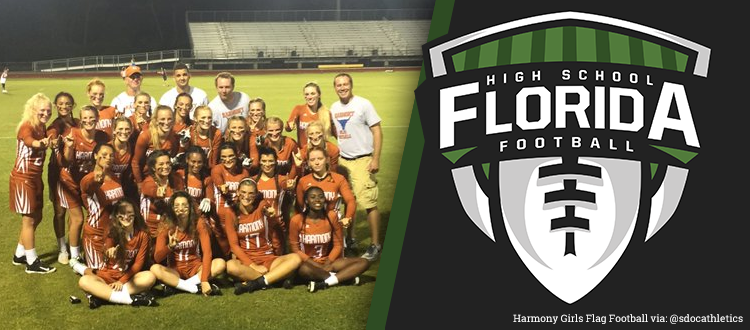 Every Tuesday through Friday evening (with the possibility of some notebooks running on Saturday and Monday), we will publish a DAILY NEWS NOTEBOOK between the 8 o'clock and 9 o'clock hour Eastern time highlighting some of the news of the day and other news links of interest from around the state.
Girls Flag Football State Semifinal Pairings Set For Friday
With regional finals taking place tonight, the Girls Flag Football State Semifinal Pairings are set for the State Championship Tournament at Robinson High School in Tampa on Friday. Two Tampa area teams will be represented at the Tournament including the host school's own team in the Robinson Lady Knights.
CLASS 2A (games times are 6:30 PM ET and 8:00 PM ET)
#2 Plant vs. #8 Martin County
Hialeah vs. #1 Seminole Ridge
CLASS 1A (game times are 3:30 PM ET and 5:00 PM ET)
#1 Robinson vs. #5 Godby
#3 Coconut Creek vs. #10 Harmony
For full scores from the games tonight, check out our Real Time scoreboard, Powered by ScoreStream.
FHSAA #NameTheTradition Contest Announces Five Finalists
The FHSAA announced today the five finalist for their #NameTheTradition Contest which is seeking an official name to the FHSAA Football State Championships. Voting will run through Friday, May 13. Find out more by visiting our story from today, here.
Cheryl Golden gets recognition
Miami-Dade County will see a different face overseeing the Greater Miami Athletic Conference (GMAC) come next school year, but before that happens current GMAC Director, Cheryl Golden is receiving some final accolades before retiring.
According, to The Miami Herald, Golden was honored with the Lifetime of Giving Award at the Delta Psi Kappa's 33rd Annual "Reach fo the Stars" Banquet for Women Athletes.
Golden has overseen athletics in Miami-Dade County with the GMAC for the last 14 years.
Read more at The Miami Herald here.
Greg Bryant Funeral
Naji Tobias of PrepBuilders.com posted on the PrepBuilders Twitter feed earlier this afternoon some important information in regards to former American Heritage-Delray, Notre Dame and UAB running back, Greg Bryant who was fatally shot over the weekend in Palm Beach County.
It is expected that a large crowd will be attending the funeral on Saturday and that could possibly include the entire UAB football team, as first reported by USA TODAY.
More information follows in the tweets shown below:
https://twitter.com/PrepBuilders/status/730138937105252352
https://twitter.com/PrepBuilders/status/730139409564184577
https://twitter.com/PrepBuilders/status/730139699193499648
Spring Football Games & Jamborees Schedule
Our Spring Football Games & Jamborees list has been updated and likely will not receive another update for the rest of the spring session. You can find the list of spring games and jamborees by clicking here.
Other News Links of Interest
Charlotte football player Chris Comer signs with Southeastern
– via The Charlotte Sun
Four Boca Raton players sign letters of intent
– via The Palm Beach Post
Two quarterbacks, two high schools, one headache for parents
– via The Tampa Bay Times