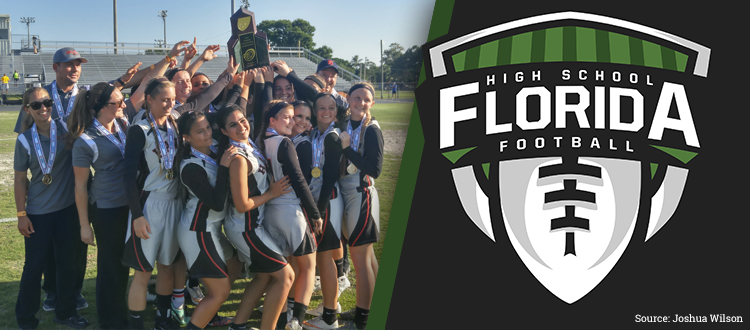 Five championships in seven years and the last two have come back-to-back. That is what the Seminole Ridge Lady Hawks have done and they finish on top of our Class 2A Flag Football rankings for the 2016 season. Who else follow behind the Lady Hawks. Find out here:
1. Seminole Ridge (17-0)
Previous Ranking: No. 1
The Lady Hawks did what was expected and that was to repeat as state champions as the won they Class 2A State Championship, 25-7 over Martin County, which marks their fifth title in seven years and their second straight title. But they didn't do it without a challenge as they were pushed to the wire by Park Vista, 13-12 in the first round of the playoffs before cruising easily through their next three wins.
2. Martin County (13-1)
Previous Ranking: No. 8
The surprise team of the playoffs, the Lady Tigers upset previous No. 7 Dr. Phillips (13-8), previous No. 3 Fleming Island (13-8) and previous No. 2 Plant (19-6) to reach their first-ever state championship game before falling to No. 1 Seminole Ridge, 25-7. The Lady Tigers earned this season-end ranking.
3. Park Vista (11-3)
Previous Ranking: No. 10
Why jump a team that fell in the first round of the playoffs? There is a lot of factors to look at, but the only factor to look at is that Park Vista was the ONLY team to put play Seminole Ridge toe-to-toe this year and would have likely been final four bound if it weren't for this particular game. Don't ignore Park Vista going into 2017.
4. Plant (12-2)
Previous Ranking: No. 2
Plant had two playoff games without much problem, defeating Seminole (Seminole), 33-6 and St. Cloud, 26-6. However, the game against Martin County didn't bode well for them after taking a 6-0 lead and allowing Martin County to get three interceptions for scores during the state semifinals. However, it doesn't totally take away the season that Plant had this year and could be a team we will see more often in reaching the state tournament in the years to come.
5. Alonso (11-3)
Previous Ranking: No. 6
Considering that the Lady Ravens didn't make it to the playoffs would make some people write them off for a final ranking, but looking back on the games played and considering that two of their three losses came to a tough Plant team is enough speak for the kind of season Alonso had that was also capped off by winning the Capital City Classic tournament this year as well.
6. Fleming Island (11-1)
Previous Ranking: No. 3
Finished the regular season with an undefeated record and then easily played a competitive first round game with Apopka to get to the second round. However, some expected their next game with Martin County to be easy as pie and the nearly four-hour from home didn't go as planned. However, the Lady Golden Eagles should be able to smile proudly for what they were able to do this season.
7. Apopka (12-3)
Previous Ranking: No. 4
It was a tough playoff season for the Lady Blue Darters who were knocked out by Fleming Island in the first round, but to say the season wasn't a success would be wrong. Just wasn't a success in terms of Apopka's standards of making deep playoff runs or trying to win state championships, but don't ever count them from being in the running…ever.
8. Hialeah (12-4)
Previous Ranking: HM
First it was shocking a team that made a trip state last year in the Everglades Lady Gators, but it was then shocking previously ranked and undefeated Miami High in the Regional Finals to clinch a spot in the Final Four in their first season as team. Despite falling to Seminole Ridge 40-12 in the State Semifinals, the success the Lady Thoroughbreds had on the field in year one is huge enough to finish them ranked in the Top 10.
9. Miami High (13-1)
Previous Ranking: No. 9
The Lady Stingraees had an incredible season, winning their district and the inaugural GMAC tournament for Flag Football, but a rematch of that conference championship against Hialeah in the Regional Finals cost them. Despite the loss there is a solid chance that Miami High along with Hialeah will emerge as two Flag Football teams in Miami-Dade County that could dominate for a while.
10. Bloomingdale (9-3)
Previous Ranking: HM
The Lady Bulls likely could have advanced to the Regional Finals this year if it weren't for a missed extra point against St. Cloud, but what made us move Bloomingdale in? Plant's win over St. Cloud. It boosted the fact that Bloomingdale could have had a matchup with their in-county foes and good have a solid matchup if that had happened. Still keep an eye Bloomingdale which has recently been one of the most consistent teams in Hillsborough County.
Dropped Out: No. 5 St. Cloud (13-3); No. 7 Dr. Phillips (11-4)
Honorable Mention: Boone (11-1); Coral Springs (11-5); Dr. Phillips (11-4); Everglades (10-5); Ferguson (11-2); John I. Leonard (8-3) Kissimmee Osceola (10-1); Lake Worth (13-1); Piper (9-4); St. Cloud (13-3) Seminole (11-2); Taravella (8-1); Timber Creek (10-3); West Boca (9-4); Western (11-1)