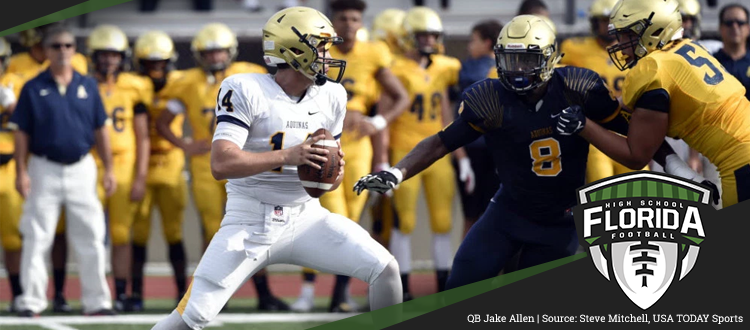 FloridaHSFootball.com is a partner of USA TODAY High School Sports
Senior quarterback Jake Allen threw three touchdown passes to lead USA TODAY Super 25 No. 10 St. Thomas Aquinas to a bounce-back 42-6 defeat of Miramar.
The Raiders (1-1) were coming off a 27-23 loss to Booker T. Washington that knocked the Raiders from the No. 1 ranking and was playing without talented wide receiver Trevon Grimes, who did not dress because of an undisclosed injury.
Allen threw two touchdowns to put his team up 14-0 in the first half. The first was for 28 yards to Mike Harley at the end of the first quarter. The second was an 8-yard touchdown toss to Josh Palmer a few minutes before the half.
RELATED: For more high school sports news and scores, visit USA TODAY High School Sports
Allen found Harley again early in the second quarter, this time for a 13-yard touchdown reception, to put the Raiders up 21-0. The rest of the Raiders' scores were all from the ground game.
Kyshaun Bryan had a 3-yard touchdown run to put Aquinas up 28-0 at the end of the third quarter, Mike Epstein had a 10-yard touchdown run early in the fourth quarter and Tavares Kelly raced to a 62-yard touchdown run at the end of the fourth quarter.
Miramar's only score came early in the fourth quarter when Steve Williams found Antoine Williams for a 12-yard touchdown pass.
The Raiders will play host to Plantation on Friday. Miramar (1-1) will play host to Monarch.
Follow USA TODAY High School Sports on Twitter at @USATODAYhss