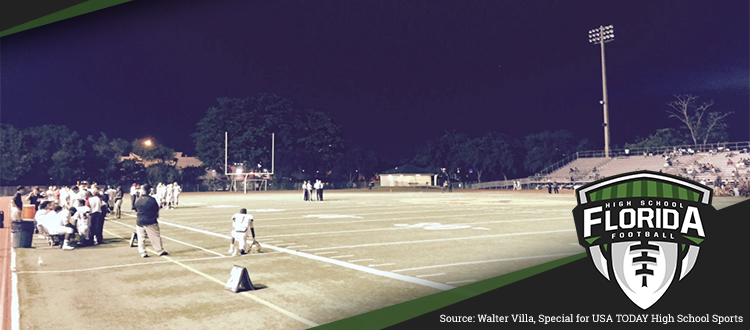 FloridaHSFootball.com is a partner of USA TODAY High School Sports
MIAMI – There was no letdown for Booker T. Washington.
The BTW Tornadoes, No. 2 in the USA TODAY Super 25 rankings, defeated Monsignor Pace 28-6 in a District 4A-8 contest Friday night at Curtis Park.
After beating then-No. 6 Plantation American Heritage  in a kickoff classic and then-No. 1 St. Thomas Aquinas in the season opener, the Tornadoes improved to 2-0 (1-0 in district) with the victory over Monsignor Pace (1-1, 0-1), a fellow Miami-Dade County school.
Daniel Richardson threw two touchdown passes to lead the tornadoes attack. Richardson, a sophomore, has six TD throws in two regular-season games.
The game was delayed for 20 minutes after someone accidentally turned off the light switch, knocking out half the stadium's lighting. The delay occurred with 11:41 remaining in the fourth quarter and Booker T. Washington safely ahead 28-6.
BTW never trailed in posting a 21-6 lead at halftime. The Tornadoes' only hiccup came when their defense allowed an 85-yard first-quarter run by Divaad Wilson.
RELATED: For more high school sports news and scores, visit USA TODAY High School Sports
BTW's schedule still has some possible roadblocks to a potential No. 1 ranking. Next week, the Tornadoes take on an improved Miami Jackson team led by Lakatriona "Bernice" Brunson, the first female head coach in Florida high school football history.
After that, the Tornadoes have four games where they should be significantly tested, on paper at least.
Here are those four games, listed in order of how tough they figure to be for BTW:
* Miami Central (Sept. 24) – This is the next huge football game in South Florida. Both Central and BTW are on impressive, streaks, each having won four straight state titles. These are the top two teams in South Florida according to the Miami Herald rankings.
* Miami Southridge (Sept. 16) – The Spartans, who haven't been to state since 1999, have 20 players with Division I scholarship offers. Their offense returns eight starters as well as three players who transferred after starting elsewhere.
* Miami Northwestern (Oct. 7) – The Bulls have a glorious past (four state titles, producing NFL stars such as Minnesota Vikings quarterback Teddy Bridgewater). But the Bulls have missed the playoffs three times in the past five years. This year, though, they are off to a 2-0 start after Thursday's 19-14 win over Miami Columbus.
* Miami Columbus (Oct. 20) – The Explorers have made the state final (2014) and state semifinals in the past two years. And while they lost to Miami Northwestern in the aforementioned game, they had a wide-open receiver lose his balance and fail to catch what could have been the game-winning TD in the final 40 seconds.
It remains to be seen how the Tornadoes navigate their schedule, but BTW Coach Tim "Ice" Harris has set a high bar for his team.
"Our goal is to the No. 1 team in the country," Harris said after the Aquinas game. "And these two wins (Heritage and Aquinas) kind of set that statement for where we are headed."
Follow USA TODAY High School Sports on Twitter at @USATODAYhss